Oh, the things we learned this week, from how to style oneself with edgy aplomb (with the help of Internet it girl Leandra Medine) to the secrets of a happy marriage, NBA-style (separate bathrooms, closets and cars, according to Alonzo Mourning's missus, Tracy).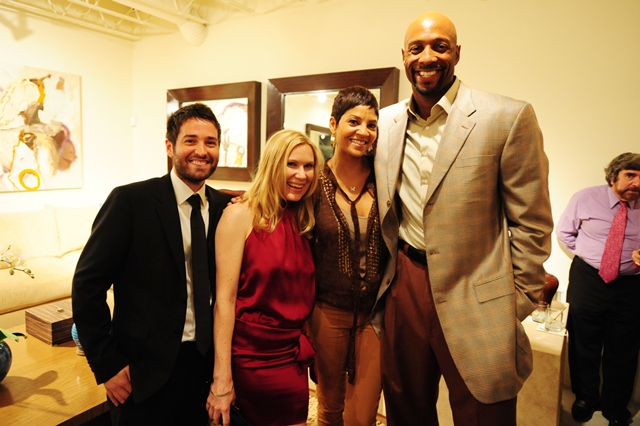 Loren and Kate Kreiss with Design District showroom grand opening hosts Tracy and Alonzo Mourning
At the grand opening of the capacious Kreiss showroom in Miami's Design District on Tues., Jan. 10, Tracy and Alonzo Mourning, one of Miami's most grounded power couples, co-hosted along with California-based furniture czar Loren Kreiss and his adorable wife, Kate. The evening benefited Honey Shine mentoring program, which Tracy founded in 2002. And who better to guide Miami's youth than old-school parents so strict they actually enforce a no-TV-on-weekdays rule for their three kids?
"Gurl, he still has a flip phone -- and a Sidekick!" Tracy shared.
"No Twitter. No Facebook. I don't do that stuff," Alonzo added, scolding Miami Heat owner Micky Arison for spending so much time on The Twitter. "There are a lot better things he could be doing with his time." We hear ya, Zo.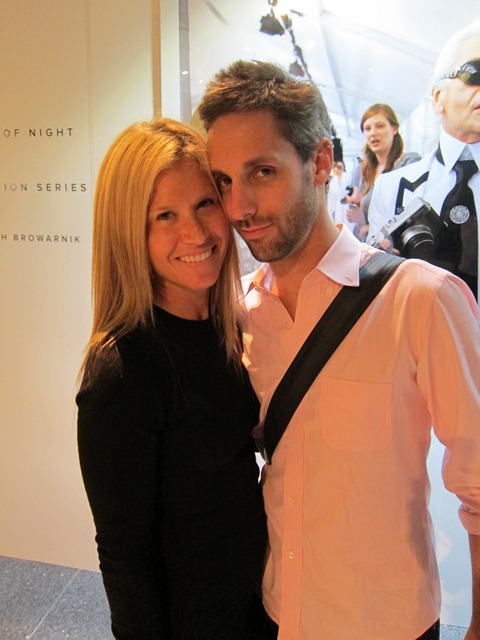 Melissa Katz with husband Seth Browarnik of World Redeye at Bal Harbour Shops Art Nights
The next night, Bal Harbour Shops hosted its monthly Art Nights, with art- and fashion-centric events held throughout the mall, including the opening of the new Stella McCartney boutique featuring color-blocked light box sculptures designed by artist David Batchelor. At Neiman Marcus, in the ultimate temple of temptation which was the Tom Ford boutique, Stefanie Reed, VIP Relations for Art Basel Miami Beach, and Bass Museum Executive Director Silvia Karman Cubina led the intellectual charge with a talk on Miami's thriving art scene.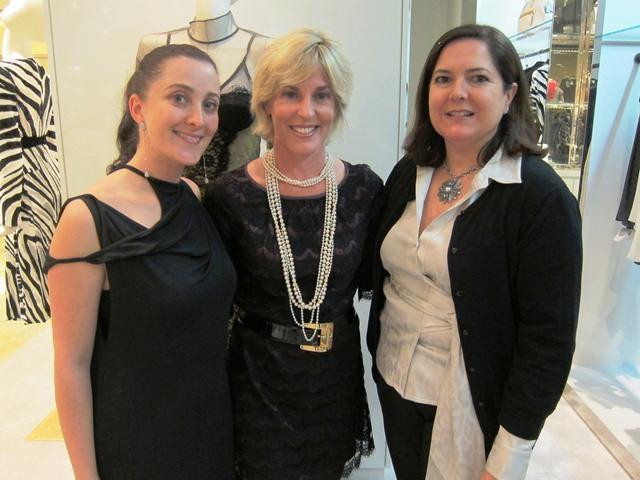 Suzanne Birbragher, Stefanie Reed and Silvia Karman Cubina at Bal Harbour Shops Art Nights
Elsewhere in the mall, Miami photographer Seth Browarnik displayed his Art of the Night exhibition (we hope the genius shot of a nude Amanda Lepore playing a Lucite piano gets purchased and placed somewhere very public), as ArtNexus hosted a soiree at the Valentino boutique.
All that socializing left us famished, so we headed to South Beach to gorge on some of South Florida's best sushi at the new Bar Tanaka at the Shelborne hotel. Branzino fiends like us will appreciate the flawless branzino sashimi, served aside a block of Himalayan salt, minced shiso leaf and olive oil. Truly divine.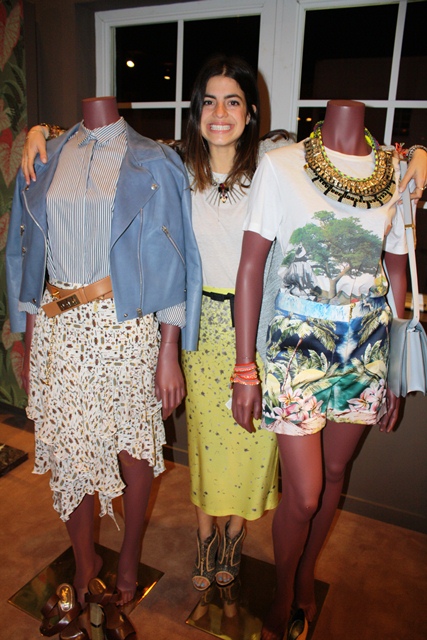 The Man Repeller's Leandra Medine at The Webster
On Friday, The Webster boutique launched its new online store with a guest appearance by popular New York-based fashion blogger Leandra Medine of The Man Repeller. Medine styled both mannequins and guests, explaining her inspiration on one of the former:
"This one IS very Miami, that's what I said! I threw on a men's YSL tee -- I'm obsessed with tees -- and layered on necklaces, because, well, that's what I do. It's difficult to find bottoms to complement tees -- jeans can be too casual -- so I went with these resort Stella McCartney satin shorts. Then I threw on an arm party, because that's what I do." (Side note: Leandra owns the trademark to the phrase "arm party.")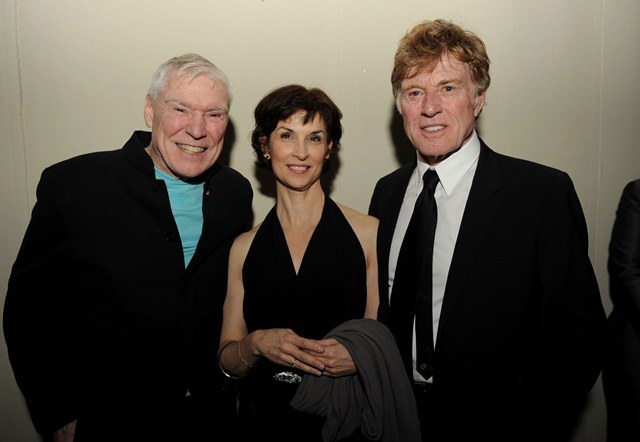 Screen icon Robert Redford with Jacques D'Amboise and Tamara Scott at YoungArts Gala. Photo by World Redeye.com
On Saturday night, we attended the National Foundation for Advancement in the Arts Gala, benefiting its YoungArts program, where filmmaker/actor Robert Redford was honored, along with YoungArts alumnus artist Doug Aitken and arts supporter Robert L. Lynch. A mashup of "West Side Story" by the very talented YoungArts students opened the event at the Art Deco-era Gusman Theater -- making us wish we had stuck with our music lessons as a child -- followed by a very festive gala at Miami's JW Marriott.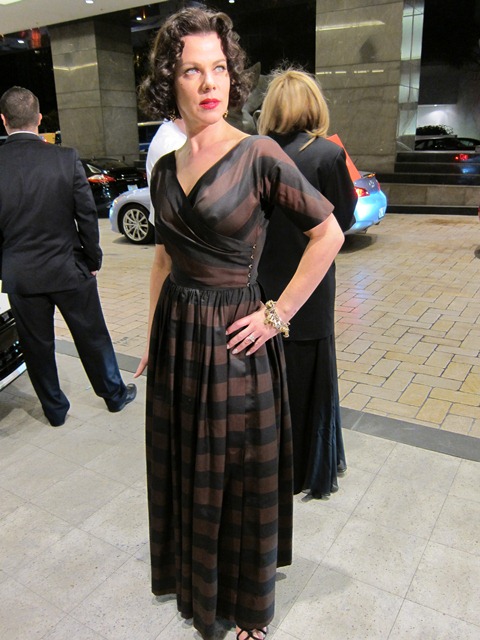 Actress Debi Mazar in vintage Claire McCardell at YoungArts Gala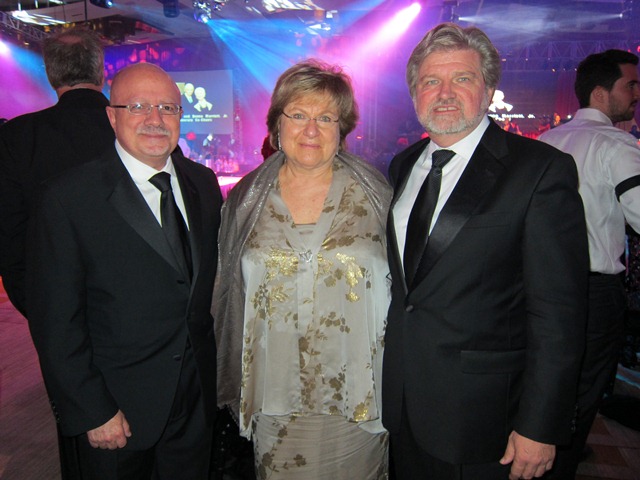 Eduardo Padron, Lin Arison and Robert L. Lynch at YoungArts Gala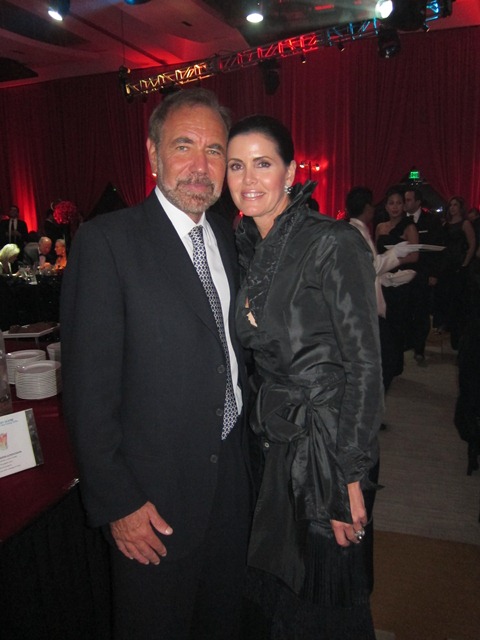 Jorge and Darlene Perez at YoungArts Gala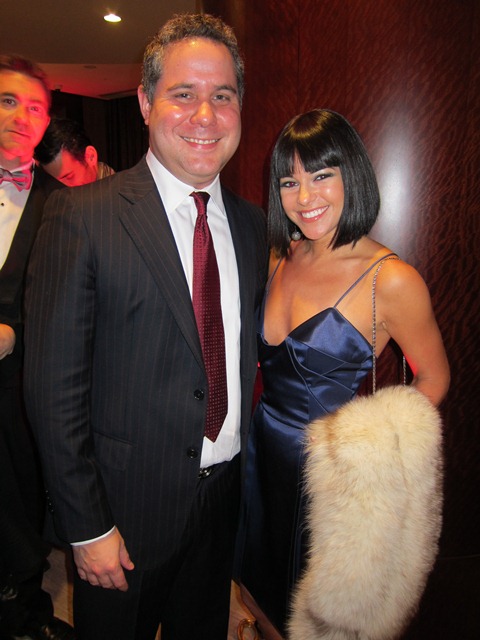 Luis Rigual and Anne Owen of Miami Magazine at YoungArts Gala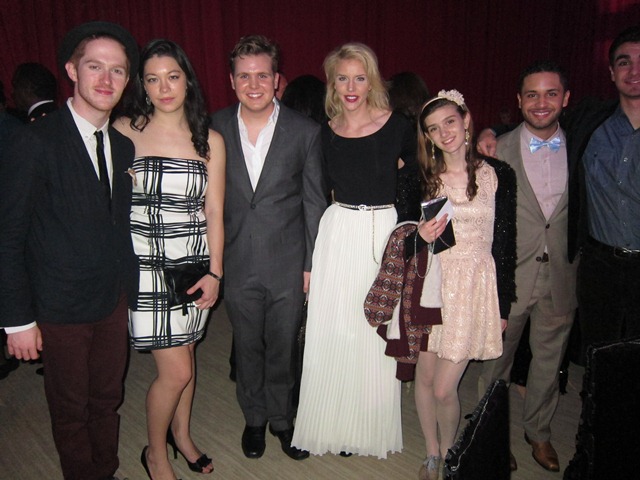 The next generation: YoungArts performers
A highlight was meeting legendary choreographer Bill T. Jones, an exceedingly gracious icon of modern culture, as well as snagging a transatlantic cruise on the Queen Mary at the silent auction (we discovered that signing one's name v-e-r-y s-l-o-w-l-y just before the cut-off time helps to lock out the competition). One of the chicest looks of the night went to actress and Cooking Channel "Extra Virgin" show host Debi Mazar, who wore a 1950s brown-and-black striped dress by designer Claire McCardell that she found on 1stdibs.com, paired with a vintage gold charm bracelet that was her grandmother's. Our eyes were glued on her perfectly manicured talons, which were painted a retro frosted white.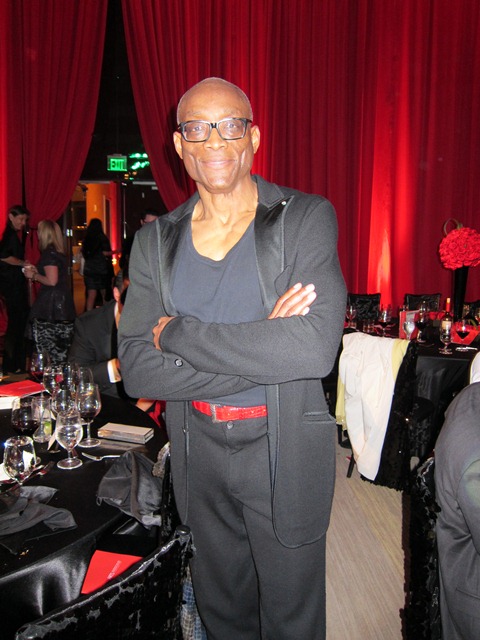 Choreographer Bill T. Jones at YoungArts Gala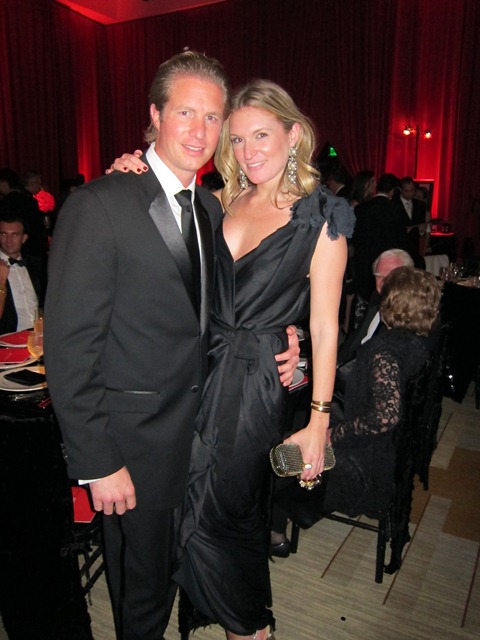 Matthew Vander Werff and Sarah Arison at YoungArts Gala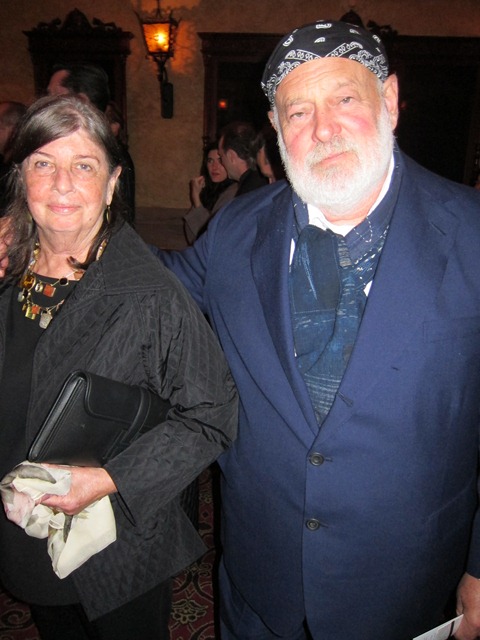 Producer Nan Bush and photographer Bruce Weber at YoungArts Gala
Sunday gave us more culture with an eclectic arts showcase by the 2012 grant recipients of the non-profit Citizens Interested in Arts (CIA) at the Aventura Cultural Center. We heard Broadway-destined, eight-year-old Biana Pinchuk belt out the Ethel Merman classic, "There's No Business Like Show Business," marveled at the skillful pas de deux by Kaori Fukui and Jun Tanabe of Arts Ballet Theatre of Florida, and clapped along with the bluegrass numbers by the very talented, seven-member Pursell Family, Miami's kick-heinie version of the Von Trapps.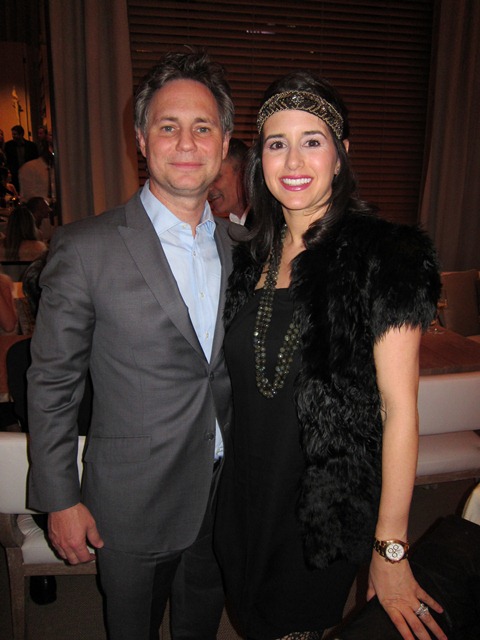 Jason Binn with wife, Haley, at Bianca
By Monday, we were ready for some cocktail culture and got it in spades at Delano for New York entrepreneur Jason Binn's Miami birthday celebration, held at the hotel's new restaurant, Bianca. Proving that you can never take South Beach out of the (birthday) boy, the original co-founder of Ocean Drive magazine was toasted by a group of power players that took us back to the Beach, circa mid-1990s: Chris Paciello, Shareef Malnik, Nicola Siervo, Karim Masri, Rony Seikaly, Ugo Colombo, Michael Capponi, Jeff Soffer, Eric Milon, Linda and Jeffrey Chodorow, Diane and Alan Lieberman, and designer Sam Robin, who was responsible for Bianca's sleek look. Also joining Jason and his glam wife, Haley, were Pharrell, Jorge and Darlene Perez, Gigi Whitman, Dave Grutman, Lana Bernstein and our favorite instant-party couple, Fabian Basabe and wife Martina Borgomanero.

Jason Binn and rapper Pharrell at Bianca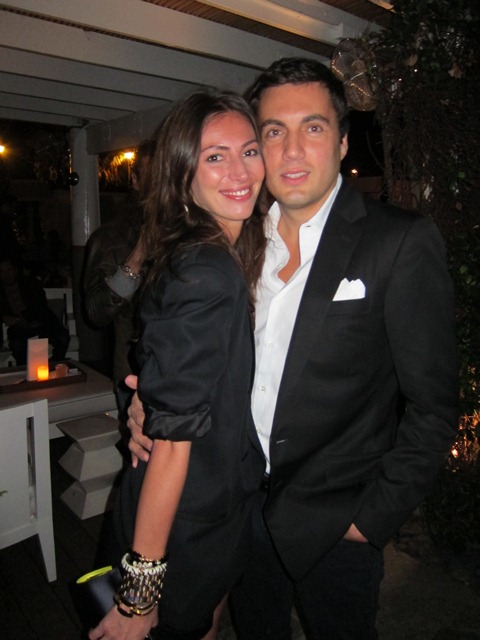 Martina Borgomanero with husband Fabian Basabe at the Delano pool bar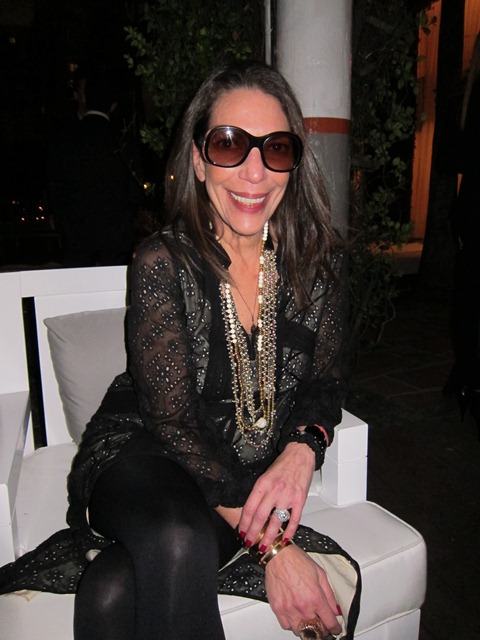 Miami's Queen of Design Sam Robin

Stuart Miller, Rony Seikaly, Jason Binn, Jeff Soffer, Karim Masri, David Grutman and Nicola Siervo at Bianca
Popular in the Community