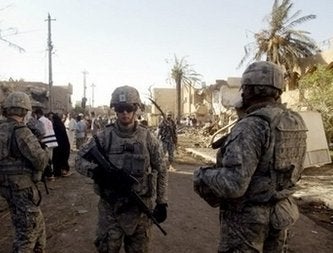 It has been rumored for some time that the U.S. Army has had to lower its standards to get enough recruits for its expanded war-fighting needs in Iraq and Afghanistan. Now firm evidence has emerged, and it is not pretty.
For instance: The percentage of Army recruits receiving "moral conduct" waivers jumped from 4.6 percent in 2003 to 11.2 percent in 2007. Many of them in this group have criminal backgrounds, yet are still allowed in the military, to carry a gun and engage in what is essentially "police work" in Iraq.
Not surprisingly, trouble often follows them in the service. Their rate of misconduct, at 6%, is almost twice the average.
In 2007, almost 10,000 recruits were granted waivers for past misdemeanors. over 2100 for "serious criminal misconduct" -- over four times the 2003 rate - -and almost 1500 for drug or alcohol abuse.
These revelations come in part one of a four-part series starting today in the Sacramento Bee by Russell Carollo, which is also being carried by other McClatchy papers.
Here is an excerpt from that article:
Before Army Sgt. 1st Class Randal Ruby was accused in Iraq of beating prisoners and of conspiring to plant rifles on dead civilians, he amassed a 10-year criminal record documenting assaults on his wife in Colorado and Washington state and a drunken high-speed police chase in Maine for which he remains wanted.

Before Lance Cpl. Delano Holmes stabbed an Iraqi private to death with a bayonet, he was hospitalized after threatening suicide in high school, accused of assault, disorderly conduct and trespassing, and, in the months leading up to deployment, was twice linked to drug use.

Before Army Spc. Shane Carl Gonyon was convicted of stealing a pistol at Abu Ghraib prison, he was convicted twice on felony charges and arrested four times, once for allegedly giving a 13-year-old girl marijuana in exchange for oral sex. He enlisted weeks after his release from a federal prison in Oregon.

During a yearlong examination, the Sacramento Bee studied the civilian and military backgrounds of hundreds of troops identified from recruiting documents and other military records, focusing on those who entered the services since the Iraq war began and those linked to in-service problems.

Though not a representative sample, the 250 military personnel analyzed most closely for "Suspect Soldiers" included 120 with questionable backgrounds, including felonies and serious drug, alcohol or mental health problems.

Risks associated with employing people with criminal histories multiply in a war zone, where a single incident by one soldier or Marine can affect entire units and fuel anti-American sentiment.

Ruby, Holmes and Gonyon were among 70 with troubled pasts whom The Bee linked to incidents in the military, most occurring in Iraq. A number of those incidents were identified for the first time through military records; even in some well-publicized incidents, The Bee uncovered criminal records not previously made public.

Though dozens of these soldiers would not have qualified for law enforcement jobs in this country, the military sent them to Iraq, where troops often function as police officers.

"These guys are out there carrying weapons, fighting on the streets with drugs in their pockets," said Tressie Cox, whose son, Lee Robert, had a history of drug and mental problems before he was charged with selling drugs in Iraq. "Shame on my son, but shame on all you people out there who are policing this and allowing this to continue to happen."

The military defended its recruiting policies, including granting more waivers for past conduct. "Standards in our society have changed over the years; we are a reflection of those changes," said Douglas Smith, spokesman for the Army Recruiting Command. "Considering offering a waiver to otherwise qualified recruits is the right thing to do for those Americans who want to answer the call to duty."
*
Greg Mitchell's new book is So Wrong for So Long: How the Press, the Pundits -- and the President -- Fails on Iraq.
REAL LIFE. REAL NEWS. REAL VOICES.
Help us tell more of the stories that matter from voices that too often remain unheard.