The adaptation of Elizabeth Gilbert's bestseller, Eat, Pray, Love, starring Julia Robert has not been released but retailers are already banking on the film's ability to move merchandise. Clearly targeted at the highly desirable female consumer aged 25-40, the film is a cross-marketer's dream come true. On the surface, the story of one woman's year-long spiritual quest to free herself from societal norms and find her true inner self seems like the perfect palette cleanser after one too many heavy meals of Sex and the City's excessive spending and preening. But look a little more closely, and you will notice what savvy retailers saw: a big opportunity to sell a lot of stuff. Truth be told, this is what I love about my industry, the ability to turn just about any event into a sales event. And I have to hand it to the brilliant product development folks across this great land! Coming up with product tie-in's for Sex and the City was a walk in the park. But coming up with merchandise related to a book that's supposed to be about releasing yourself from consumerism is no easy task! Here's a quick run-down of some of the masterful product tie-in's available at a retailer near you!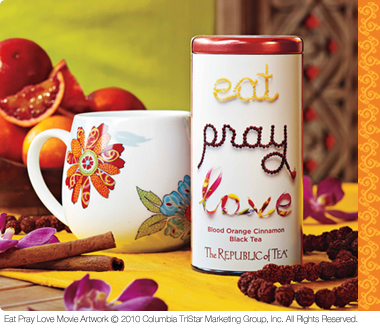 Are you unable to quit your day job and travel the world for a year like Elizabeth Gilbert? No worries! You can brew a pot of Republic of Tea's special "Eat, Pray, Love Blood Orange Cinnamon Tea" and dream about opening an Ashram!
Not really into yoga? Meditation is more your speed? Cost Plus World Market has you covered! You can throw on their "Eat, Pray, Love Block Print Paisley Tunic" and grab your rosewood "Eat, Pray, Prayer Beads" and chant your way into complete oblivion.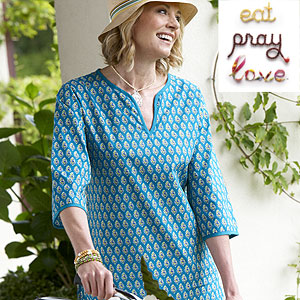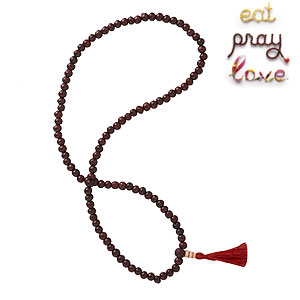 Need to multi-task while you are searching for spiritual enlightenment? Me too! Why not put the Eat, Pray, Love official soundtrack (available at Starbucks) on your iPod and light one of Fresh's "Eat, Pray, Love petite artisanal candles" while you upload your vacation pictures to Facebook? Or you can simply spritz yourself with one of the scents from Fresh's "Eat, Pray, Love Fragrance Collection." (Why you would want to smell like "Eat" is beyond me -- but I digress.)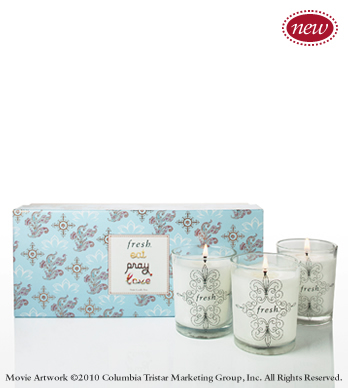 If you're not into scents and sounds, why not spiritually enlighten your pout with Lancome's limited edition "Eat, Pray, Love Juicy Tubes Gloss Set"?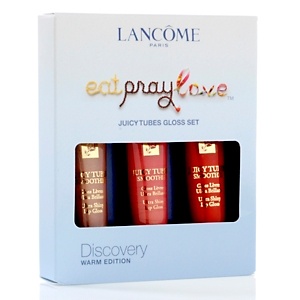 Last by certainly not least, my absolute favorite Eat, Pray, Love product tie-in has to be the entire city of San Antonio. Somehow, rather inexplicably, the city of San Antonio has declared itself the ultimate in Eat, Pray, Love "transformative travel." I particularly love the fact that San Antonio does not appear even slightly concerned with the fact that they are in no way a part of Elizabeth Gilbert's novel. And really, why get bogged down with details when you have San Antonio's handy guide showing you "Where to Eat," "Where to Pray," and "Where to Love"?