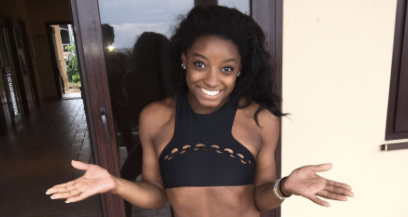 Simone Biles is too busy loving her body to have any time for internet trolls.
On Tuesday, the 19-year-old Olympic gold-medalist tweeted an awesome body-positive message to remind the haters that their words do not affect her.
The tweet seems to be in response to Twitter users who body-shamed her on the platform because of few photos she's posted. "Fatty," one (truly delusional) Twitter user wrote, while another added: "Your back has more muscle than mine does."
Her response? "You all can judge my body all you want, but at the end of the day it's MY body," Biles tweeted. "I love it & I'm comfortable in my skin."
As of Wednesday morning, Biles' tweet had been retweeted more than 1,900 times and liked more than 16,000 times.
One Twitter user had the best response to the guy making fun of her muscles: "She's an Olympic gold medalist bruh, she's got more muscle everywhere than you lol."
Popular in the Community