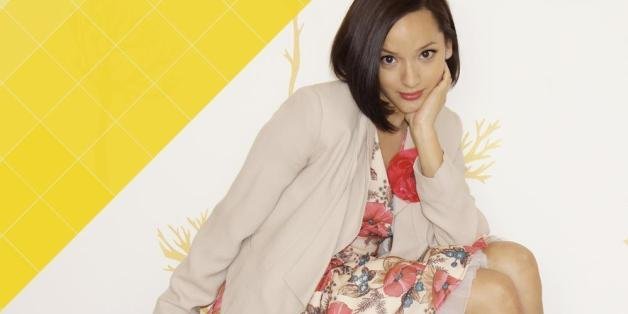 People come to Dubai for many reasons -- from work opportunities, to the beaches, to the multi-cultural atmosphere. Yet Dubai offers more -- from its burgeoning film industry, to diverse art galleries, to mixed-use workspaces, to a thriving culture of entrepreneurship. When Australian-born radio presenter Simone Heng moved to Dubai in 2009, she knew she was moving to a vibrant city, full of luxurious hotels and high-end retailers. What she didn't realize was that as an avid do-it-yourself (DIY) project enthusiast, she would inspire and connect a new generation of young makers.
In 2009, Simone Heng was offered a job as an announcer for Virgin Radio and relocated to Dubai after four years hosting TV and radio across Asia and Australia. Simone has become a household name in Dubai, where she is often described as the Ryan Seacrest of the city for her work across both TV and radio and for her celebrity interviews, ranging from Leona Lewis to Omar Sharif.

Simone has leveraged her media career to publicize, support and expand Dubai's creative community. She is the creator of cheapnchic.net, a DIY website with an emphasis on fashion and the founder of the DIY Dubai Directory. The DIY Directory lists almost every DIY store in the city and has a search engine function. Simone shared her path from radio personality to Dubai's champion of DIY, over coffee and a brainstorming session for the city's recent Maker Day.

DIY in Dubai
Naturally artistic, Simone developed a love of craft and sewing as a child of eight. She was drawn to fashion in her late teens and realized that she could make accessories and clothes just as easily as she could buy them -- and include her personal, creative touches. Working in entertainment, Simone turned to DIY projects to cultivate a glamorous image on a budget. Upon moving to Dubai, Simone discovered the tailoring neighborhood while shooting her TV show Dubai 101 for Dubai One TV. This old neighborhood was full of small, traditional shops offering fabric, beading and DIY supplies at truly affordable prices. Many of the materials come from nearby India and Pakistan at a fraction of the cost in her home country of Australia. Simone found that wandering through the shops and the smaller alleys on which many are located could be inspiring, but also frustrating. The hunt for a specific item can easily take over a day of going from store to store in a dusty setting where, although English is spoken well, terms for materials may not translate easily.

The DIY Directory
Enter the DIY Directory, which is available on Cheapnchic.net. Simone has given a web presence to the many smaller stores selling everything from wool, to looms, to wood varnish and pinking shears. Many of these vendors have never had a website or online listing and some are the oldest businesses in Dubai. The listings of each shop include location, hours, contact information, products carried and tips such as requesting a discount when buying in bulk. With the DIY directory, it's possible for makers to plan a route in advance -- saving time and in some cases even money.

Cheapnchic.net
As Simone writes, "On cheapnchic.net I want to inspire you with my lifestyle. How you can live anywhere, look good and still save loads of money. This is the smart girl's guide to life!" Simone's conversational tone invites the reader to join her in projects that are accessible, fun and fashionable. Recent projects have included vintage cloth gift wrap made from a family member's old curtains, a Meadham Kirchoff inspired, "Yes," t-shirt, a knitted "tur-band" (cross between, you guessed it, a turban and a headband) and a DIY Bacne scrub to draw her many teen followers into a simple DIY project. Step-by-step instructions, complete with close-up photos and even video tutorials, are available for the more technically challenged.

Hope for the future
Simone readily admits that generating enthusiasm for DIY in Dubai, where cheap labor is readily available, can be a challenge. In a recent post on hemming, Simone wrote, "So excited to share the first of my sewing projects here on Cheapnchic.net. If you love vintage clothes you'll know how annoying it is to alter things. I am 5'1" and need to hem a lot of stuff even though tailoring in Dubai is dirt-cheap, it's still a hassle... So I've decided to buy a machine and DO IT MYSELF."

Simone shares her enthusiasm for DIY at workshop events throughout the UAE which draw women and men across generations excited to learn how to make new things such as fashion accessories and homemade beauty products. The next event will be held in conjunction with The Travel Show on Dubai Eye 103.8, which will broadcast the goings-on. Her video tutorials on DIY launched on MyDubaiMyCity.com last month; the show is called "DIY with Simone Heng."

Recently, Simone lent her ideas and creative process to Maker Day Dubai, an event held by GEMS Education and the Dubai Silicon Oasis Authority to showcase students' innovations. Many students cited meeting Simone as a highlight of their day (DIY glitter shoes!). After taking a walk to look at student stalls full of everything from upcycled products, to robotics projects, to inventions, to fashion and accessories, Simone commented excitedly, "Did you see everything they made? It's inspiring to see so many younger people creating new things. It brought tears to my eyes."