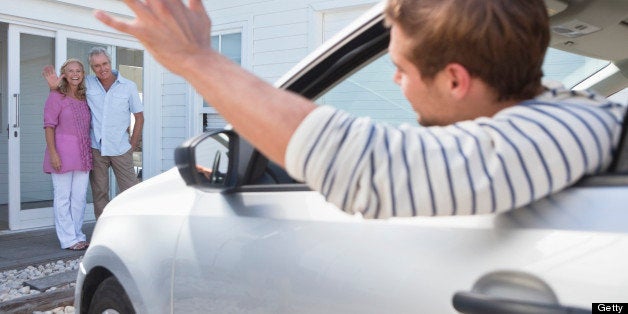 I've been having a really tough time with my eldest son lately. He wants to grow up, I don't know how to let him. I've never had an 18 year old son before and I'm as in the dark as much now as I was on that first day I brought him home from the hospital all full of newborn smell and innocence. Sadly for your first born, as they age you don't get a sudden understanding of how to parent them, with every change comes new challenges, for you both!
He's desperation to detach from me and become independent was as powerful as my need to pull my baby closer and prevent the inevitable. A strong game of push and pull played out, an evolutionary battle of wills between mother and son. Draw some strength mummas, it's a real head f*ck.
My problem is I'm divorced from their Dad and so my 'unruly' teens have two houses to choose from, if they don't like what they're hearing at one house, they simply hide out at the other. I didn't see that boy for 10 weeks, he hasn't seen his baby brother in forever (I don't think toddlers are high on a teenagers agenda, brother or not) and it very nearly broke me! I had to dig deep, reflect a lot and try to find a way to understand how we both get out if this with some kind of relationship in tact.
The things I've learnt in this period of guttural pain and learning are this:
Don't bother with the obligatory "when I was your age I..."
They don't live in our generation where we had the freedom of playing out and exploring the world, instead they have a games console with a mouthpiece where they live their days in a fantasy land with no comparison to what's going on outside their own front doors.
They don't live in our generation where we had no mobile phones so, had to actually have real life conversations with people. If we wanted to watch a movie we put a VHS into a clunky old machine (in our family front room, no movies in bed) and pushed down the heavy play button. Instead they have technology that evolves on a rolling six months contract, the technology that means they can be stimulated by the touch of a button 24 hours a day. Netflix provides them all their viewing pleasure whenever they want, day and night.
They don't live in our generation where we could wear hand me down clothes (I was sixth in line and had two older brothers, I got some right battered sh*t) , where shoes were just shoes not a life or death fashion statement that cost a weeks wages. Instead they have Hollister, Converse, Superdry, in their generation these brands have become an essential non negotiable wardrobe staple.
They don't live in our generation where we left home in late teens, we paid our own bills, we paid for our driving lessons and our first car. Instead they are stuck in a world where they have to earn the wage of a middle aged man before they can afford rent let alone bills, and you can forget mortgages, these kids may never own their own homes!
Whether we like it or not they're not growing up "when we were young" they're growing up in a whole different world.
In these f*cking hideous, painful, frustrating teen years I've learnt that instead of wasting our time finding comparisons to 'how it was in my day' it's more productive to spend the time trying to understand how it is in their day. Looking back over history, no generation had it any easier than the last, they may have had more 'stuff' but the growing up years are not easy on ANYONE, parent nor child!
So now we're back on track, I've listened to his world and his plans of moving to Australia to spend his days sitting on a beech selling snorkels from a surf shack, and instead of pointing out all the pitfalls and 'my' worries, I smiled and waved, inside I had a heavy mix of sadness and pride.
He's my baby boy, he's growing up in his world, and I'm gonna fu*king let him, because, he's my baby boy and I love him.
And to all your friends/family/partners who judge your child and your parenting, the ones whose kids are years away from the teen years and still have some naivety that their children will skip this phase. The friends/family/partners who spout (as I stupidly once had) "I wouldn't allow my child to behave that way, to have expensive mobile phones, to go out past 10 pm" simply smile and wave and know that their teen will come!
It's simple evolution, the harder you fight it, the harder the fight!
Popular in the Community