If you are wondering what to do as the cold weather creeps up around the country, take a trip to the City of Clearwater where every year they hold the Clearwater Sea-Blues Festival in February. Presented in Coachman Park each year, this past February saw names like Amos Lee, the Otis Taylor Band and the Flood Brothers to name a few. Indeed, it's worth exploring and while there, make the Sheraton Sand Key your home away from home. The Sheraton Sand Key is one of the most relaxing places to consider for a week or a weekend depending on how long you have to relax in this little coastal town where lounging is the perfect solution to a long day.
While enjoying the warm weather what could be more enjoyable to drive than a 2016 blue Corvette Stingray, at least I liked it.
Actually, I more than liked it and in fact, the word epic comes to mind when thinking of adjectives for the 2016 Chevrolet Corvette. Don't doubt it the Chevrolet Corvette is a crowd pleaser in both performance and beauty.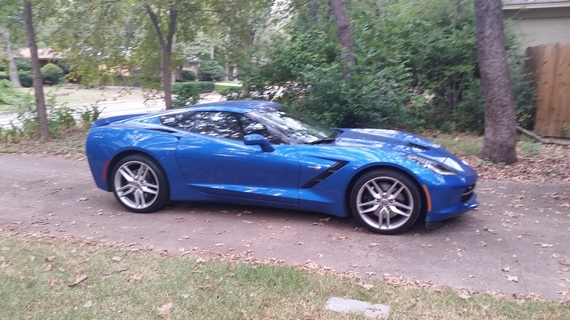 New this year, the 2016 Corvette has the addition of a leather-wrapped steering wheel with a flat bottom so it fits your hands as well as the addition of a power-closing trunk and on the more luxurious trims you even get a front view camera and if you want the adaptive suspension dampers you can get that included without having to take the entire performance package option to do it.
For body styles and trims you can get the 2016 Chevrolet Corvette in either a coupe or convertible in the Stingray, Stingray Z51 or Z06 trim. On the coupe you get a roof panel that is removable and you can store in the trunk and with the convertible there is a powered soft top. Take that a step further and remember you can also power the top up or down while driving at up to 30 miles per hour. With the Stingray and Stingray Z51 you can opt for the 1LT, 2LT or 3LT sub-trim and with the Z06 there is a 1LZ, 2LZ or 3LZ sub-trim option.
Opt for sport seats, you can add this to any of the Corvette trims and there is also the choice of a transparent roof panel if you go for the coupe model. As well, opt for the Z06 with a supercharged 6.2-liter V8 engine with 650 horsepower and 650 pound feet of torque available in both the seven-speed or automatic transmissions. Folks won't just see you coming, but hear you too.
Inside the 2016 Corvette it's low to the ground and it feels like you are taking the controls inside a finely decked out cockpit. Everything fits and is easily arranged for your needs intuitive and logically designed. The material used in the interior is suburb and fits the high-end cockpit persona and the seats are comfortable for long rides. For traveling, you get 15-cubic-feet of space and on the convertible you get a roomy 10 cubic feet for hauling what you need.
At $70,000 you will indeed want the room to haul and the sheer feel of the road, and it you don't spend all your time at the Jazz Festival or just visit on another weekend, there is plenty you can do otherwise, like eat.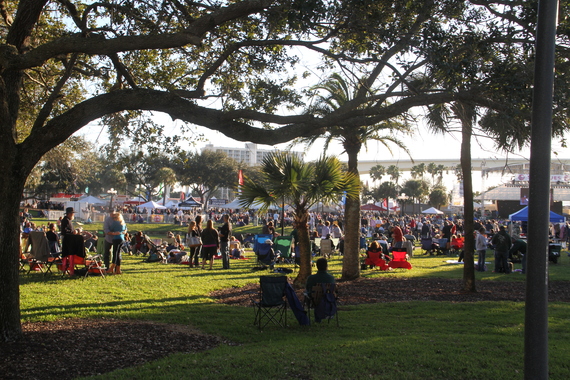 Lunch at the Palm Pavillion is highly recommended since it has been there since 1926 and is a local favorite by all accounts. The place overlooks the Gulf of Mexico and there is live entertainment with some scrumptious seafood, steaks and even shrimp and crab chowder as well. The big draw at Palm Pavillion are the famous beach burgers and I couldn't resist a Bloody Mary or two, both were made to order and just right for a lazy beachy afternoon.

Just for kicks you can also duck into Fun Ride Rentals where the folks were more than courteous as they sat me up with a surrey bike for the morning. I rode it down the strand and couldn't stop laughing because it was a hard ride, but so much fun and everyone who saw me riding was laughing too. The surrey rental bikes are really all about family fun, and you can stop along the ride and just enjoy the beautiful and scenic ocean just steps away.
Cooters for lunch after the bike ride proved to be just as much fun and you really have to love the name, right? Cooters Restaurant & Bar is family owned and operated and known for having the "best Grouper Sandwich around." With an atmosphere removed from the typical cookie-cutter "chain" restaurant, the food is prepared fresh and the seafood is delivered fresh daily and even better, the legendary Happy Hour, I missed it, but I won't next time.
You will also want to visit Pier 60 for the nightly Sunset at Pier 60 Festival. Not surprisingly, the Gulf coast is renowned for its sunsets and Clearwater's Pier 60 is a great place to take it all in and you will also find a mixture of artisans, street performers and live music to keep the party going as the sun sets. On weekends there are even free screenings of movies shown on a huge outdoor screen overlooking the water.
If you really just don't feel like driving the entire time you can hop on the Clearwater Jolley Trolley, which has actually been a Clearwater staple for many years. It's a historic trolley system that takes guests (and locals if they want to use it) around the beach area and you can also get to Dunedin and Tarpon Springs too for a low rate of $2 for a single ride. Even better there are connections with the Pinellas Suncoast Transit Authority (PSTA) public transportations so that means you never have to worry about getting around while visiting in this county.
Got a weekend or a week, Blues Festival or not, the City of Clearwater is a great place to find some time to relax, enjoy the sun and take it easy while listening to good music or the sound of the surf, it's all relative when it comes to relaxing.
For more auto tips and information follow Rita @RitaCook13.