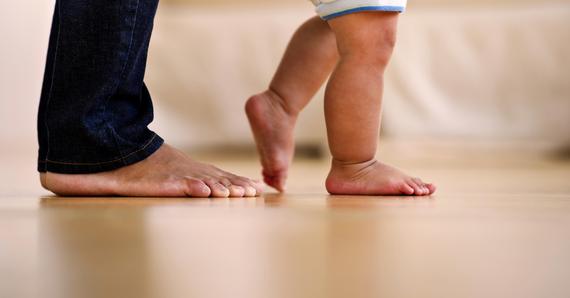 As a father, I know today's dads are playing a bigger role in our kids' lives at every age. We're not just at the soccer games and class plays when our kids are school-age; we're on the front lines of diaper duty, midnight feedings, and full-time fathering when they're still infants and toddlers.
So, this Father's Day, along with my CDC colleagues and partners in the Up and Away and Out of Sight campaign, I want to share information all dads need to know when it comes to medicine safety for our youngest kids.
It was a surprise to me when I found that, each year, approximately 60,000 young children are brought to emergency rooms for medication overdoses. That's more kids under age five brought to emergency rooms for medication overdoses than for car crash injuries.*
Some of these medication overdoses happen when we give too much medicine to our kids by mistake.
Most of the time, however, we cause these medication overdoses when we don't properly re-cap and store medicines. When medication isn't stored safely, young children can get into it when no one is watching.
Though they don't like it, we always buckle our kids into their car seats to keep them safe. You can also keep them safe by following these tips to prevent medication overdoses--and each one is simpler than strapping a squirming 3-year-old into a car seat.
Don't use spoons. Kitchen spoons are NOT for giving medicine to kids. Why not? First, silverware comes in all shapes and sizes and is not accurate for measuring medicine. Also, I know from experience that it's easy to accidentally grab a tablespoon instead of a teaspoon, and if you do when you give your toddler medicine, you probably just gave them three times more medicine than you should have. Instead, always use the dosing cup or dosing syringe that comes with the medicine to avoid a making a mistake.
Lock the cap. Firmly relock the safety cap on medicine bottles every time. For twist caps, keep twisting until they won't turn anymore.
Keep meds up and away. Always put medicines up and away and out of reach and sight of your kids. Take another look at where you store medicines. Toddlers like to crawl around and explore. They may be small, but they're quick and curious. As dad blogger Adrian Kulp recently wrote on Dad or Alive, "This stuff happens in the blink of an eye."
Don't call it candy. Convincing kids to take medicine can be difficult, but telling them it's candy isn't the answer. Teach your kids what medicine is, why it can be dangerous and why a grownup must be the one to give it to them.
Include Grandma and Grandpa. Is Grandma visiting with a baggie of medicine in her purse? Does Grandpa have a collection of pill bottles on the kitchen table? Ask grandparents to help keep visits safe and store their medicines up and away and out of sight when they come to your house or the grandkids go to theirs.
Be prepared. Put the Poison Help number in your phone: 800-222-1222. Hopefully, you'll never need it, but if you do, you're going to want it quickly.
Be a safety hero by making these changes in your home now and sharing these facts with others who care for your kids. Hopefully, a medication overdose never happens to one of your children. On this Father's Day and always, keep your children safe and keep all medicines out of their reach.
Call Poison Help right away if you think your child might have gotten into medicine. To learn more about safe medicine storage, visit UpandAway.org.