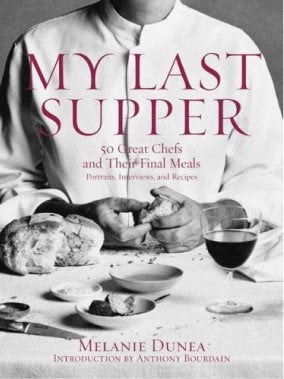 What would you choose for a special meal if you knew it was going to be your last? This is a question often debated amongst chefs when they relax with colleagues at the end of a long night of service.
Celebrity portrait photographer Melanie Dunea had the idea of collecting last meal wishes from the world's top chefs and taking photos of them inspired by their final culinary plans. Her 2007 book, My Last Supper: 50 Great Chefs and Their Final Meals, served as the inspiration for just one of the delicious food and wine events at the Sixth Annual Pebble Beach Food & Wine event (PBFW) this past weekend.
Over 50 events during this four-day food and wine extravaganza included cooking demonstrations by such celebrity chefs as Daniel Boulud, Masaharu Morimoto and Guy Fiori; wine seminars with the makers of legendary wines like Ridge's Paul Draper and Ornellaia's Axel Heinz; three different grand tastings featuring hundreds of wineries and culinary creations by over 20 chefs; and a multitude of incredible lunches and dinners. Three or more events were usually happening at the same time, but the organizers managed, astonishingly, to keep everything flowing smoothly and on time. In the case of the wine events, they were assisted by a legion of sommeliers from around the country.
Being primarily a wine guy, I focused on some of the great wine tastings, including a dinner prepared by award winning Florida restaurateur Michelle Bernstein paired with several vintages of Ruinart vintage Blanc de Blancs and Rosé Champagnes; a vertical of wines from top Bordeaux producer Cos d'Estournel back to the 1966 vintage; a Sunday morning vertical of Taittinger's Comtes de Champagne with Vitalie Taittinger and Antonio Galloni; and Saturday's Lexus Grand Tasting, where I sampled wines from Santa Barbara producers like Brewer Clifton, Dragonette and Paul Lato, having just spent the preceding five days touring Santa Barbara County vineyards and meeting with other winemakers there.
The single most memorable wine event of the weekend for me, however, was a complete vertical tasting of California cult Cabernet Scarecrow, led by the proprietor, Bret Lopez and winemaker Celia Welch. The wines, produced from a vineyard that contains vines dating back to 1945, the oldest plantings of Cabernet Sauvignon in Napa, were absolutely stunning. They displayed purity, balance and complexity. I scored the 2005 98+ points, and the rest of the vertical, from its first vintage in 2003 to the 2010, were not far behind.
Other popular events throughout the weekend included a a seminar on the art of beer pairing, a dinner honoring U.S.-based Chinese cuisine pioneer Cecilia Chang, a vodka and caviar presentation, and a dinner prepared by three chefs whose restaurants have all earned three Michelin stars: Christopher Kostow, Pierre Gagnaire and Angela Pinkerton.
At the dinner entitled "My Last Supper," two of the chefs in Ms. Dunea's book -- Michelle Bernstein and Jonathan Waxman -- along with Masaharu Morimoto, Paul Bartolotta and George Mendes, prepared a total of five dishes and several appetizers for us. Each dish was paired with a wine (e.g., Bartolotta's Roast Rack of Lamb with anchovy sauce was paired with a baby Napa Cab, 2010 The Black Bottle). Each of the chefs spoke, as did representatives from all the wineries, while Ms. Dunea emceed and shared stories about her experiences with the chefs in putting together the book.
The 50 chefs featured in the book include Ferran Adrià, Thomas Keller, Mario Batali and Suzanne Goin. These are people who have been creating incredible meals and sampling fabulous dishes prepared by others all their professional lives. Not surprisingly, most of them tend to go simple for their last meal, identifying dishes that conjure up particular memories for them for that final culinary send off.
Gary Danko is one of the few who went in quite another direction, specifying an orgy of spectacular foods and dishes, along with a huge assortment of amazing wines, to be shared with 100 or so friends Roman style. Gary was also among the few chefs who named particular great bottles of wine he would like to enjoy on his final day -- in his case, over 40 legendary wines.
The other chefs after my own heart who think as much about the wine as the food for their ultimate meal include Daniel Boulud (his last supper would feature 1962 Vogüé Musigny, 1955 La Mission Haut-Brion and a 1921 Château d'Yquem); Thomas Keller (1983 Salon Champagne and a Ridge Lytton Springs Zin); Jonathan Waxman (1950 Château Margaux); Michel Richard (1982 Krug Clos du Mesnil); and Charlie Trotter (1900 Château Margaux)
So what would I have for my final meal? Assuming I can't schedule my final days to coincide with another PBFW, I would start by selecting several great wines to accompany my remaining hours, and then pick some simple dishes to pair with those wines.
There would be Champagne, of course -- older bottles of Pol Roger Sir Winston Churchill and Philipponat Clos des Goisses. I'd pair those with caviar. Then some great aged Raveneau Chablis to accompany a couple dozen oysters. I'd need a mature Montrachet for the fish course, a 1990 Jaboulet Hermitage La Chapelle with a rack of lamb, and then a 1964 Giacomo Conterno Barolo for a wild boar and truffle pasta. We'd then proceed with a cheese course accompanied by a 1994 Quinta do Noval Naçional. The final wine, all by itself, would be the 1875 D'Oliveiras Malvazia Madeira. It would fill me with sunshine and contentment, like great vintage Madeira always does, as I reflect on all the delicious riches life has brought me, like time spent at PBFW.