Dino Muradian's hyper-realistic artworks would be impressive if he drew them with a pencil and paper. But the self-taught pyrographer uses heat as his medium, in a technique he has developed and honed himself over the past 50 years.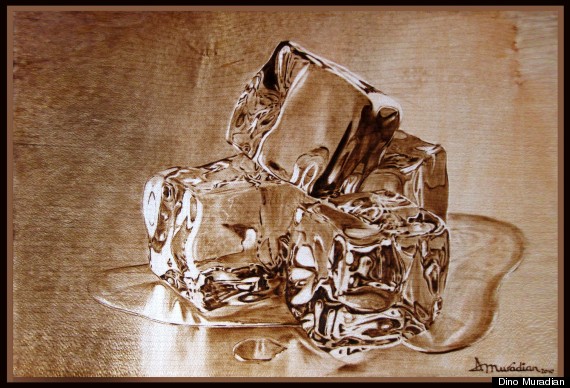 The 60-year old artist fled Romania's Communist regime in 1983 and eventually found himself in America. He currently works as a "freelance pyrographer," customizing guitars and other instruments to make a living. Yet he expressed hope for something different to The Huffington Post via e-mail: "I'm always in need for serious artwork, always ready to prove that pyrography can proudly hang on the walls of any fine art gallery or art museum in the world. And probably, somebody will finally give me this chance."
We asked the artist some questions about his inspirational talent and devotion to the art form. He responded in an incredibly long email filled with animated emoticons. We wish we could include them in the article but our formatting sadly doesn't allow it. Nonetheless we feel like the dancing happy faces illustrate the kind of guy Muradian is -- someone who doesn't take himself too seriously. Scroll down for a slideshow.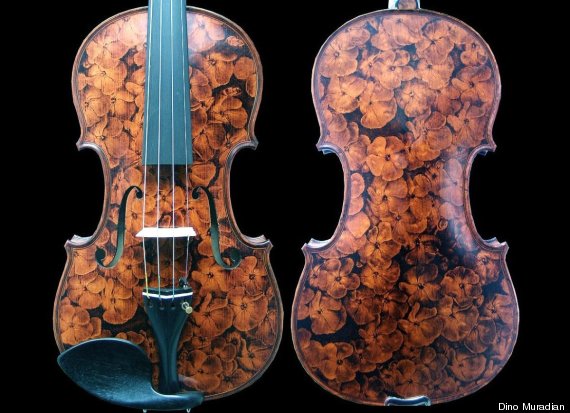 HP: How did you discover pyrography as a medium?
DM: I was introduced to pyrography by my grandfather, in the 60s, and it became (and stayed) my premier hobby since. I am a commercial pilot by education, and after my "daring defection" to Austria I moved to the USA. I used to work for many years as a civil engineer draftsman. I know for sure I have always been an artist in my soul though.
I fell in love with [pyrography] from the beginning, and during all these more than 50 years of doing it, I have created my own tools, my own technique, a totally new approach of this art form. Everybody does wood burning using the traditional tools, and methods, and the results are... dull. Give me an old fence, or a used floor, or wood wall, and I'll burn the most beautiful Mona Lisa on it. (I'm not joking...)
HP: Can you speak on the inspiration behind your erotic pyrography collection?
DM: What can I say? Picasso once said, "I try to do a nude as it is." But probably he was kidding, because we all know "his women." My nudes are very realistic, even hyper-realistic types of artwork. Like all my other works, I really try to do a nude as it really is. (Man, I love nudes... But then again, who doesn't?)
HP: What is your favorite piece, among the many you've done so far?
DM: "Hippie Christ," "Money To Burn," "They Cut Down Trees, Don't They?" and "Self Portrait," but I love equally as much all my previous pieces, religious and/or non-religious.
See a slideshow of his work below, and let us know your thoughts in the comments section:
PHOTO GALLERY
DINO MURADIAN
Calling all HuffPost superfans!
Sign up for membership to become a founding member and help shape HuffPost's next chapter
BEFORE YOU GO