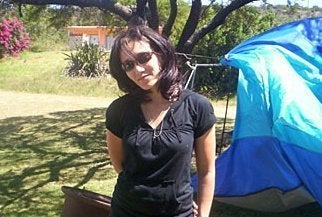 Lareece Butler, a novice skydiver who amazed experts when she survived a 3,000 foot fall when her parachute failed, has claimed she was pushed from the plane by her instructor.
The 26-year-old mother of one hit the ground near Grahamstown, South Africa on Saturday as her boyfriend watched.
Butler has come out as saying she was pushed from the plane by a female instructor, after hesitating when she saw fellow skydivers have problems with their parachutes.
"I watched the other three guys jump but all three of them got tangled in their cords and one of them was spinning," Butler said from her hospital bed.
"I told her that I did not want to jump anymore. I told her to take us down. She pushed me and I held onto the airplane with the wind rushing past me."
"She pushed me again and I fell. I tried opening the emergency chute but it did not open. I said 'God save me please. I have a son' and after that I do not remember anything before waking up here on Sunday."
The family is now considering legal action against the operator, EP Skydiving Club.
Joos Vos, a member of the company who was not on the plane, denied the allegations. ""I am aware of the allegations and dispute them. I have done a full investigation and can see nothing to suggest any grounds for them at all."
Police arrived at the scene but at present are not investigating the case. An investigation is being started, however, by the Parachute Association of South Africa.
Mark Bellingan, a spokesman for the association, told press: "At this stage this appears to have just been a bizarre accident. The woman was fully trained and was briefed to spot for trouble. In the event of a problem with her first chute, she should have jettisoned it and used her reserve chute, but for whatever reason she did not."
Bellingan denied Butler had been pushed. "What would the instructor gain by doing that? The instructors are very experienced," he said.
Doctors have expressed amazement with Butler's survival, calling it "nothing but divine intervention, nothing short of a miracle".
Calling all HuffPost superfans!
Sign up for membership to become a founding member and help shape HuffPost's next chapter