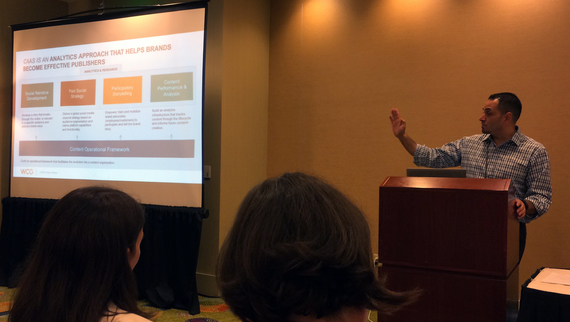 Small organizations often have a large problem. Social media have become more important for branding, awareness, engagement and business goals, but one community manager can only do so much.
In my most recent post, we talked about the importance of strategy in setting clear goals through research data. Large companies examine big data, but also qualitative relationships. The focus is on content matched to a particular social media channel that engages a targeted audience.
Michael Brito, WCG brand strategist in San Francisco, says "you can't just interrupt the conversation" within social media. Instead, Brito urges bringing value to each interaction:
Utility: help customers solve a problem or achieve a goal.
Entertainment: people like enjoyable experiences.
Exclusivity: your organization has expertise.
Promotion: offer coupons or help spread the word.
By starting with communication value, a small business can then decide what to do about its Facebook page and Twitter account. This should include at least a small budget for paid media. "The social networks, while free to create an account and leave comments, and post updates, you're not always going to reach the people you want to reach," Brito says.
The Facebook filtering algorithm will slow page growth and reach without paid promoted posts. Brito adds that a small business can re-target on Facebook through an advertisement aimed at people visiting their website. These strategies also work for non-profit organizations.
"I would say the ultimate goal for a non-profit organization is donation, and being able to acquire new donors, or people donating and giving based upon what they care about. You can certainly track that. It's not hard to do" - Michael Brito
Unique promotion codes allow non-profits to track donations made through specific media channels. Events, including Facebook events, also are opportunities to track donor behavior.
Targeting and data tracking may be particularly important, if your small business or non-profit is located in a small, rural community with limited resources.
Brent Comstock, CEO BCom Solutions knows time is precious. He owns an Auburn, Nebraska company while studying again this fall at the University of North Carolina. Beginning at age 12, Comstock found his knowledge of computer technology was valuable to businesses in his community.
Comstock says his small business must sell older companies on the idea of new technology solutions -- different from competing with other digital firms in a large city. That takes creativity and a focus on what they do very well. "There has to be a constant source of learning," Comstock adds.
Social media marketing efforts are quickly shifting to mobile devices. Facebook and Twitter may help close the gap between urban and rural companies in the next five years, Comstock says. "I'm learning that it takes a lot of work to balance 500 different things."
"The starting point is the analytics and what that tells you, and the insights from the analytics that will help you define your brand, your narrative and what you want to say (and) where you want to say it," Brito says. "It all starts with looking at what customers are saying, either about your company, your topic or your industry."
Remember, you may be the social media manager also doing other work within a small business or non-profit organization, but strive to ignite management team interest and curiosity by sharing outcomes and success stories.
You also may be able to get some help from a social media lab at a nearby university. As you learn more about data analytics and social media technologies, your small business or non-profit will develop stronger plans for producing positive results.