On September 3rd, "America's littlest library" - a library based inside a British telephone booth - officially opened in Clinton Corners, NY. It's 3'x3'x8' and fits two people at a time, if they don't mind getting cozy.
We interviewed Claudia Cooley, who came up with the idea, via email about the workings of the littlest library, why it has no security, and their unconventional plans for Halloween.
How did you come up with the idea?
I read the BBC news every morning and this little story caught my eye back in the fall of '09: A small village in Somerset village of Westbury-sub-Mendip participated in a challenge of what to do with an old phone box. What started as an afternoon tea party, soon became a Gin & Tonic party and someone had a stroke of genius of adding a bookcase, and viola! The Red Phone Box Library was born. Since then, villages are able to buy their phone box for 1 UKP from British Telephone and they have upcycled into libraries/book exchanges/art galleries/tourist booths and even a pub.
I knew that across town, where an English Tea shop was located before, stood an English phone booth and thought, "One day, I'm going to turn that into a book exchange." Two years later, I'm on the steering committee for the Clinton Community Library and they asked if anyone has any fresh ideas to reach out to the community… The Book Booth: America's Littlest Library was born. Sadly, no gin in my version.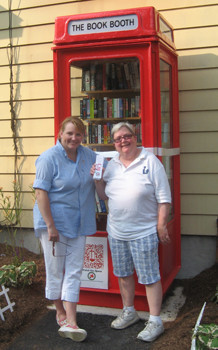 Terry Sennett and Claudia Cooley in front of The Book Booth
Do you take the books out at night?
No. We have given this to community, and we are hoping that they will watch over it and protect it. No locks either.
How do you choose what books to put in the booth?
Our Library Director, Terry Sennett has initially stocked it with choice books that were originally destined for our annual book sale. The Library will maintain it and oversee it, but it's really up to the readers of the world who visit the Book Booth as to what is put on the shelves. I came up with the term (as least I'd like to think I did): "readcycling" it's just a newer, shinier way to say take a book/leave a book.
How many people can fit in the booth at one time?
Five desperate LA housewives or two fat and happy country wives (present company included in that last part: Terry and I were in the booth at the same time and there was additional room for oh, I'd say… air.)
What have been the most popular books so far?
We only just opened, so it's hard to judge. One thing on the horizon, we would like to keep a clipboard in the booth for requests. This is the part that I'm most excited about. On the clipboard, you'll write your name and a specific interest you have, say like "Turkish Cooking", the next visitor will look at all the requests and say, "Oh cool, I've got a book on Turkish cooking," they'll write their name down next to it with an approximate date they'll drop it off. It's my hope that this unique aspect will lift the veil of anonymity that we live in.
What are your future plans for the booth? Will it be open during the winter?
One fun thing is, I haven't told the Library board yet, so this will be a surprise for them…I'd like to dress up the Book Booth for Halloween, I won't give it away completely, but if there are any Dr. Who fans in the Hudson Valley area they may be in for a treat! And yes, we are open 365 days a year and 24 hours a day.
We've installed a solar panel on the roof and the lighting fixture is a motion sensor light. So as soon as someone walks in the booth at night, the light comes on. It really is beautiful at night, part Hopperesque in its lighting effect and part 'book vending machine'. A soft downward light, fixed on the book shelves.
No electricity, no plumbing, books are readcycled, solar energy for light… everything about this booth is green, except the color.
Why did you make this happen?
There were three reasons we/I took this on:
1) To bring books to another part of town and build community spirit in a totally unique way. The novelty alone gets people talking.
2) To emphasize the green, sustainable angle.
3) To help our Town of Clinton and Salt Point area businesses. The local economy is suffering, as much as we try and buy local, we still have to come up with new ways to make our area even more appealing to the outside consumer.
My hope is, by providing a 'hook' to entice visitors to visit more areas in our town, the higher the chance that they'll stop and visit one of our businesses as well. The businesses and community organizations are what make up the texture of the town. We need to support each other, whether it's our houses of worship, our libraries, our businesses, we all need to come to each other's aid.
The Book Booth was created by Claudia Cooley and Terry Sennett
Popular in the Community