Do you ever look at the ingredients in a particular dish and think to yourself, that ain't right? I have to admit that recently happened to me when I took a gander at the menu at Myke's Café and saw their Bro Snicker Burger. Yup, we're talking a bite-sized Snickers bar and bacon cooked inside a beef patty, topped with cheddar cheese, two more strips of bacon, lettuce, green apple and honey habañero aioli in a Portuguese bun. Admit it, that doesn't sound right. But the proof is in the pudding or in this case in the crazy yet savory concoction from Chef Rafael Andrade.
While the Mole Burger fascinated me (I'm a huge mole fan), the Bro Snicker Burger disturbed me. I told friends about it and they all agreed, it has to be a stunt. Someone commented this is the kind of food guys dare one another to eat. But the fact is the wave of unique and distinct flavors are overwhelming and I dare you to find a better gourmet burger in town.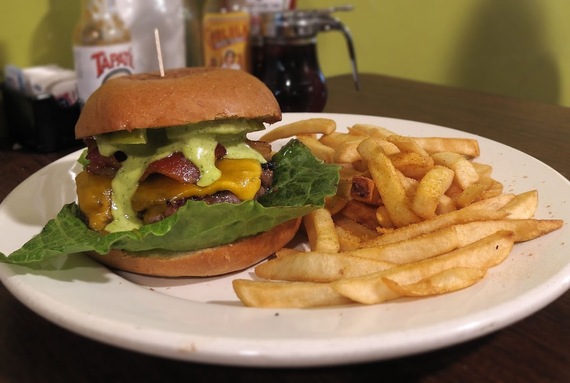 Myke's Café is tucked away in unassuming Pacoima in the San Fernando Valley, and is known and beloved for its gourmet pancakes -- the most popular being the Notre Dame Killer, made with southern red velvet, cinnamon, topped with cocoa powder and cream cheese frosting. And don't forget the Berrylemonicious made with raspberries in buttermilk pancakes topped with lemon curd. But I left a convert of this strange sounding yet so savory beast of a burger.
The blame or credit for the Bro Snicker Burger goes to Dino, Chef's brother. A bit reluctant at first, Chef Rafael started playing in his mad scientist lab of a kitchen and liked what he was coming up with.
"I started playing with it and my first thought was bacon, you have to have bacon," Chef Rafael recalls. "I don't care what you say, bacon is good with everything. So I put bacon and chocolate inside the patty and then I put bacon outside and tried it and it was good. Then I added cheddar and then green apple popped into my mind. You get a little sour with the caramel. I'm all about flavor but I still wasn't satisfied. Then I wanted sweetness but with a hint of spice and I came up with a habañero sauce with a little bit of honey. I played with that for at least a month. I wanted the honey taste right away and then at the end to have a kick. And finally I got it and, wow, I scored."
That mix of spiciness, saltiness and sweetness really comes through and it leaves you wanting more. And it also has a lot of customers eating their fair share of crow alongside the Bro Snicker Burger.
"One hundred percent of my customers say this is crazy and that it won't work; that it's not right," Chef says with a laugh. "And then they try it and say they were not expecting it; that all these flavors just work."
Asked what his next crazy creation will be, Chef Raphael is not lost for words.
"I have so many ideas," he says. "A lot of my customers have asked me to make a peanut butter and jelly hamburger. I don't think I'd use peanut butter. I'd actually put a cream cheese peanut butter frosting together with a spicy jam to give it a whole different flavor. That's one idea, and the other is a Chorizo Burger with beef. I actually played with it and came up with one that's pretty good. I just like putting flavors together to see if they'll work."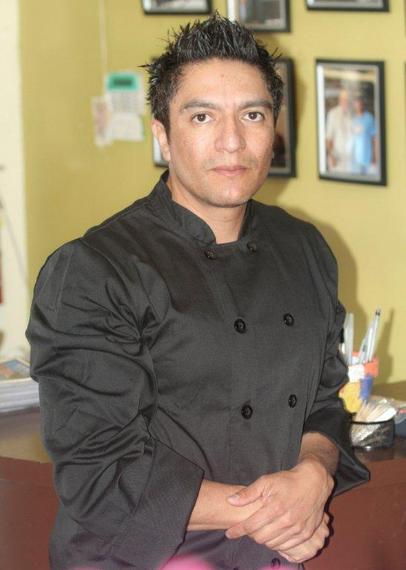 The most fit chef I've seen, Rafael confesses he does go overboard when he's dining out and finds something he really likes. He'll order plates and plates of it; even scaring himself that he might get sick (more time in the gym the next day). While I can't recall the last time I had a hamburger as tasty as the Bro Snicker Burger, Chef Rafael seems to be an even harsher critic.
"Honestly," he confesses, "I've been to The Counter, and Umami and I haven't been too thrilled with any of those. Honestly, the best burger I've ever had is from In-N-Out, and it's the most simple and straightforward burger. I haven't found anything better."
While he has a point there, for adventurous foodies who like a little something different, the Bro Snicker Burger is waiting for you.
Myke's Café is located at 13171 Van Nuys Blvd in Pacoima. Call 818-890-4815.
Photos courtesy of Jose Martinez
Calling all HuffPost superfans!
Sign up for membership to become a founding member and help shape HuffPost's next chapter