 There was a reason that images from the NFL game between the Philadelphia Eagles and Detroit Lions were turning up in the timeline of the official Twitter account of The Weather Channel: Snow. With snowblowers in higher demand than kickers, the Lions and Eagles battled in near-whiteout conditions at Lincoln Financial Field on Sunday.
Playing in this winter wonderland, the Lions fumbled the ball four times in the first quarter alone and Eagles quarterback Nick Foles tossed his first interception of the season -- to a cleverly camouflaged defender.
GIF: Lions Fumble In The Snow
The snow falling in Philadelphia wasn't simply a problem for the players and officials on the field and the fans in the stands. Those attempting to watch the game on television could hardly make out the action amid the near whiteout.
The television networks were forced to superimpose yard lines onto the field for viewers of various games on Sunday, according to The Associated Press. Philadelphia wasn't the only NFL city facing inclement weather on Sunday as Pittsburgh, Washington, Green Bay and Baltimore were among those also dealing with snow.
UPDATE: Thanks in large part to 217 rushing yards from LeSean McCoy, the Eagles topped the Lions 34-20 in the snow. While everyone else on the field at the Linc appeared to be appropriately hindered by the snow fall, McCoy was dashing and dancing around defenders with stunning ease.
Related
Before You Go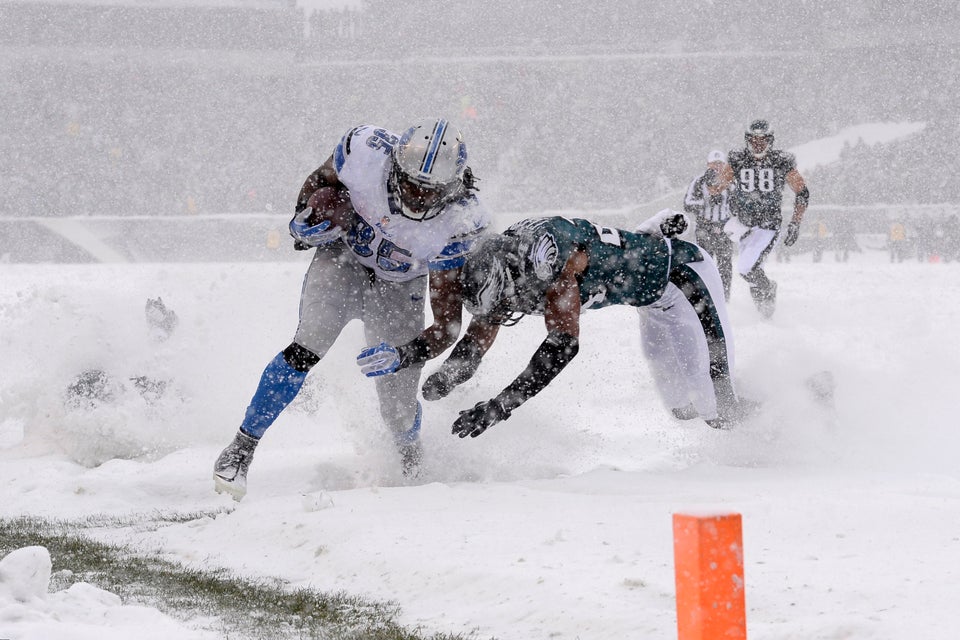 PHOTOS: Snowstorms Hit NFL
Popular in the Community