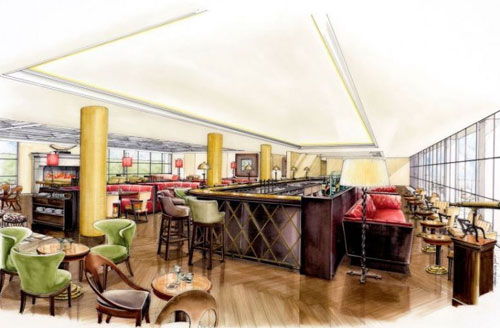 Just in time for Oscar week, Soho House will finally open its West Hollywood location on March 8. It's atop Luckman Plaza at 9200 Sunset Boulevard, the same building as Boa Steakhouse and Mosaic, the management company that represents Jim Carey, Steve Carell and Will Ferrell. Over the past few years, there's been much rumbling that the club's opening was delayed over parking issues with the neighbors, but the official line is that the owners took their time to make sure it was perfect and they wanted to open Cecconi's, an Italian restaurant on Melrose, first.
The 20,000-square-foot new penthouse Soho House L.A. will feature 360-degree views, a bar, a roof garden and another space that can be rented out to civilians, via a member connection. Unlike the New York City location, this one will not have a pool, a gym or a spa.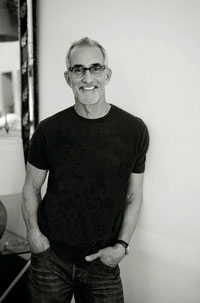 Waldo Fernandez, a Cuban-born Angeleno (clients include Brad Pitt and Angelina Jolie, Keanu Reeves and Tobey Maguire and Jen Meyer) designed the new space.
"They want to create an Old Hollywood glamorous feel with allusions to an old English gentleman's club," says Fernandez, who studied architecture and design at UCLA before working on set design for 20th Century Fox. He's become known for creating clean, modern and warm environments using a mix of mid century modern materials.
In an exclusive interview with Huffington Post LA, Fernandez says the project's tight deadline was the biggest challenge to design the new space. "We were hired only six months before the opening and all the interior architecture had not even begun," he says. "We wanted to create a beautiful and dramatic staircase but we had very little space and there are quite a few steps but we didn't want to just make a straight up stairwell. I think we achieved this with the graceful curve of the stairs and the materials we used: beautiful oil rubbed bronze and stone and glass."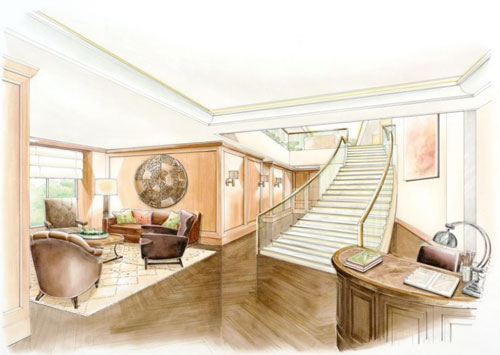 Fernandez got the gig by being friends with Richard Caring, who bought an 80 percent stake in Soho House in January 2008. "He respected my talent and reputation and allowed me the opportunity to work on this project," says Fernandez, who worked closely with Soho House's design team, lead by Nick Jones, the club's founder.
About a month ago, early members and the membership committee got a sneak peak at the space at a dinner party organized by Jones and attended by Jennifer Aniston, Gerald Butler, Ben Silverman, Bret Easton Ellis, Amanda Peet and David Benioff. "It was a very energized evening," says Fernandez. "The preparations for the party where incredible. They transformed a construction site into a dining room in one day."
Membership costs $1,800 per year and applications are available on the club's web site. Or, if you're one of the chosen ones, you got an early invite, but you already knew that.
Calling all HuffPost superfans!
Sign up for membership to become a founding member and help shape HuffPost's next chapter