Like weddings, theatrical events come in all shapes and sizes.
Some are big, overblown spectacles while others rely on developing an intimate rapport with a small audience.
Some are heavily-amplified affairs while others let the actors use their normal speaking voices.
Some rely on elaborate sets, costumes, lighting and fog effects, while others may let the actors perform in street clothes.
Some can take a viewer's breath away with the stark simplicity of their offering while others arrive overly hyped yet underwhelm.
For the audience, it's not always a question of getting what you paid for. Sometimes the experience is more about having reasonable expectations. Consider this performance of "Old Fashioned Wedding" by Reba McIntire and Brent Barrett from the 1999 revival of Irving Berlin's famous musical, Annie Get Your Gun.
Sometimes, entering a theatre without a specifically crafted set of expectations can be a blessing in disguise. One can be seductively charmed, deeply moved, or end up watching a piece from a completely unexpected perspective. That's pretty much how one week started off here in San Francisco.
For the past few years, Greg MacKellan (the artistic director of 42nd Street Moon) has led a series of musical salons dedicated to celebrating the great songwriters of Broadway. Some have been strictly lyricists, others have doubled as both composer and lyricist.
Most of these were held at the 511-seat Alcazar Theatre on Geary Street, where the need for amplification led to some pretty spotty sound work that often compromised the evening's quality. For Once In Love With Loesser, 42nd Street Moon moved back to its home base of operations, the 200-seat Eureka Theatre on Jackson Street.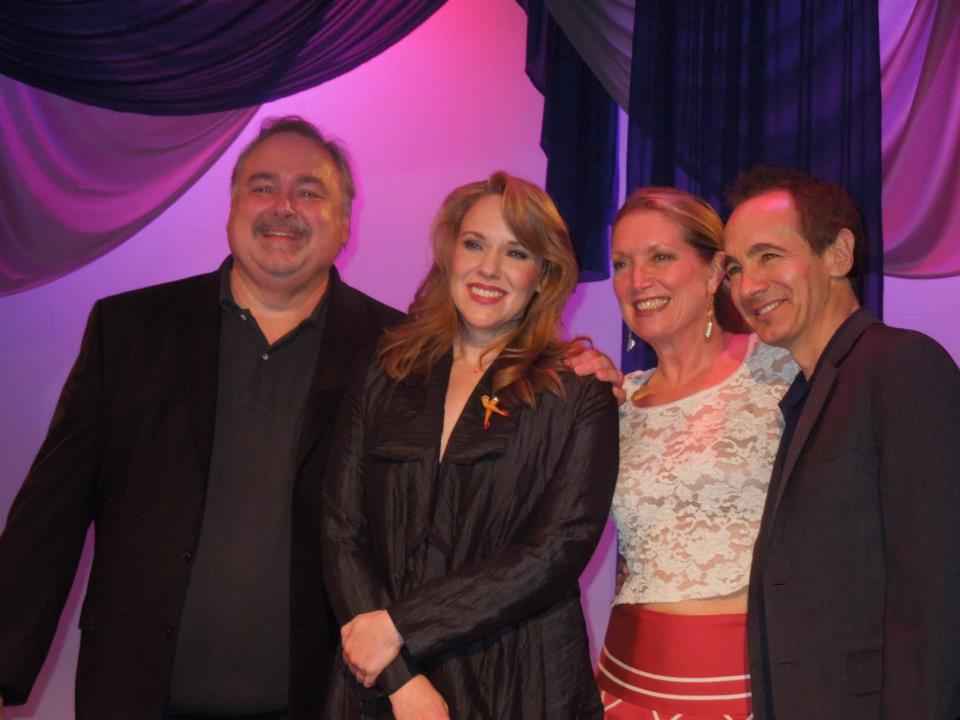 Greg MacKellan, Emily Skinner, Stephanie Rhoads, and Jason Graae
on opening night of Once In Love With Loesser
This smart move added intimacy and familiarity to the evening, brought the audience closer to the performers, and let them sing with their natural (as opposed to amplified) voices. With Dave Dobrusky at the piano and Greg MacKellan narrating, the evening featured 42nd Street regulars Ashley Jarrett, Bill Fahrner, Ian Leonard, and Ashley Rae Little. They were joined by Jason Graae (the star of the company's staging of Little Me) and Broadway's Emily Skinner (making her first appearance before a San Francisco audience).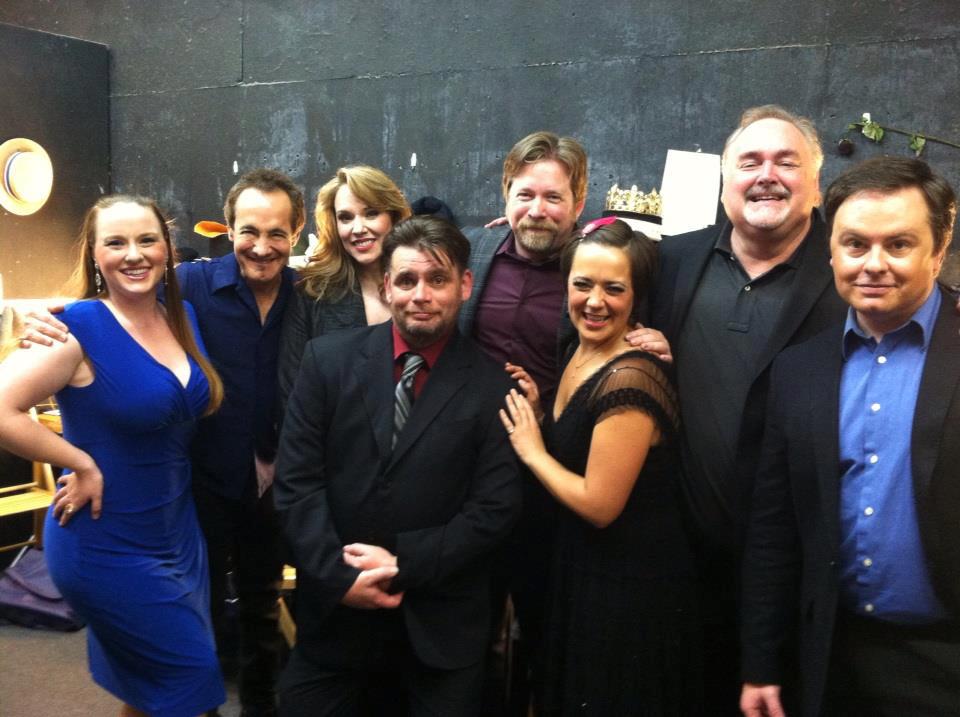 The cast of 42nd Street Moon's Once In Love With Loesser
Loesser's career was divided into three major phases:
First as a Tin Pan Alley lyricist ("Heart and Soul," "The Lady's In Love With You").
Second, as a Hollywood lyricist ("The Moon of Manakoora " from 1937's The Hurricane; "Two Sleepy People" from 1938's Thanks for the Memory; and "They're Either Too Young or Too Old" from 1943's Thank Your Lucky Stars).
Third, as a Broadway songwriter (1948's Where's Charley?, 1950's Guys and Dolls, 1956's The Most Happy Fella, 1960's Greenwillow, and 1961's How To Succeed in Business Without Really Trying). Musicals which never made it to the Great White Way include 1965's Pleasures and Palaces (which closed after its Detroit tryout) and Senor Discretion Himself (which was posthumously produced in 2004 by the Arena Stage in Washington, D.C.)
Jason Graae scored strongly with "Once In Love With Amy" (from Where's Charley?) and "The King's New Clothes" (from 1952's Hans Christian Anderson). Emily Skinner made a lovely transition from Cleo's exhausted "Ooh! My Feet" to Amy's "Somebody, Somewhere" (from The Most Happy Fella). While Ashley Jarrett brought a lovely soprano to "If I Were A Bell" (from Guys and Dolls), Ian Leonard's tongue-in-cheek rendition of "Sing A Tropical Song" from 1943's Happy Go Lucky was much more droll than this clip by The Andrews Sisters.
At the top of the evening, MacKellan explained how difficult it was to narrow down the choice of songs for his tribute to Frank Loesser. In addition to Loesser's strengths as a lyricist, as a composer he had an uncanny knack for avoiding arrangements that relied on dominant chords, preferring instead to employ numerous and surprising chromatic tones to add depth and emotion to his ballads.
While the evening was a total delight, I was surprised that MacKellan never bothered to mention Greenwillow. To my mind, one of Loesser's most achingly beautiful songs (which was not performed during Once In Love With Loesser) is "Never Will I Marry."
From the Pontifical Swiss Guards in Vatican City to the brave men of the Royal Canadian Mounted Police; from beefcake calendars to the homoerotic drawings by Tom of Finland, who doesn't love a man in uniform? Whether we admire the cut of a sailor's jib or the elaborate headdresses worn by the Queen's Guard as they stand in front of Buckingham Palace, a military uniform has an almost mystical appeal to men and women alike.
Whether in comic operas like Gaetano Donizetti's 1840 hit, The Daughter of the Regiment (seen above with tenor Juan Diego Florez as Tonio), or Gilbert & Sullivan's 1881 triumph, Patience, soldiers have often been portrayed as lovesick heroes and comic figures.
Unfortunately, real life rarely mirrors what happens in operettas. Regardless of its nationality, the military is a war machine that treats young men as cannon fodder and, if it doesn't kill them, sends them home physically wounded, emotionally broken, and/or suffering from posttraumatic stress disorder.
Because so many in today's audience have grown up in the era of an all-volunteer military, there is absolutely no awareness of the paralyzing fear that enveloped families whose sons had been or were likely to soon be drafted. The best and the brightest were often sacrificed in Germany, Vietnam, Iraq, Afghanistan, and other theatres of war. Despite all the plays and movies that have been made about military history, I've never been a big fan of the genre I refer to as "war porn."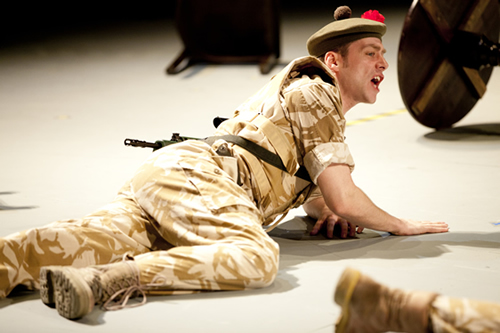 A scene from Black Watch (Photo by: Scott Suchman)
The American Conservatory Theater recently presented the National Theatre of Scotland's touring production of Black Watch (which has been billed as "A Revolutionary Theatrical Event") in the Drill Court of the San Francisco Armory.
Gregory Burke's war drama takes a hard look at life within a high-testosterone group of bored and occasionally angry young men who volunteered to join the legendary Black Watch (Third Battalion, Royal Regiment of Scotland) during the Iraq War only to discover that no one could tell them what they were really fighting for. For many of these young men (some who had not even finished high school), the military offered the only hope of employment. Their enlistment was not so much a gesture of defending their country as trying to get out of a miserable situation with no future.
Although some were deeply moved by this production, I found myself looking at it through a very different lens. Burke's script involves a group of soldiers who have returned home to Scotland and, at the urging of their friend Cammy (Stuart Martin), volunteered to talk to a journalist. Although they thought they were getting a female journalist named Sophie (whose name had been enough to arouse several lurid sexual fantasies), instead they found themselves facing a young male journalist with no military experience who kept asking them "What was it like?"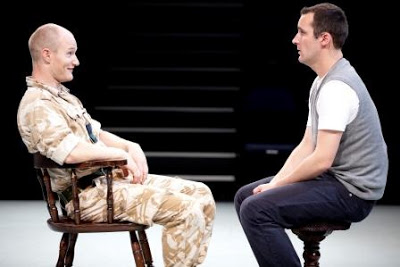 Chris Starkie and Robert Black in Black Watch
(Photo by: Scott Suchman)
As directed by John Tiffany, Black Watch makes extensive use of video, wartime sound effects, and a billiards table which can easily be used to represent a military transport vehicle. Whether recalling the lies they faced during the recruitment process, their shattered dreams of glory, or the experience of watching their friends die from an improvised explosive device, the narrative is broken up by numerous flashbacks which show the men in action -- or waiting for any kind of action to relieve their boredom.
There are numerous fight scenes (some petty squabbles among the soldiers, others choreographed depictions of soldiers reacting to bomb blasts, dying in the field, etc.). I'm willing to bet that if all the instances of "fuck," "fucking," "shite," and "cunts" were deleted from Burke's script, it would lose as much in length as it did from its atmosphere of hypermasculinity.
Last fall, when the Berkeley Repertory Theatre presented An Iliad (a monologue written by Lisa Peterson and Denis O'Hare), Henry Woronicz performed a bitter soliloquy listing every famous war from the beginning of time up to the present as a chilling reminder that nothing ever changes. The careers and futures of young men are tragically cut short as they try to defend a nation, a principle, or a commercial interest such as oil. A segment which traces the history of Scotland's Black Watch has the company undressing and redressing Cammy in the uniforms of one war after another in a production number that could easily be named "Black Watch Barbie."
By sheer coincidence, a few weeks prior to seeing this production I had read an excellent blog post by the artistic director of Berkeley's Impact Theatre, Melissa Hillman, entitled Get It Together and Hire A Fight Director. It's a wonderful piece of writing that explains the importance of choreographing a fight scene so that it is not only believable, but safe for the actors who must perform it night after night.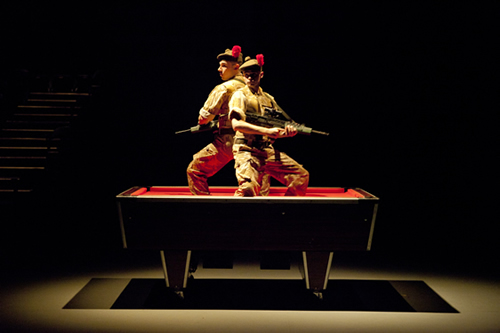 Two soldiers stand guard in Black Watch
(Photo by: Scott Suchman)
Let me recommend reading Hillman's article before you watch the BBC telecast of Black Watch from the Highland Football Academy. Here's part 1: