In August, Sonoko Tagami was ticketed for daring to go topless -- save for some strategically-placed body paint -- on the Chicago lakefront. Now the bare breast activist is now suing the city, claiming its indecent exposure laws are unconstitutional.
According to a lawsuit filed Wednesday in U.S. District Court, Tagami was given a ticket for violating the city's indecent exposure ordinance while participating in an event with GoTopless, a group that advocates for women's right to go topless in public on the basis of gender equality. In a recent administrative hearing, she had been fined $100 plus $40 in fees.
Her lawsuit slams Chicago's ordinance as "impermissibly vague" and an "unconstitutional infringement on rights secured by the First and Fourteenth Amendments."
Tagami is seeking unspecified punitive damages, according to court filings, but her suit may be part of a larger GoTopless strategy to take down Chicago's anti-bare breast ordinance altogether.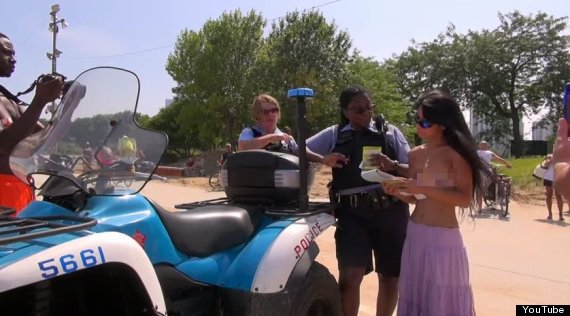 Tagami was ticketed on Aug. 24 at Chicago's North Avenue Beach during a "GoTopless Day" event.
A recent statement from GoTopless said that Chicago Cook County Court Judge Marcia K. Johnson "purposefully found [Tagami] ... guilty of indecent exposure so Tagami can appeal the case and challenge the constitutionality of the local law."
"Judge Johnson explained that constitutionality cannot be legally challenged at the municipal court level," GoTopless spokeswoman Nadine Gary said in the statement, adding, in part:
"[Judge Johnson] explained that by finding her liable, Sonoko could take this matter up to a higher court and argue the constitutionality of the ordinance and municipal code," Gary explained. "She said she would indeed find her liable because she thought Sonoko should take it further. In fact, she said the municipal law's vague reference to opacity [regarding the covering of women's nipples in public] is a very interesting question. She said she's curious to see what will happen with this case, especially if it gets to a Superior Court after being in her courtroom."
Johnson is not allowed to comment on the case, her office told The Huffington Post. According to her lawsuit, Tagami has appealed her ticket.
A YouTube video of the incident (may be NSFW) shows Tagami at the August event, with her top of her dress pulled down and white body paint on her breasts. According to the lawsuit, Tagami and other women had taken part in previous GoTopless Day events while wearing opaque body paint and were not found to be in violation of the laws.
Illinois state law allows women to bare their breasts while breastfeeding and doesn't restrict women from going topless unless it's "a lewd exposure of the body done with intent to arouse or to satisfy the sexual desire of the person."
The Municipal Code of Chicago, meanwhile, prohibits "the showing of the female breast with less than a full opaque covering of any portion thereof below the top of the nipple."
"It's a poorly written, very very old ordinance that would, I think, make illegal many of the fashions that women wear today," Flaxman told CBS.
Advocates of female toplessness argue that anti-female nudity laws only reinforce gender inequality and a negative view of women's bodies.

In Utah, Indiana and Tennessee, it's illegal for women to display their naked breasts in public unless breastfeeding, according to Go Topless. Thirty-three states allow toplessness, and others have ambiguous laws.
Calling all HuffPost superfans!
Sign up for membership to become a founding member and help shape HuffPost's next chapter
BEFORE YOU GO
PHOTO GALLERY
#FreeTheNipple