The internet is abuzz about the story of a San Diego man who attempted to get past a car breathalyzer by having a raccoon blow into the device.
It's a funny story. But we're sorry to report that it's pure fiction, police tell the Huffington Post.
According to both the Telegraph and CBS Detroit, an unnamed naval officer stationed at Camp Pendleton in Oceanside, California, was trying to drive home after a wild night at a bar.
His car was equipped with a breathalyzer to prevent drunken driving and it wouldn't start. So, this man made a decision that only a drunk man would make: He decided to catch a racoon and have the furry animal blow into the device.
If you believe a police report originally posted at Imgur.com, the incident occurred on Sept. 26.
In the dubious document, the suspect was "too intoxicated to successfully start the vehicle so he went into the park where he captured a raccoon rummaging in a trash receptacle."
The suspect somehow got the raccoon "to blow into the interlock system successfully," until it became unconscious "from being squeezed," the report notes. The driver then discarded the raccoon "on the floorboard of the vehicle."
At some point during the drive, the raccoon became conscious and attacked the drunk guy behind the wheel. The man supposedly crashed into a pool and suffered numerous scratches and bite marks all over his body.
It's the type of story that definitely qualifies as "weird news," if it were true.
But it's not, according to officials at Camp Pendleton.
"It's not even a legitimate police report," according to Lt. Abigail Dredge, public affairs officer for Camp Pendleton. She told The Huffington Post the incident number on the report did not match the numbering system used at the base.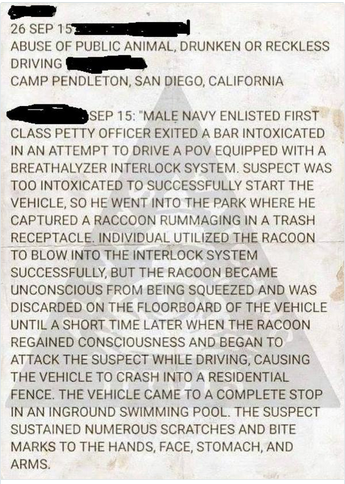 As entertaining as the story is, wildlife rescue expert Eric Voigt said even an 8-year-old child should be able to tell it's fake.
"I have never squeezed a raccoon or used a breathalyzer, but I doubt it's possible to pick up a raccoon without being injured," Voigt told HuffPost. "They'll bite the mess out of you.
"Plus, even if the guy could pick up an adult raccoon, he wouldn't leave it on the floorboards."
The Telegraph updated its story to say the whole thing was an Internet hoax.
Dredge said she understands if people are disappointed by the truth.
"It's a funny story, but there's no validity to it," she laughed.
Still, raccoons can breathe easier -- at least where car breathalyzers are concerned.
Calling all HuffPost superfans!
Sign up for membership to become a founding member and help shape HuffPost's next chapter