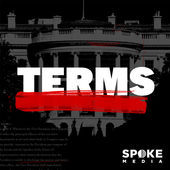 Terms
Episodes 1-3: Election Night/The Cage/Opening Gambit
The story goes that Terms creator Lindsay Graham has had the plot for his new Spoke Media soundcast bubbling in his brain dating back to the Clinton administration: An unexpected and controversial candidate defies the odds in a run for the US presidency and wins, threatening to upset the legacy left by the outgoing two-term Commander-in-Chief. If that's the case, then life is in the midst of imitating art, at least in the setup for this new, intriguing and well-produced narrative.
The characters are fictional and the elements of the plot are too, but they bump up damned close to the familiar. Republican candidate Charles Dunwalke has upset the natural order by winning the seat of president (per the electoral college; he loses to his Democratic opponent in the popular vote...) The incumbent and now lame duck POTUS, Oliver Pierce, can't believe that everything he worked eight years to build is likely to be dismantled by the maverick Dunwalke.
So he decides to do something about it.
The show started dropping episodes with a teaser on November 11th, just three days after the real-life US presidential election, and the policies espoused by the Dunwalke character eerily echo those of Donald Trump. So as listeners are swept along by the emerging plans of President Pierce, one can only wonder if they, too, echo any kind of backroom machinations in the real world.
By episode three, "Opening Gambit", Pierce has begun to draw several associates -- both friends and enemies -- into his confidence by meeting with them in a secret room beneath the White House that's equipped with several measures, including a Faraday Cage, designed to keep prying and spying ears and eyes away. His closest friend -- wife and First Lady Gwen Pierce -- is not included in his budding alliance in order to keep her safe, but she knows that something is afoot.
The episodes are short, none longer that 19 minutes thus far, making it easy to binge one's way into the story - and the voice acting and other production elements are top-notch. Terms is a soundcast entry which closes out a year that has seen the rise of the narrative story in the personal audio medium like never before.
Other soundcasts I'm listening to this week: Test Pilots -- Epi1: Nobody Said with Alison Severs; and Knight & Day -- Epi3
In addition to his weekly contributions to This Week In Comedy Podcasts for Splitsider.com, Marc Hershon is the host and executive producer of Succotash, The Comedy Soundcast Soundcast, featuring clips from comedy soundcasts (née podcasts) from across the Internet as well as interviews with podcasters, soundcasters, comedians, and assorted show biz folk.
Popular in the Community