When the puck drops on the South Carolina Stingrays' 2014-2015 season, the minor league hockey team will be playing for something larger than itself. 
Just months after the horrific church shooting that took place only nine miles from its arena, the team will be playing for the "Charleston 12" -- the 12 people who were at the prayer service at the Emanuel African Methodist Episcopal Church when the gunman opened fire -- as well as for the city's community as a whole, as it begins to recover from the June 17 tragedy. 
Stingray team president Rob Concannon announced on Monday that his organization will host a "special Opening Night" on Oct. 17, to "honor and remember" those affected by the shooting.
"It's going to be a pretty special night," Zach Fisch, the team's director of communications and broadcasting, told The Huffington Post on Monday. "We wanted to do it right and we wanted to remember everyone that was in that church." 
The Stingrays will be wearing jerseys emblazoned with the "Charleston Strong" slogan that gained traction after the massacre -- a rallying cry of sorts for the South Carolina community at large. They also will be taking donations throughout the night, with the collected funds going to the victims' families.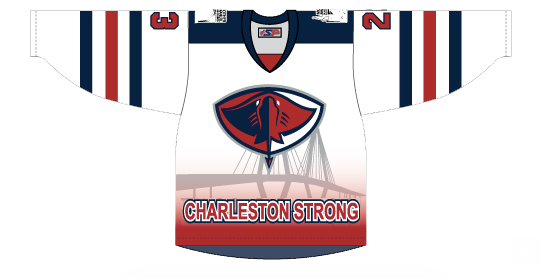 The event will, of course, celebrate the lives of the nine people who were killed in the attack. But the Stingrays also want to shift some of the focus to the shooting's three survivors -- Polly Sheppard, Felicia Sanders and her granddaughter -- who have "kind of felt forgotten" in the hate crime's aftermath, according to Fisch. 
"Everyone is coming to the aid of the church, which is very valid and needed, but we wanted to make sure that the three people that were impacted [by the shooting] were recognized, that the community has rallied for them and that the 'Charleston Strong' mantra that we really have rallied around in this community was out there," Fisch said.
Fisch explained that Concannon has already spoken to and received the support of the survivors, who will be in the arena for the game's honorary puck drop. And while Fisch stressed that the team felt a connection with each of the members of the "Charleston 12," one victim, Tywaza Sanders, had an even more direct link to the organization. Sanders, Concannon stated, had been a participant in the Stingrays' "Learn to Play Hockey" roller camp two decades ago.
It is these relationships -- with those who were both within and outside of the church walls that day -- that are the basis of and the inspiration behind the team's opening night, and all that it entails.
PHOTO GALLERY
Charleston Church Shooting Victims
Calling all HuffPost superfans!
Sign up for membership to become a founding member and help shape HuffPost's next chapter