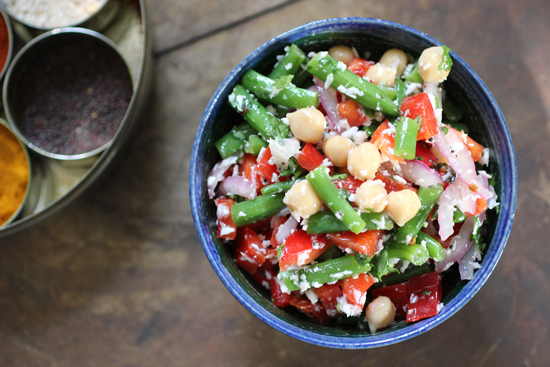 This is a recipe I based off of usali, a South Indian bean salad. Usali is usually made from kala chana or black chickpeas. You can buy them dried and they have a nice earthy flavor to them. The downside though is that they take quite a bit to cook. If you do want to try the recipe, here's my mom's.
I modified the usali recipe to include chickpeas instead of kala chana and some vegetables I had in the fridge: string beans, red pepper and purple onions. It's so bright and colorful, it's kind of like a bowl full of summer. I made this dish for a barbecue at my friend Karol's.
The salad is flavored with coconut, fried spices, curry leaves, lemon and cilantro. I love crunchy salads and this one does not disappoint.
South Indian Chickpea Salad
1 cup chickpeas, drained and washed
1/2 pound string beans, blanched, cut into 1 inch pieces
1 red bell pepper, medium chop
1/4 red onion, thinly sliced half circles
1/3 cup fresh shredded coconut
1 tablespoon oil
1 pinch hing (asafeotida)
1/2 teaspoon mustard seed
4 fresh curry leaves, chopped
juice of 1/2 lemon
cilantro for garnish
salt to taste
Method:
Blanch the string beans in boiling water so they are still bright green and have crunch to them. Pour them into a bowl of ice water so they don't cook further.
Wash the chickpeas thoroughly until water is clear.
Place the chickpeas in a bowl with the string beans, red bell pepper, onions and coconut.
In a very small pan, heat oil under medium heat. Put in hing and mustard seeds and cover. When the mustard seeds start to sputter, turn the heat down a little and put in chili and curry leaves and mix. Cook for about 30 seconds. Turn off heat and pour over chickpeas and vegetables. Add lemon juice, coconut and cilantro and mix. You can add salt to your taste.