A Southwest Airlines employee asked a college basketball coach over the weekend to "prove" that her biracial son was hers, the woman said Monday.
Lindsay Gottlieb, the head women's basketball coach at the University of California at Berkeley, said she was flying from Denver to Oakland with her 1-year-old son, Jordan, when the airline employee requested his birth certificate.
Gottlieb said she didn't have the official document, though offered his passport, which lists him as having a different last name.
"She said, well, how do I know that you're the mother?" Gottlieb recalled to KPIX News. Gottlieb is white, and Jordan's father is black.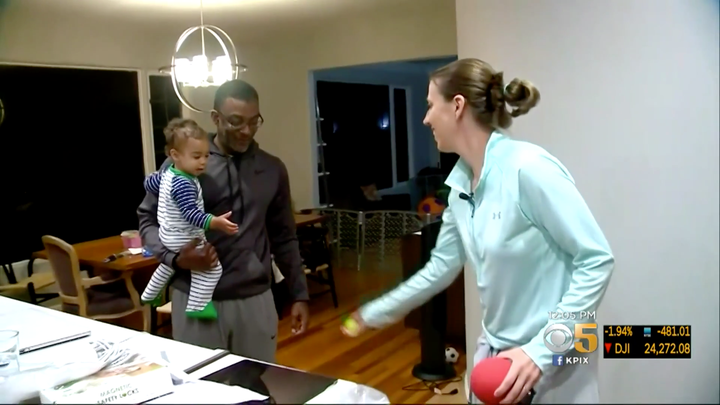 Not satisfied, Gottlieb said, the employee asked her to "prove" that she's the child's mother by showing a Facebook post instead.
Gottlieb tweeted about the experience, calling it "demeaning and insensitive, not to mention inefficient," and suspects that it wasn't her son's last name but his skin color that caused the holdup.
The "mother next to me said she's never been asked for proof despite [having a different] last name," Gottlieb tweeted, adding that she wasn't shocked by this, since that woman's family wasn't mixed race.
Southwest Airlines, in a statement obtained by HuffPost, said it apologized to Gottlieb and her family if the questioning made her feel uncomfortable, stating "that is never our intention."
"Southwest Airlines' policy is to verify lap children are younger than the age of two by reviewing a birth certificate or government-issued identification," the statement said. "Certain international locations require us to verify additional paperwork for those traveling with a minor. Domestic travel does not require carriers to match last names of a child and guardian."
The airline did not specify in its statement whether the request for Jordan's birth certificate was due to his last name or race. It added that it will "emphasize the coaching moment with our Employee as we ensure our policies are properly followed."
The airline declined to comment further on whether it has a protocol for requiring further identification for traveling children who don't look like their parents.
Airline Ambassadors International, a nonprofit organization that helps raise awareness of human trafficking, has trained flight attendants and other crew members on how to spot such cases, including through physical appearance.
Indicators include passengers appearing scared, ashamed, nervous or bruised; giving contrasting information; or if a child is traveling with someone who does not appear to be a parent or a relative. A difference in the passengers' skin color or race alone is not enough of an indicator, the group's founder, Nancy Rivard, told HuffPost.
"They probably weren't trained that well," she said of any airline employee who expressed concern about a child solely because of their race.
"It's not automatically because of race. People know that children are adopted from all over the world. But, of course, people can take it that way," said Rivard, adding that there would have to be other indicators.
"It's not automatically because of race. People know that children are adopted from all over the world. But of course, people can take it that way.""
Another red flag could be the parent being defensive when questioned, she said.
"They're afraid of uniform security in general," she said of human traffickers.
If anyone has a suspicion that a child is in danger, however, Rivard said they should not hold back in reporting it to authorities.
"Of course they don't want a lawsuit," she said of airlines, "and we don't want anyone accusing anyone, but we think it's better to report suspicions than not report them."
Rivard said she knows of at least three incidents in which an airline didn't flag a case of human trafficking because employees were afraid of making a scene and causing problems.
Though other women ― including mothers of mixed-race children ― have expressed on social media being equally upset over the incident involving Gottlieb, many others have defended the airline, including model Chrissy Teigen.
Teigen, who has two young children with her musician and actor husband, John Legend, who is black, said she has also been stopped by airlines with this similar request.
"Once I learned it's a precaution for the very real threat of child trafficking, I stopped being exasperated with it. Now I'm kind of worried when they don't ask," she tweeted to Gottlieb and Southwest Airlines on Tuesday.
She added that in her experience, it's often situational, with flights to London being "the most difficult" for her, as she said she has to take a file folder of papers.
This story has been updated to include a comment from Airline Ambassadors International.
Related