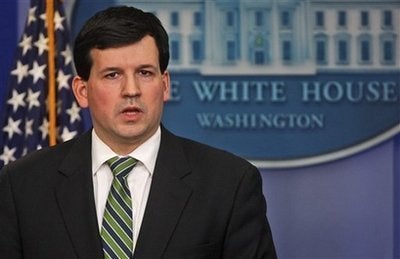 The White House made history on Monday. And it wasn't just by loosening travel and remittance restrictions for individuals looking to reach out to family members in Cuba.
When Dan Restrepo, President Barack Obama's senior adviser on Latin America, addressed the Spanish-language media in their native tongues, he is believed to have been the first person to speak a language other than English during a White House briefing.
Restrepo, formerly of the Center for American Progress, used two languages on Monday -- fielding questions from the American and foreign press. On several occasions he offered the same answer twice, catering to, for instance, the Latin American television crews that couldn't broadcast important policy announcements in English.
Later in the briefing, with Restrepo gone, press secretary Robert Gibbs was asked if history had just been made. Pleading a bit of ignorance, he turned to CBS Radio White House correspondent Mark Knoller, the unofficial White House press historian. Knoller said he could not remember ever hearing a foreign language spoken from the podium during a White House briefing. Asked later by the Huffington Post how long he had been on the beat, Knoller said, "nonstop since 1992 and on and off since the end of Ford, '76."
Popular in the Community