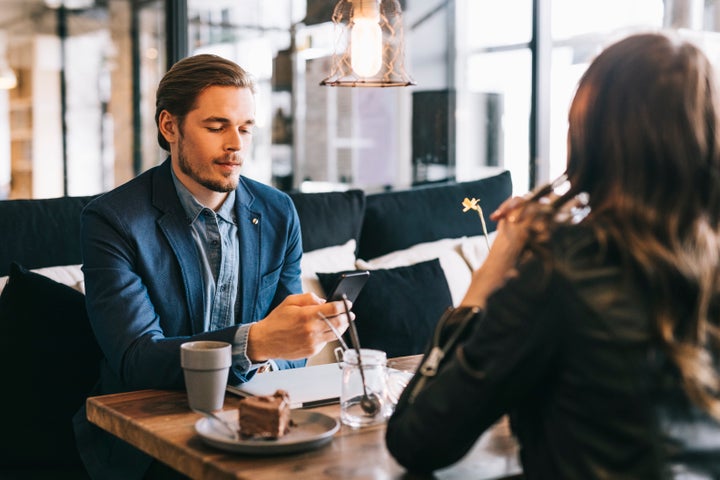 According to marriage therapists and dating experts, the best defense against divorce is having a keen eye for people who simply aren't cut out for marriage during the dating process.
Below, they share eight signs your date is more likely to be your future ex-husband than a lasting love connection.
1. He talks about himself ― and only himself.
"Your date shouldn't be monopolizing the conversation. You may be forgetting to talk about yourself, but a true gentleman will realize you're doing most of the listening and will want to know more about you. I would not recommend pushing yourself into the conversation more than you feel necessary. Simply try sharing a few thoughts, ideas or divulge a little about yourself. If you have to force him to listen to you, you can be pretty sure this is how the relationship will go in the long run. Cut your losses now." ― Amanda Deverich, a marriage and family therapist in Williamsburg, Virginia
2. He asks you to "hang out."
"Did your date plan a nice night out and is he putting in the effort? Contrary to popular belief, chivalry is not dead; there are plenty of good, thoughtful gentlemen (and women!) out there who care about your happiness and want to meet a wonderful partner. If your date asks you to 'hang out' at their place or doesn't exhibit basic kind gestures ― like asking if you're cold or opening a door ― don't expect them to make the effort later on. People with good manners [who] truly care will make the effort when it counts: Do they attempt to pick up the check? Do they ask if you're hungry or if you'd like dessert or a second drink? Do they ask if you mind sitting outside? A good person will know to be courteous and to care for the needs of their date ― yup, even on a first date. Pay attention and remember how you feel when you're with them: That very thing is what leads many people to divorce: One person feels like their partner never really thought to ask or cared about how they felt or what they wanted." ― Jenny Apple, a matchmaker in Los Angeles
3. He tells you he's divorced, but that's not the full story.
"His dating profile says that he is divorced, but then you find out that he's only separated? Bad sign. Overall, men like being in relationships. They try to bounce back from a divorce and re-partner quicker than women do. You need to find someone who is looking for the right woman, not the first woman who came along." ― Caroline Madden, a marriage therapist and the author of How To Go From Soulmates to Roommates in 10 Easy Steps
4. He's overly dramatic.
"If he spends the entire evening talking about his long history of life challenges ― a string of broken relationships, for instance, or constant moves, or job losses ― it could be a red flag. This may be someone who's so caught up in emotion that he's not able to deal with the practical. You may have a wonderful, emotional romance, and perhaps this will sustain you into happily ever. More than likely, though, life will get in the way and someone will have to deal with the practicality of paying the bills, sticking with a job, cleaning the house, and minding the children." ― Amanda Deverich
5. He doesn't have any passions or hobbies.
"Hobbies are important, which is why it's a good thing if you have a spouse who loves football, even when you hate it. Ultimately, that means your spouse will have interests and things that make him happy outside of your relationship. In the beginning, most couples spend all their time together. But eventually, you are going to want to hang out with your friends and do the things that make you happy. If he doesn't have his own thing going on, he might guilt trip you by saying you don't care about the relationship. In a relationship, both of you need to have a life of your own."― Caroline Madden
6. He doesn't open up about anything.
"If you're trying to get to know your date and they're having a very hard time opening up, it's a good sign they aren't emotionally mature enough or ready for something as important and deep as a long-term relationship or partnership. It's OK if they don't want to discuss everything at length on a first date, but anyone who is avoiding a topic altogether might have something to hide. Maybe they just had a bad breakup or trauma, which might mean it's too soon to get involved and they are looking for more of a distraction than a love interest. The building blocks of relationships involve vulnerability, and anyone who shows signs of serious avoidance might not be someone you want to trust your emotional life with in the future. They might be ready later on, but don't chase anyone that's not emotionally available." ― Jenny Apple
7. He mentions that money is tight and asks you to foot the bill.
"You can spot your ex-husband on the first date when he shows up at lunch or dinner and claims he is 'broke,' asking you to pay for the meal. If he is broke and unprepared to pay for the first meal, he will avoid responsibility and accountability in a marriage. Send that man packing! You need someone to be an asset, not a liability!" ― Joyce Morley, a marriage and family therapist in Decatur, Georgia
8. You feel like you are being interrogated.
"You want your date to ask you questions and not talk about themselves the whole time. But be wary if he's peppering the conversation with way too many forward questions. They may have trust issues if they're endlessly screening you for dealbreakers. A date should never feel like an inquisition."― Caroline Madden