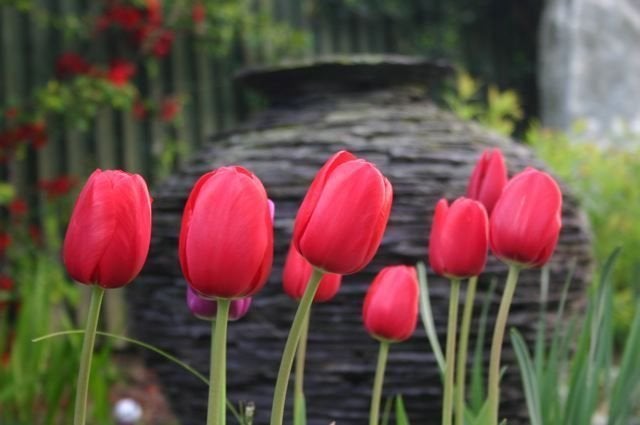 When it comes to bulbs, bigger is not always better. Many tiny spring bulbs are among Mother Nature's most carefree plant, undemanding and adaptable. Their ability to roll with the punches and go forth and multiply is just short of a miracle. In my garden, they're encouraged and utterly at liberty to roam.
Yet my own admiration for small bulbs didn't come at first meeting nor from browsing through all the glossy catalogs; it happened after years of observing a shady bank at our house. The slope was originally covered with grass and a few patches of snowdrops, Siberian squill and glory-of-the-snow that the previous owner had planted. Not wanting to mow a bumpy hillside, I dug up the grass and weeds and added a variety of shade-loving groundcovers--hosta, astilbe and vinca. It never occurred to me as I was digging and amending the soil with compost that the small bulbs would survive, let alone flourish. And yet that is exactly what happened. My spadework had, in fact, disturbed their clusters, forcing them to divide.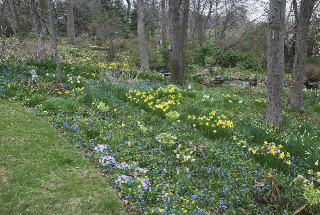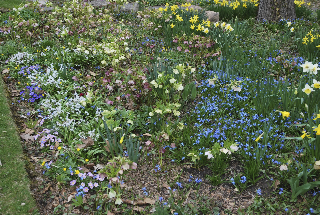 They bloomed the following year in a blaze of glory, in greater numbers than before. The hillside was covered with scatter rugs of snowdrops in late winter and a blue wall-to-wall carpet of Siberian squill in early spring.
I knew bulbs multiplied both by dropping seed and by producing small bulbs around the base of the mother bulb. What wasn't obvious was that as the number of bulbs grew, the rate of increase accelerated. Overcrowding is rarely a problem, so I let them multiply at will. Now the blue of the hill matches that of the sky.
Inspired by this show, I've tucked all kinds of little bulbs in other areas--in random bunches on the lawn; along the woodland path; under the bare legs of roses; between the peonies; circling deciduous trees. The parade of little bulbs includes crocus, winter aconite, dwarf iris (Iris reticulata), puschkinia (Pushkinia libanotica), checkered lilies (Fritillaria meleagris), spring starflower (Ipheion uniflorum), species tulips and grape hyacinth.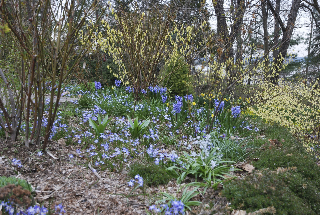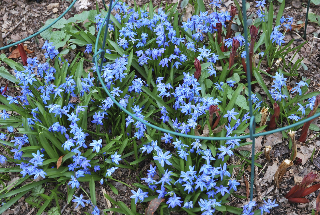 From the earliest bloomers to the last one, these Lilliputian charmers give freely to the garden, expecting nothing more than an admiring glance or two from passersby. They are inexpensive and because of their small size, shallowly planted. So why are so many yards without them? Now is the time to take a fresh look at your garden and you'll notice lots of places that could do with a frill of flowers, from neglected spots along a driveway to areas of lawn viewed from a kitchen window. I particularly like nestling small bulbs into a stone wall or paved patio. Next fall fill the crevices between the stones with soil, pop in the bulbs and come spring you'll enjoy surprising splashes of color.
Because of their small size, you must plant small bulbs in profusion for a fine show. A dozen is a drop in the bucket, a few hundred a good beginning. But don't panic! Your back won't break, nor will you find your fingers worked to the bone. These end-of-winter warriors need only to be poked a few inches into the ground. The smaller the bulb, the more shallowly it's planted; a general rule is to plant to a depth three times the diameter of the bulb. Many bulb catalogues give big discounts for spring orders, even though they don't send the bulbs, nor the bill until fall, the time to plant. Although if you do have a clump of bulbs in bloom this spring, you might want to divide them once they stop blooming. That is one way to start a new colony in another part of the garden.
No matter whether you plant bulbs in the fall or divide them in the spring, the bulbs will repay you with compound interest. Once planted, year after year these remarkable little bulbs return to grace the spring garden. Like me, once you discover their joys, you'll wonder how you ever got along without them.
Popular in the Community