A solid squad is essential.
Only recently, however, has the term "squad goals" become popular through social media. Urban dictionary defines squad goals as:
(skwäd/ɡōl) (noun) (plural noun: squad goals): an inspirational term for what you'd like your group of friends to be or accomplish. Used best when placed at the end of a directional statement.
 Though the term "squad goals" is new -- and overly used to represent Taylor Swift's ever changing group of friends -- desiring a flawless crew isn't. Growing up, many of us looked up to groups in pop culture and aspired for a crew like theirs. Here are some people who created the original #squadgoals: 
1. Khadijah James, Maxine Shaw, Synclaire James-Jones and Regine Hunter in "Living Single"
The successful and sassy women of women "Living Single" made many of us want to live in a Brooklyn brownstone and experience the single life. 
2. The Cheetah Girls
"We're cheetah girls, cheetah sistahs!" These girls are probably the most epic squad Disney has ever created. And they traveled around the world! Goals.
3. Fresh Prince and Jazzy Jeff
It's inevitable for everyone else to be jealous when your best friend's fly matches yours. Fresh Prince and Jazzy Jeff were living proof -- and their cool ass handshake only verified it.  Not to mention they made "Summertime."
4. The girls of "Girlfriends" 
Relatable to "Living Single,"Joan, Lynn, Maya and Toni navigate through their jobs and relationships in this underrated show. Each character has their own uniquely hilarious charm and it flawlessly works.
5. Kid 'n' Play
You and your bestie may not rock similar flat top fades but odds are, you two still do the iconic Kid 'n' Play dance during old school hip-hop sessions.
6. TLC
T-Boz, the late Left Eye and Chili always exuded crazy, sexy, cool. Their hip-hop and R&B infused sounds oozed femaled empowerment, leading Billboard to dub them one of the greatest musical trios ever.
7. Shaq and Kobe from 1999 to 2000 
There are few sports duos that were as dominating yet simultaneously lovable as Shaquielle O'Neal and Kobe Bryant during the 1999-2000 NBA season. They finished the season with a championship ring and an epic alley oop.
8. Spice Girls
Back in the day, Sporty, Scary, Baby, Ginger and Posh gave us all of the life. You probably fought with your friends over which Spice Girl you were going to play when "Wannabe" came on.
9. Martin, Gina, Pam, Tommy and Cole from "Martin" 
Taking constant jabs at each other, this comedic gang showed us that the best friendships are based on laughing at each other. No matter how many times Martin kicked out Pam, it was done with love.
10. Wu-Tang Clan
Made up of RZA, GZA, Method Man, Raekwon, Ghostface Killah, Inspectah Deck, U-God, Masta Killa, Cappadonna and the late Ol' Dirty Bastard, this is rap squad that has dropped legendary bars and stood the test of time. Wu-Tang forever is a fact.
11. Savannah Jackson, Bernadine Harris, Gloria Matthews and Robin Stokes in "Waiting To Exhale"
Even through the ugliest heartbreak, these ladies had each other's back and the film's tagline makes that clear: "Friends are the people who let you be yourself - and never let you forget it."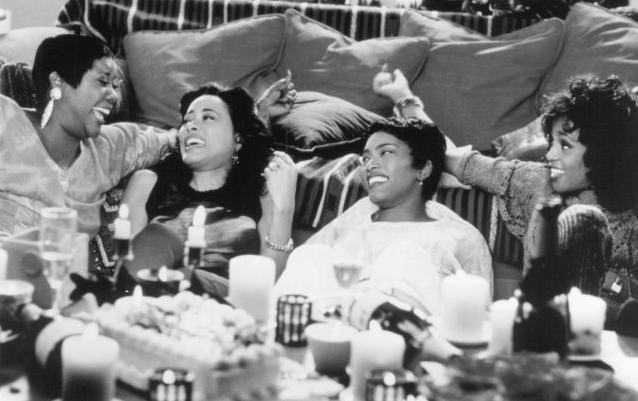 12. UGK and Outkast in the "Int'l Player's Anthem" video
No wedding was more fly than the one Andre 3000's crew put on for him in this video. Where else can you find fur pimp coats and Irish quilts in one place? Goals.
13. Stony, Cleo, Frankie and T.T. in "Set it Off"
This crew was 'bout that life. Full of good intentions and optimism, their story made us halfway believe we could rob a bank with our best friends too.
14. Jordan and Pippen
Before Kobe and Shaq, Michael Jordan and Scottie Pippen were the NBA's most forceful tag team. They were like blood brothers on the court, winning six championship rings together.
15. Mike, Slim and Roland from "The Wood"
From picking up girls on the playground to Roland's wedding day, this trio survived misadventures and built a bond that only true friends can sustain into adulthood. 
Who were your squad goals growing up?
PHOTO GALLERY
A Few Beautiful Black Women Of Hollywood
Calling all HuffPost superfans!
Sign up for membership to become a founding member and help shape HuffPost's next chapter