Women are being targeted. We are falling prey to a silent enemy. An enemy most of us didn't even know we had. But it has its sights set on us. And in 2010, it was set on me.
I was horrified to learn that I had fluid around my heart. I didn't know exactly what that meant, but after what you can imagine was a myriad of tests, I was told that I needed open-heart surgery to save my heart and my life. Not what I was expecting to hear. And just like that, heart disease had gotten to me.
I know what you're thinking, "she was over 300 pounds." I was. But I had lost over 150 pounds several years earlier. I changed my lifestyle and diet too. Yet heart disease still found its way to me.
Most of us hear heart disease and we think of old white men. The ones sitting back after a steak and potato dinner. And we couldn't be more mistaken. Heart disease is the No. 1 killer of women, affecting more than 43 million women in the U.S. And even more chilling, heart disease results in death for one in three women each year. These are our mothers, our sisters, our daughters and our friends ... ourselves.
I was lucky (more like blessed!) because I found out in time. And I had support. That support gave me the courage to fight through it. Six days after my surgery, I left the hospital feeling like I had been given another chance. I knew that the road to recovery would be long and grueling... but there was that support still pushing me through. It strengthened me. It made me a fighter. That's when I realized what I needed to do - my purpose was clear. I needed to be that support for other women, as many women as I could reach. I wanted to raise awareness and make progress towards prevention. So for the past few years, I've served as the National Volunteer for the American Heart Association (AHA). The AHA's Go Red for Women movement was created for such purpose. In the past 10 years, women have been fighting heart disease together and with Go Red For Women, and more than 627,000 women's lives have been saved. Nothing makes me happier than meeting fellow survivors. We're heart sisters who've battled heart disease, and their courage inspires me to keep up the fight against this No. 1 killer.
National Wear Red Day is February 1. But I wear red every day in February because it is that important. When I see my fellow heart sisters dressed in red, I see women rallying together against this killer. Some of them may have lost weight, while others may have just started exercising or eating healthier. Some may have stopped smoking, and others might have just talked to their doctors about developing a heart health plan. They know what's out there, what could happen to them. When they Go Red, they're making a statement. When we all Go Red together and stand together, we can create change.
And so this is my outlet. My way to connect and empower other women. It is very dear to my heart, in more ways than one. I learned late in life that my health is my greatest asset. Heart health has become my mission in life and my hope for tomorrow. But I couldn't have fought heart disease alone. Join me and let's make sure no woman will. For she who has health... has hope; and she who has hope... has everything.
In recognition of the 10 Annual National Wear Red Day on February 1, 2013, Go Red For Women asks that women across America Go Red in new and bold ways. Let's turn America red to shine a spotlight on heart disease in women.
This post is part of a series produced by The Huffington Post and the American Heart Association in recognition of Wear Red Day, the aim of which is to raise awareness that heart disease is the No. 1 killer of women. To read all the stories in the series, click here.
Star Jones, attorney, author and TV personality, is best known to television viewers for her candor, confidence and uncanny ability to explain legal and social issues. Her knowledge of the law and talent for television has won her critical acclaim as a news and legal correspondent and co-host of NBC Today Show's Today's Professionals. Star is a heart disease survivor and American Heart Association National Volunteer, as well as National Spokesperson for the National Association of Professional Women.
For more famous faces of heart disease, check out the slideshow below: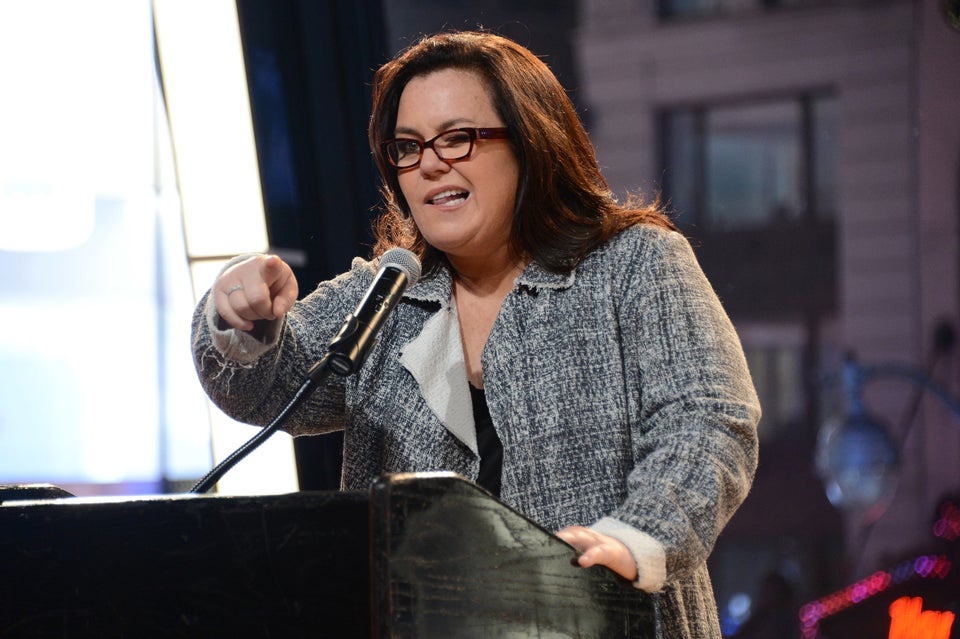 Celebrities Touched By Heart Disease