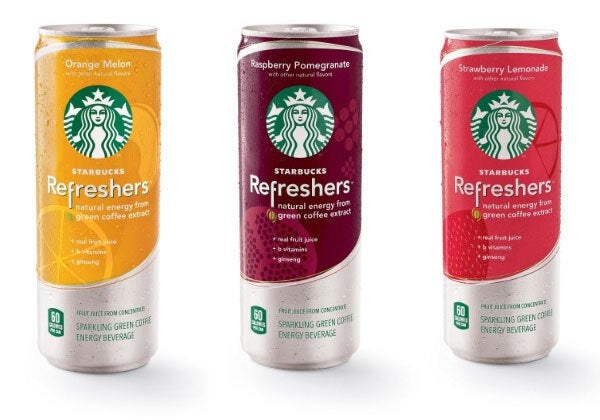 Starbucks' latest drink line, Starbucks Refreshers, is set to hit the company's stores in the U.S. and Canada July 10 with locations worldwide to follow.
The drink line will be offered in three formats: handcrafted (made by baristas), ready to drink and VIA. VIA is Starbucks' newest drink format, brought to market three years ago, and is best described as a microground product that dissolves when emptied into water. An instant drink on-the-go, if you will.
The handcrafted drinks made their debut in France last week, and eagle eyes may have already noticed the Ready to Drink products on grocery shelves -- they've been out since the spring -- but July 10 is the day the drinks are widely available in Starbucks stores throughout the U.S. and Canada. The handcrafted variety be rolled out internationally this month and next.
The handcrafted and VIA varieties come in two flavors, Cool Lime and Very Berry Hibiscus. Ready to Drink products, which are slightly different in that they're lightly carbonated, come in Stawberry Lemonade, Raspberry Pomegranate and Orange Melon. (We taste tested the ready to drink flavors earlier this year; see how they stacked up here.)
The products mark a milestone for the Seattle-based company as it ventures into the realm of energy drinks, which in 2011 grew in dollar sales by 16 percent according to Beverage Digest magazine. Starbucks tells The Huffington Post that their drink line is a "breakthrough innovation" that will likely set it apart from competitors.
Julie Felss Masino, Starbucks' vice president of global beverage, explained to HuffPost that the products get their energy from an extract of green coffee, which is made with beans that have not been roasted. "You see it in cosmetics and pharmaceuticals, Masino explained, but Starbucks' innovation marks the first time its caffeine is being harvested for a drink.
The company has been tinkering with the ingredient for the last two years, and the method is under lock and key. When pressed, Masino revealed it was a proprietary process and she couldn't offer anything further.
She did offer that the products have considerably less caffeine than their traditional coffee counterparts. A Grande Cool Lime, for instance, contains only 45 to 55 mg of caffeine, whereas a Grande Brewed Coffee has 250 mg. It's "real gentle," she said, and the type of thing someone might drink to get through a 3 p.m. slump.
Masino stressed that the product is all-natural, a claim Starbucks is ready to stand behind. "There's been a lot of FDA regulations around energy and caffeine and natural energy and what you can and cant say," she said. "This is natural energy. It's a boost of natural energy from green coffee extract."
Handcrafted drinks are sweetened with fruit juice and natural sugar substitute Stevia; Very Berry Hibiscus contains whole blackberries and Cool Lime a lime wheel. Internationally, handcrafted drinks are sweetened only with cane sugar.
VIA products will only be available in the U.S., but Masino hinted at broader goals for it. "VIA is an innovative line for us," she said cryptically. "We have big plans for that product."
Get a peek at some of the Refreshers products in the gallery below.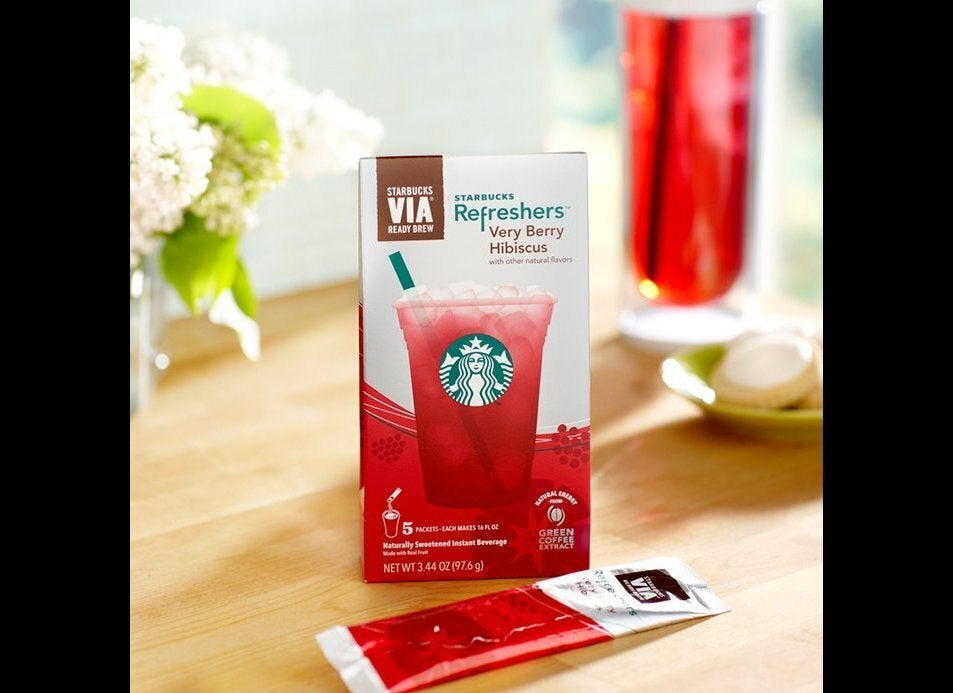 Starbucks Refreshers
Popular in the Community