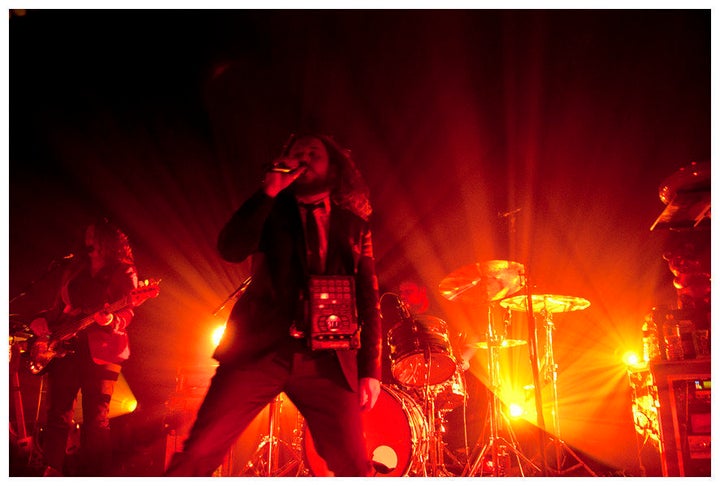 You never forget your first time. One humid summer night in the middle-of-nowhere Tennessee, under a giant tent in the company of thousands of strangers, it happened. It was an exhilarating four-hour marathon, and sadly for those who followed, it became the impossible standard to which I held all future performances. That night, nearly eight years ago, was my first My Morning Jacket show; I've been a believer ever since.

So when Jim James released Regions of Light and Sound of God (Feb. 5; ATO Records), his first full-length detour from his defining role as MMJ's ringmaster, he had more than just a lofty album title to live up to. After one spin of Regions... it was clear that James had created his own sovereign state in studio form, but that didn't necessarily mean it would translate on stage. When I heard about his secret show Wednesday night at the McKittrick Hotel, home of Sleep No More -- a performance legend in its own right -- I knew that would be the perfect setting for a litmus test.

After joining the haunted theatrics of Sleep No More as a crazed wheelchair-wielding doctor, he took the stage in an intimate pop-up venue space within the massive three-story maze. A stunning '30s-era cigarette girl instructed the audience to get into character and affix the show's signature Venetian-style masks. Then a masked James took the stage, decked out in a suit and tie, holding a single red rose. As he stretched slowly through space, rose in hand, it felt a bit like Tai Chi street mime meets the Phantom of the Opera. Luckily that awkward prologue was brief; James and the band removed their masks, and Act One began with a vinyl hiss and a low drum roll.

Regions... unfolded sequentially, kicking off the set with the album's opener, "State of the Art--A.E.I.O.U.," which conveniently had stage theatrics written into its structure: rhythmic foreplay, a delicately constructed climax, a swaying Jenga tower that teetered and paused repeatedly before finally collapsing. The stage blackouts that perfectly aligned with the power outage lyrics were predictable, but still spectacular. As the band slid into the cosmic funk of "Know Til Now," the sea of ubiquitous white faces came to life and it was clear that James had created the "danceable affair" he was hoping for.

His dance moves throughout the set offered a rare glimpse into a more personal and vulnerable side of James, which is fitting, since that was the overall vibe of the freewheeling space he created on Regions... His dancing was a mixture of fluid slides, funky dips, and robotic pops. He was never entirely in sync with the rhythm, but was never really off-beat either -- he just sort of floated on the surface of the beat, bobbing with the current. If you've seen the MMJ version of James on stage, it's similar to watching a downed helicopter try to right itself as it spins through air (for about three hours straight), so it was quite a contrast to see him doing the twist and spinning around on one foot like a first-grader; it was like watching him groove to his favorite song on the porch as opposed to launching a nuclear stage assault for 50,000 people.

However, there were still a few nods to his MMJ spirit: whenever he got electric with the Gibson Flying V mounted next to his mic stand, the trademark James mane came out for a few spins; and he gave the superfans their moment of Zen when he busted out with "Wordless Chorus," which is known to incite a Rocky Horror Picture Show-level of crowd participation (you can easily spot the novices during this ritual, looking slightly bewildered and doing their best to sing along and blend in).

Out of context, this whole scene could be interpreted as a hokey melodrama -- the wild-haired preacher running around with masks and electronic toys, proselytizing to his indie fanatics about love and forgiveness and God and light, everyone chanting and gyrating in unison -- but when you understand the pieces that make up the greater whole, it's a sincere expression of gratitude and reverence in an era of despondency and detachment. Which is why the MMJ congregation grows with every performance; each night someone walks away with that first-timer exuberance, eager to spread the gospel.

What James created with Regions..., and what Sleep No More continues to exhibit in multiple forms, is freeform world where fantasy and reality collide, audience and performer embody the same space, and the playing field is leveled at the beginning of each exchange. It's an entirely unique form of expression and consumption; an exercise in presence that requires a heightened level of imagination and a more youthful approach to the art of performance, one in which structure has no place. "Sleep No More is beautiful proof that the live experience will never die," James trumpeted at the end of his set. "The Internet can't kill it." It's doubtful that cyberspace will ever kill the live experience; perhaps rigidity and conformity are the only things that can. If Regions... is proof of anything, it's that nothing ever stays the same for too long.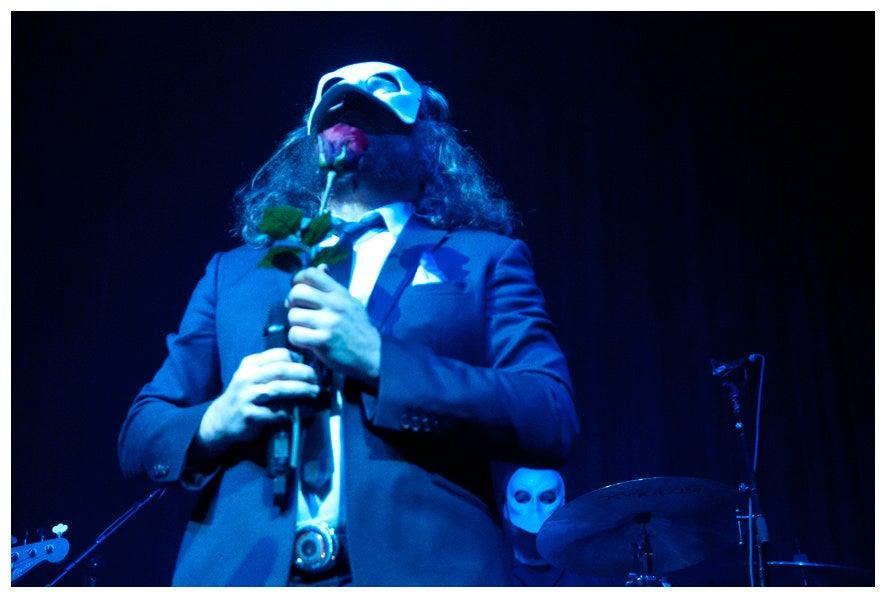 Jim James at 'Sleep No More'
Popular in the Community