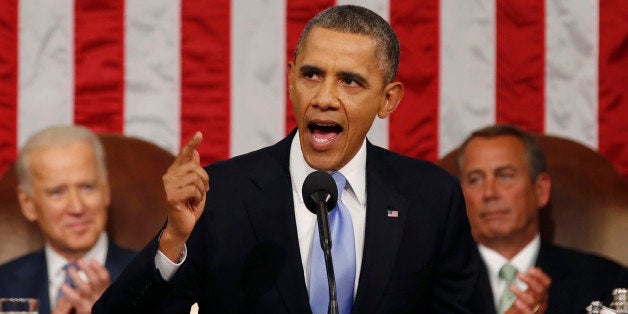 On Tuesday night, President Obama stood before Congress and delivered an impassioned, confident State of the Union address that was historic in at least one respect: The president put strengthening women front and center as a solution to strengthening our nation's economy. That has never happened before.
"I firmly believe when women succeed, America succeeds," the president said. And what women need to succeed is equal pay for equal work, the freedom to take a day off to care for a sick child or parent, and respect for the jobs they do as moms and workers. "It's time to do away with workplace policies that belong in a Mad Men episode," the president said, and I couldn't agree more.
That is why this month I published The Shriver Report: A Woman's Nation Pushes Back From the Brink, a study I co-authored with the Center for American Progress that documents the stunning new American reality that fully 42 million American women and the 28 million children who depend on them live on or over the brink of poverty -- one broken bone, one broken-down car, one missed paycheck away from economic ruin. Today, women make up nearly two thirds of minimum-wage workers -- this at a time when women also earn most of the college and advanced degrees in this country, make most of the consumer spending decisions by far, and are more than half of the nation's voters.
We were honored that the president and first lady invited one of the women we featured in the report, Sabrina Jenkins, to join them as a guest at the State of the Union. Sabrina, an Air Force veteran and working single mother from South Carolina, represents the 42 million American women who are doing it all, and doing everything right -- educated and employed, raising children and caring for aging parents -- but are still not able to make ends meet. The Shriver Report gave voice to the stories of millions of women like Sabrina.
There is an appetite in this country for the conversation we ignited and the president enlarged. The Shriver Report had over a billion media impressions in its first week, reached over 400 million followers on Twitter and Facebook, and hit the number-one spot among Kindle's "Hot New Releases in Women and Politics." On March 17 HBO Documentary Films will air Paycheck to Paycheck: The Life and Times of Katrina Gilbert, another component of our multimedia project that puts a face on the economic inequality of working women struggling in this country.
For too many American women, the dream of "having it all" has morphed into "just hanging on." This is not about handouts. This is about smart economic policy. Working women are the core of our economy. They are half of the U.S. workforce and a whopping two thirds of the primary or co-breadwinners in American families. Leave out the women and you don't have a full and robust economy. Lead with the women and you do.
I applaud the president for putting women at the center of our economic recovery. Let's use this moment to further the policies and programs that can help women like Sabrina establish solid economic footing. For Sabrina and the millions or men and women like her, let's take the president's challenge and "make this a year of action" and lead with women.
Related
Popular in the Community