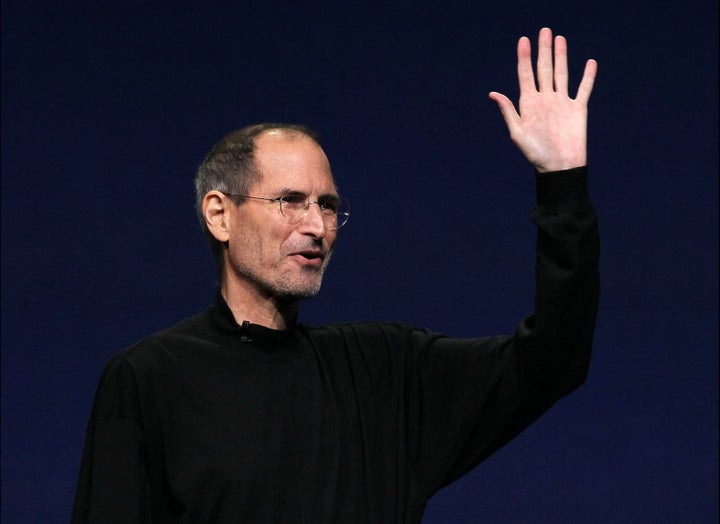 2004: Jobs tells employees that he has undergone a successful operation to remove a cancerous tumor in his pancreas. While the prognosis for pancreatic cancer is typically not good, he says in an email to employees that his was a rare, treatable form of the disease. "I will not require any chemotherapy or radiation treatments." Jobs said. He went on to assure coworkers and colleagues by saying, "The far more common form of pancreatic cancer… is currently not curable and usually carries a life expectancy of about one year. I mention this because when one hears 'pancreatic cancer' (or Googles it) one immediately encounters this far more common and deadly form, which, thank God, is not what I had."
2006: Jobs' keynote speech at the Apple Computer Worldwide Developers Conference -- characterized as staid in comparison to his typically robust, vibrant delivery -- is a source of disappointment for some, and concern for others. Cnet News writes that Apple fans were "uninspired (and concerned)" by Jobs' delivery. "Some questioned why he shared his presentation with a team of assistants," blogger Michelle Meyers said. "Is he sick, simply grooming others for leadership, or both?" Wired's Leander Kahney agreed that Jobs "looks very thin, almost gaunt." Apple's team, however, refutes the rumors: an email from Katie Cotton, then Apple's VP of communications, said "Steve's health is robust and we have no idea where these rumors are coming from."
March 2008: Fortune magazine publishes a controversial piece claiming that Jobs masked his cancer battle for nine full months before informing anyone outside of the most intimate of inner circles. A Buddhist and vegetarian, Jobs reportedly "considered not having surgery at all," upon receiving his diagnosis, according to the piece. Jobs declined to comment for the article.
June 2008: Photos taken at a WWDC conference in San Francisco show Jobs looking thin, prompting the rumor mill to spin into overdrive once again. According to an article from Apple Insider, a spokesperson said that Jobs had been "plagued by a 'common bug' in recent weeks, but that he felt it essential that he make good on delivering the opening keynote address at the annual developer conference."
August 2008: "The Bloomberg financial newswire decided to update its 17-page Steve Jobs obituary today -- and inadvertently published it in the process," Gawker reports. The obit, which was promptly removed, contained blank spaces for Jobs' age and cause of death to be added.

December 2008: Jobs says that he will not give the keynote address at the final Macworld Conference and Expo in 2009, an announcement that again revives rumors of his ill health.
January 2009: Jobs tells employees that he is being treated for a "hormone imbalance" that "has been robbing me of the proteins my body needs to be healthy," but said he was undergoing treatment and would continue in his role as leader of the company. One week later, Jobs tells employees, "my health-related issues are more complex than I originally thought," and announces a six-month leave of absence. As he did in 2004, Jobs gives Tim Cook the reins as acting CEO of the company.
June 2009: News breaks that Jobs is successfully recovering from a liver transplant -- three days after the Wall Street Journal reports that Jobs underwent had undergone the transplant two months ago, though no source was revealed in that report. "Steve continues to look forward to returning to Apple at the end of June, and there is nothing further to say," spokesman Steve Dowling said to CNN at the time.
August 2011: Jobs announces his resignation from his role as Apple CEO on August 24, 2011. In a letter to employees, Jobs says, "I have always said if there ever came a day when I could no longer meet my duties and expectations as Apple's CEO, I would be the first to let you know. Unfortunately, that day has come."
Calling all HuffPost superfans!
Sign up for membership to become a founding member and help shape HuffPost's next chapter
BEFORE YOU GO