 * Energy shares weak after election result
* Investors turn focus to looming fiscal cliff
* Indexes off: Dow 2.5 pct, S&P 2.5 pct, Nasdaq 2.6 pct
NEW YORK, Nov 7 (Reuters) - U.S. stocks fell more than 2 percent on Wednesday, putting the S&P 500 on track for its biggest drop since June, as investors shifted their focus to a looming fiscal showdown in Congress after President Barack Obama's re-election.
Energy, healthcare and the banking sectors were among the hardest hit after Obama defeated Republican Mitt Romney, whose policy positions favored those industries. Defense shares also plunged.
Adding to the weaker sentiment were renewed worries about economic troubles in Europe, a key market for many U.S. companies. The euro zone economy will barely grow next year but pick up in 2014, the European Commission said. The region's economy would grow only 0.1 percent in 2013 after a bigger than previously forecast contraction this year.
"Traders on the floor are thinking, before the election President Obama wasn't able to resolve the fiscal cliff so what makes you think he's going to be able to do it after the election? That's the big issue right now," said Todd Schoenberger, managing principal at the BlackBay Group in New York.
The Dow Jones industrial average was down 329.86 points, or 2.49 percent, at 12,915.82. The Standard & Poor's 500 Index was down 36.03 points, or 2.52 percent, at 1,392.36. The Nasdaq Composite Index was down 76.72 points, or 2.55 percent, at 2,935.21. The S&P 500 also below the key 1,400 level for the first time since Sept. 4.
Wednesday's drop is a reversal from the prior session's gains when voting was under way. Defense and energy shares were among the market leaders that day.
"The market is telling us that it was pricing in the potential for a Romney victory, based upon the rally over the past few days," said Phil Orlando, chief market strategist for equities at Federated Investors Inc of Pittsburgh.
On Wednesday, an index of defense shares was down 3.8 percent, its biggest one-day drop in a year. Shares of United Technologies were down 3.5 percent at $77.14.
Washington must next focus on some $600 billion in spending cuts and tax increases due to kick in next year that could derail the economic recovery, hence the "fiscal cliff" nickname.
Among sectors, the S&P energy index dropped more than 3 percent as investors fears companies in the sector will likely see more regulation in Obama's second term, with less access to federal lands and water.
Other decliners in the energy area included Arch Coal down 13.3 percent at $7.50 and Alpha Natural Resources off 12.8 percent at $8.39.
Healthcare stocks also fell, as President Obama's re-election rules out the possibility of a wholesale repeal of his healthcare reform law, but questions remain as to what parts of the domestic policy will be implemented. The S&P health care index lost 2.5 percent.
The S&P financial index was down 3.1 percent.

Related
Before You Go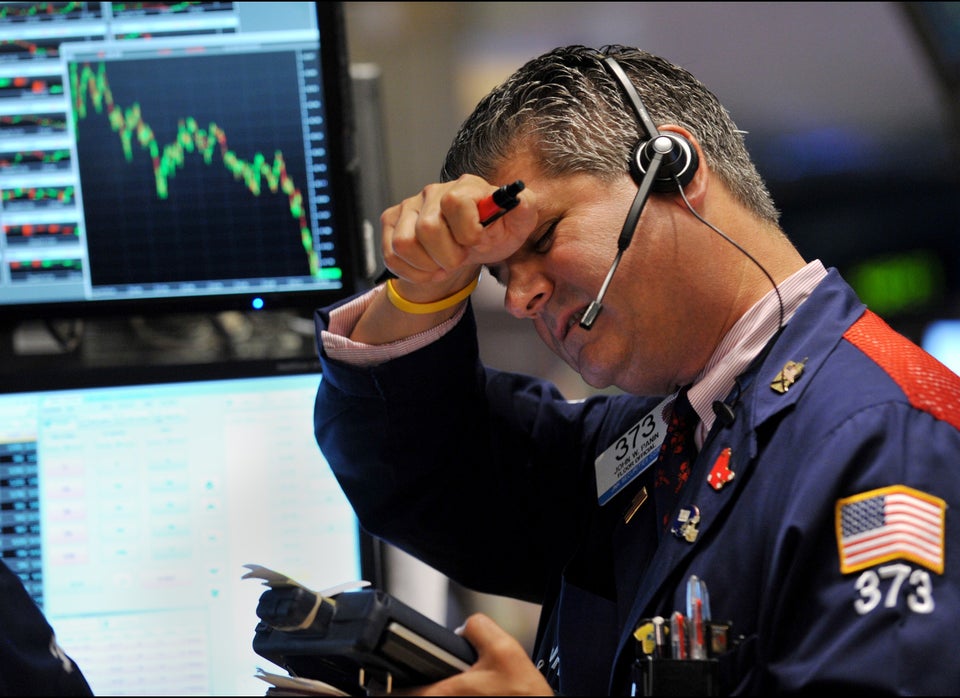 Worst Dow Jones Drops By Points
Popular in the Community