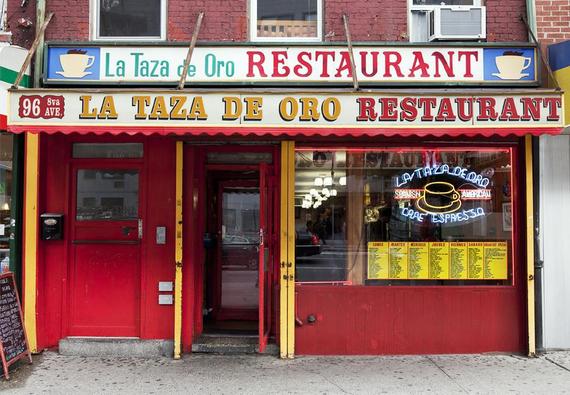 Mom and Pop shops--small, family-run businesses--are dying off in New York City at an alarming rate. They are being squeezed out by gentrification, skyrocketing rents, and competition by big impersonal chains. And so far Mayor Bill de Blasio seems disinclined to do anything about it.
That's why James and Karla Murray's new coffee table-sized book, Store Front II: A History Preserved, is so crucial. Like anthropologists rushing to document an isolated Amazonian tribe before civilization encroaches, the Murrays are racing to record Mom and Pop shops before the wrecking ball arrives.
The Murrays' first volume, Store Front: The Disappearing Face of New York, was published in 2000; a depressing two-thirds of its subjects no longer exist. Store Front II just came out this year, but already an alarming one-fifth of its contents have closed.
If you are a longtime New Yorker, the experience of reading Store Front II is like perusing the most beautiful old family photography album in the world. On every other page are beloved but deceased relatives. Allow me to reminisce about some personal heartbreakers:
DeRobertis Pasticceria was an Italian pastry shop in the East Village. It opened in 1904 and closed in 2014, after an astounding 110 years in business. We used to buy all our birthday cakes there. Their pièce de résistance was a giant cannolo stuffed with little cannoli. We used to joke it reminded us of a statue in the Metropolitan Museum of Art of a pagan god giving birth to humanity. The store has been taken over by Black Seed, the Montreal bagel outfit. They've preserved some of the original décor, which takes away a little of the sting, but it's not the same.
Caffé Dante was an Italian café in Greenwich Village. I sipped my first cappuccinos and espressos there back in the 1970s, long before Starbucks. It opened in 1915 and was taken over by an Australian restaurant group in 2015, after a century in business. The restaurant group shortened the name to Dante and added "global ingredients that New Yorkers have learned to love and seek out." Bleh. Not this New Yorker.
La Taza de Oro (The Golden Cup) was a Latin lunch counter in Chelsea. I used to go there all the time for roasted pork, yellow rice, and black beans. It opened in 1947 and closed this year due to some loose masonry at a construction site next door. The tragedy is the owners wanted to reopen, but the city permit process took so long they decided to throw in the towel.
Gray's Papaya was a humble hotdog stand in Hell's Kitchen. It was part of a local chain that started in 1973. (Local chains are fine; it's the big global conglomerates I can't stand.) Once there were three locations; now only the Upper West Side branch remains. It wasn't as old or as famous as the rival Papaya King local chain, but it was a good place for a cheap lunch or late dinner après booze. And if you kept your eyes peeled, you might have spotted bad boy celebrity chef Anthony Bourdain.
The Stage Delicatessen--not to be confused with the Stage Restaurant in the East Village, which has also been shuttered--was a Jewish deli in Times Square. It opened in 1937 and closed in 2012, after 75 years in business. Okay, I'll be honest: my family and I only went to the Stage when we couldn't get into the Carnegie across the street; their pastrami was better. But the Carnegie, if not dead, is on life-support: it was shuttered nine months ago due to a gas leak. To complicate matters, the owners are in the middle of a bitter divorce. (Mrs. Carnegie allegedly caught Mr. Carnegie sticking his pickle in somebody else's kishka.) Mayor De Blasio, wake up and do something! Katz's can't carry the matzo ball all on its own!
My heartbreakers are all in Manhattan, but the exhaustive Murrays cover all five boroughs and many different neighborhoods in their anthropological research. In addition to being great photographers, they have an eye for typography. Each of the storefronts they've chosen, as well as being endangered, has stunning old-school neon or touchingly handmade signage.
The Murrays also have a knack for personal stories. Most of the photographs are accompanied by an interview with the owner explaining how the store came into being, what the customers were like, and--in far too many cases--why it closed. In the near future, when New York City has been turned into a giant luxury strip mall, this will be an invaluable document of the paradise that was lost.
Related
Popular in the Community