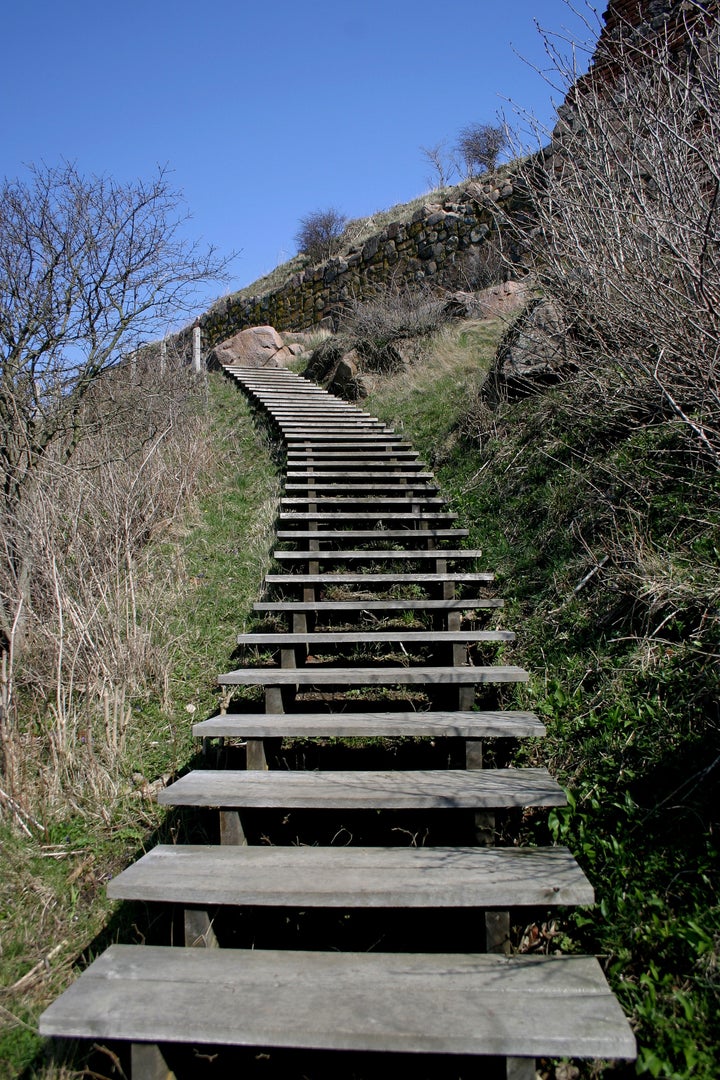 I love making up little rules for myself when I travel, even if I break most of them. ("Just 30 more minutes online and then I'll go outside.") There is, though, one rule I come back to, over and over again, and it's flexible enough that it can be applied to almost any travel quandary: Be where you are. I often do not be where I am: I often be where I was, or where I am going, or where I wish I were. I have more trouble with being where I am.
I came up with these sub-rules not because I would never consider beginning a trip in London at a Starbucks but because that is generally exactly what I want to do: There is nothing like comfort and familiarity after a long trip to a new place. These are the rules I try to follow to constantly remind myself to try harder. I've found that they offer incremental rewards: Even if I can't be 100 percent faithful to them, 100 percent of the time, I find that they reward me as much as I can be.
I totally get it if someone just wants to conk out on vacation: That's why they call it vacation, and that's why God created delicious rum drinks that are even better when they include coconut and mini umbrellas. Generally, though, I like to travel, rather than vacation. Vacation is expensive and can become repetitive; travel can be self-sustaining, and is always interesting, whether it's a half-hour trip to a new neighborhood, a detour on an unfamiliar subway line, or three months in southeast Asia. Travel is interesting even when it is awful, even when it's Thanksgiving and you've spent the last 20 hours throwing up all over the floor of a hotel bathroom in Laos and then take a 10-hour bus ride to another part of the country, recovering just enough to have one bite of apple pie before throwing up again. (Thanksgiving 2009: It was awesome!)
This is how I get as close to a thoughtful trip as I can.
1. There is never a good reason to go to Starbucks outside our borders.* If there isn't a better local cafe in the city you're visiting, you may need to change cities.
2. There is rarely a good reason to go to McDonald's outside our borders. (That said, I once saw a McDonald's in Beijing after four weeks in Russia and Mongolia and almost cried as I ordered my Chicken McNuggets and French fries. With happiness, to be clear.) Still.
3. There is absolutely never a good reason to go all the way to New York City and spend half your shopping money at American Eagle, Hollister, Sephora, or any other store you have at your local mall.
4. Before you get on the plane, pick 10 phrases and keywords in the language in which you are about to be immersed, and memorize them. My favorites, in order of necessity, are: "Thank you," "Sorry," "Yes," "No," "Excuse me," "Where are the bathrooms?" "How much does this cost?" "May I have the bill?" "Is there Wi-Fi here?" and "What time does this store close?"
5. There is no small thrill in being able to communicate an idea in an unfamiliar language (honest to God, I got the woman at the juice bar in Rio tonight to understand that I wanted my acai "to go" and felt like I'd won a Nobel prize.) Rosetta Stone costs about four times as much as it should but has good pronunciation drills. Duolingo is fun and free and nearly as good. And there are teenagers and college students worldwide looking to pay their rent by speaking in their native language with you over Skype for $25 an hour.
6. While you're on your trip, make a point of learning at least one new word every day and use it in conversation at least three times, even if it is completely obvious you are shoehorning the word "senha" ("password") into your conversation with a waiter for no particular reason.
7. Forget working out in the hotel gym, which is sometimes not an option and nearly always sad. What can be a total drudge -- keeping up a workout while you're traveling -- can be an awesome way to experience a place. Think: beach-running in Rio, hiking in the Alps, walking along a National Trail in Britain. Once you get there, they're all free.
8. Alternatively, pick up a pedometer and see how many steps you take on a normal day. (My number when I worked an office job was disturbingly low -- sometimes under 4000.) If it's under 10,000, try to double it each day of vacation. You'll get to see loads more up close and personal, and go back to your routine healthier than you left it.
9. Figure out three definitive movies from the country where you're visiting and Netflix them. Before I came to Brazil, I watched Central Station (beautiful and sad), Bus 174 (disturbing), and Elite Squad 2 (ditto). Rough Guides always has really good suggestions, or you can Google that country's recent Oscar submissions.
10. If you're too tuckered out to move one night, spend an evening not downloading and watching American programs but watching local TV, even if you can't understand a word. If nothing else, it should reinforce the fact that everyone, worldwide, loves a talent show.
11. Use Spotify to figure out the top 10 songs where you're headed. The results may be shocking.
12. Google "best [destination country] book 2012″ and if it's available in translation, read it.
13. Google "best poem [language of destination] [country of destination]" and find a few that have been translated to English. Pick one that might have some sort of relevance and commit the first 10 lines to memory. I was at the gym, weirdly enough, watching the Brazilian version of Sportscenter, when they showed these lines by Fernando Pessoa: "Quem tem alma nao tem calma." Which means (very roughly) "He who has soul lacks calm." Worth considering.
14. Figure out the classic English-language travelogue for where you're headed. When I was headed to the Balkans last year, it was Rebecca West's "Black Lamb and Gray Falcon."
15. Go somewhere only the bus goes. Lots of attractions are only reachable by rental car -- which can be (a) stressful and (b) expensive -- or by bus, rather than train, which is usually faster and easier. One bus-only example is Inhotim, which is an amazing art complex and botanical garden about 90 minutes by bus outside a city called Belo Horizonte. Dealing with a public bus in an unfamiliar place can be overwhelming and stressful, but it often provides access to places and people you won't otherwise encounter.
16. Try a "private room" on Airbnb, which basically means signing up for being temporary roommates with a local. I stick to apartments owned by women and try it out on quick trips -- maybe a weekend away. The prices, even in expensive cities, can be impossible to beat, except by a dorm bed in a hostel -- which, by comparison, often offers the chance to meet people just like you, from the same place that you just came from. Which is not the point.
17. If at all possible, learn to drive a stick.
* Unless you need free wifi.