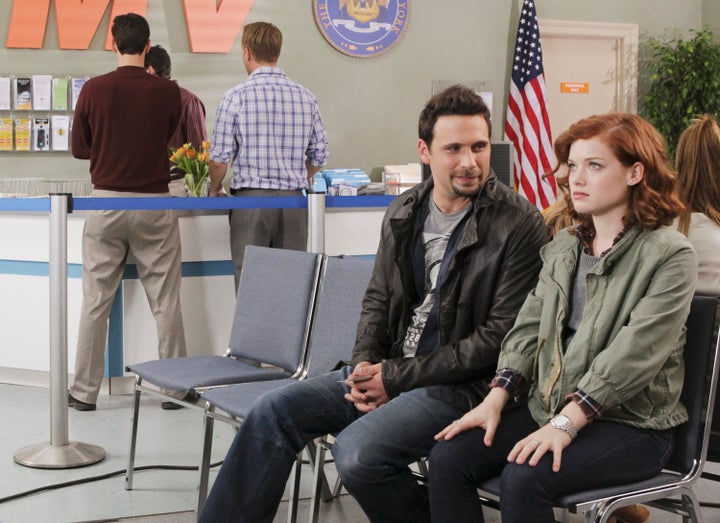 It's been nearly two decades since Jeremy Sisto starred as Elton, the ultimate '90s douchebag in teen classic "Clueless." Now, he's the one dealing with the overly cocky teenagers as single dad George on "Suburgatory."
The ABC sitcom, which gets funnier by the episode, returns from a brief break (Wed., Feb. 8, 8:30 p.m. EST) with an episode titled "Sex in the Suburbs," in which George becomes overwhelmed after finding a box of XXL condoms in his daughter Tessa's (Jane Levy) room. Considering condoms were the reason he moved her out to the 'burbs in the first place, you can imagine how troubling it'll be for him to realize that the problems with raising a teenager will find you wherever you go.
Sisto gave HuffPost TV the scoop on George's impending birds-and-bees debacle, his will-they-or-won't-they relationship with Dallas (Cheryl Hines) and the highly-anticipated guest appearance from none other than "Clueless" leading lady Cher Horowitz herself, Alicia Silverstone.
How is George going to confront her about having sex?
He flails around basically. He's not willing to react like an adult. He becomes a child himself and is just unable to accept the idea that his daughter's growing up. Fortunately, she's not having sex, so when that comes out, he's able to be stable again, but in no way does he progress with his emotional ability to deal with the future. When his manhood is questioned by his friends, he winds up having a fling with someone who was very surprising to me. It plays out in a way that's just hilarious.
Speaking of George's romanic life, how's it going with Alicia Silverstone playing George's love interest?
We're still filming it. She's in the last four episodes of this season and we're on our second to last one. We just did the table read for the last episode and it's been great! We were good friends back in the day so it's been really nice to personally reconnect and meet her baby and to hear stories about her life over the last 10 years.
What can you tell us about her character's relationship with George?
The relationship is pretty interesting. More than anything else, it's just going to be a real trip for people to see Elton and Cher together from back in the day. They're completely different characters of course, but in reality, you would be a completely different person -- or I am from when I was 19 to what I am now -- so it's a trip!
I am hoping they're somehow going to fit Coolio's "Rollin' With the Homies" in there.
They haven't, but that's post-proudction. They might very well get some "Rollin' With the Homies" action going on. That's a good idea. But [Silverstone's guest stint] is going to make people feel a little old and I think it's a great moment to see these two actors back together.
In addition to Alicia, The Situation from "Jersey Shore" stopped by. Is there anyone else you'd like to guest star?
We have a lot of interesting guest stars. They have a really good time in our casting room ... I just have so much fun with Cheryl [Hines] and Alan [Turdyk] and Jane [Levy] and everyone on the show. I really trust the cast and it's great to meet new people and discover new talent, like Jane. She's such a talented young actress and also, for people to rediscover Cheryl in this way.
She is so fantastic as Dallas.
It's just a character she was born to play. She's so so good at it. And it's actually a very sophisticated character. I mean, she's superficial and just crazy, but at the same time, Cheryl gives her the ability to feel like she's a little more self-aware than what she says. And so you're able to really fall for this character in a way you shouldn't, looking at her on the page. But Cheryl brings it to life in such a unique way.
What do you hope for George and Dallas?
I hope that they get together. Like everyone else, I hope they get together. But they're just both in denial of their affection for each other really and it's frustrating because as viewers, you want them to get together; but it's one of the things about the show that keeps you tuning it. The writers have developed it so slowly and so purely -- it's really a relationship that has surprised us as actors, and I think it's surprised the audience and I hope that the writers continue to be patient with the storyline. But I hope they get together.
There are so many hilarious "Saturday Night Live" alums -- Ana Gasteyer, Chris Parnell and recurring guest star Jay Mohr -- on the show. Have you guys been able to improv?
There's not a lot of ad-libbing. In the beginning, we were considering going down that road a little more, but ultimately, it leaves things up to chance a bit too much. There are lines that some of the actors pitch and sometimes, they end up in the show. But it's great to work with people who are so funny. It makes it such a joy to come to the set and hang out with them. It's so much fun to watch them be really good actors and just be very entertaining.
"Suburgatory" airs on Wednesdays at 8:30 p.m. on ABC.
Check out our weekly guide of what to watch on TV below:
PHOTO GALLERY
What to Watch: Feb. 6-12
Calling all HuffPost superfans!
Sign up for membership to become a founding member and help shape HuffPost's next chapter
BEFORE YOU GO