Though the print magazine space may be on the decline, struggling to adapt to an age of Internet media, digital magazines such as High Snobiety - men's online lifestyle publication covering fashion, entertainment, and pop culture - is growing its audience exponentially, particularly in the realm of the social media space.
"It's a perfect storm" says Will Nichols, Social Media Director of High Snobiety. "The online magazine itself grew bringing a lot of brand awareness to the social media platform which has gotten the brand to where it is now."
Nichols started out in social media interning for online fashion and culture destination Hypebeast before taking over High Snobiety's social media accounts. The company went from a following of 22k on Instagram when he joined, and are about to hit a million followers this month.
"Instagram itself began to take off too," says Nichols. "The app had the same buzz as Snapchat does today, everyone wants to get a sneak peek into everyone's lives, right?"
That's what Nichols has the power to do, he's essentially the voice, the social gateway to the magazine, controlling the visual personality of the brand. From his perspective, he currently sees the most consumer engagement from posting about streetwear brands, footwear, in particular, Adidas, and travel. "Whether that's somewhere tropical or just a cool cityscape, somewhere people don't necessarily have the access or means to go and capture that shot."
Earlier this week, High Snobiety posted a picture of Drake when he was four years old eating an ice cream. "It's just funny, people can relate. It's quirky. It's goofy. We've realized we don't always want to just force feed brands to people."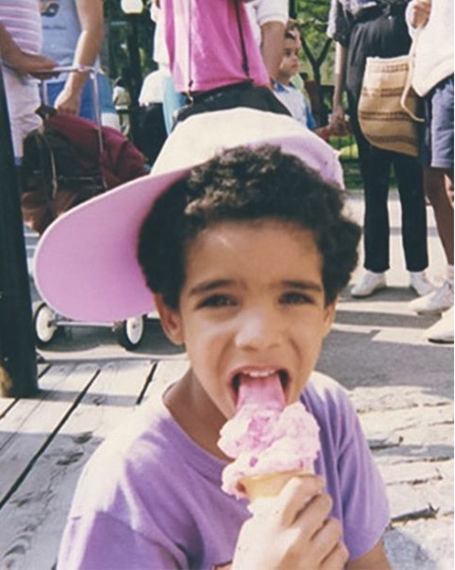 A young Drake. Image: @highsnobiety
While you often see brands piggybacking off of other social campaigns for content, Nichols purposely doesn't look to his competitor's actions. "That way I don't get inspiration from them, I don't follow them at all." Instead he looks to other personal accounts, fashion brands he likes, or people and things in the environment that fall in line with the vibe of High Snobiety, ones he feels the audience can connect with, whether it be music, fashion, whatever. A favorite account of his is that of Pacific Northwest nature photographer, Dylan Furst (@Fursty on Instagram.) "It's not really about personalities," he says, "It's getting lost in that bucket of images, it's not about who is posting what."
Nichols has a lot of freedom with the brand's social posts, being a photographer himself he shoots a lot of original content. He's also signed with New York based creative agency, Cycle, and owns photo editing company, Esthetic Label, where users can buy bundles of preset Lightroom filters from some of their favorite Instagram photographers; an idea he came up with after recognizing an increase in popularity of certain filters used on the platform. Essentially his personal interests have become intertwined with his position at High Snobiety, he's living and breathing the job. "It's almost my personal account and my favorite things out there; I've been running it for so long, there's almost transparency."
According to Nichols, there's really no platform for blowing up your social media. As well as re-purposing material from the online magazine, the account contains a lot of fresh content. "Honestly it's just all personal taste and what I think does well over a period of time. You just kind of keep a pulse on things and see what is getting the most reaction. You've just got to try things give people what they want, as long as the imagery is strong and the message falls in line with your aesthetic."
However, what does drive a lot of traffic in the social space is cross-branding, which we see a lot particularly with streetwear and footwear labels, and fashion and technology crossing over platforms: Public School x Fitbit, Stampd x Puma, Bape x Reebok, to name a few. In relation to social media, it's particularly effective for brands if they're able to merge two platforms in a cohesive way as it can double your power and your exposure, potentially allowing both partners to gain a new following. "I've done a lot of takeovers where other artists or photographers come onto our platform and take control, we cross a lot of traffic that way. It helps build brand recognition, it helps build engagement, it helps build awareness, it just shapes and molds what High Snobiety is about."
People don't engage with Instagram well when it's used too extensively as a blatant marketing tool; what doesn't seem to be attractive is flyers, re-posting brand collateral, and basically any image with words on it. "People are automatically turned off" says Nichols, "as a brand, we just won't do it at all."
High Snobiety is taking social accounts like Snapchat a lot more seriously. With the natural evolution of photography into video, it's importance in the social space is increasing too. The way success is justified with video content on Instagram is changing; Within the last two weeks, Instagram has shifted engagement focus from how many likes a video gets to revealing the number of views. "If you take the Snapchat perspective, it's based on views versus whether someone likes the video or not," says Nichols. "We've started posting a lot more videos and now we're able to show our impact in numbers. A video that we posted on Instagram a year ago would get 7,000 likes. A video that I posted this week, got over 100,000 views. That's way more powerful than 7,000 likes."
Brands are adapting to such quick progressions in the social space, and gauging consumer interest and engagement as a tool for resolving strategy. It seems that the ultimate goal for success on social media is an open-ended one, it's ever-changing and being refashioned as technology advances, as consumer desires shift, and as trends and tastes transform. In order to keep up with it all as a Social Media Director, it means you never really have a day off.