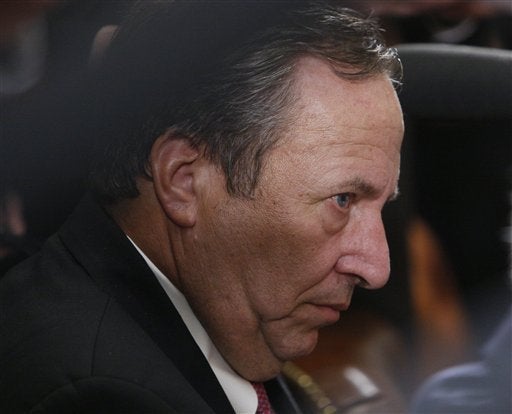 Barack Obama's chief economic adviser, Larry Summers, received hundreds of thousands of dollars in speaking fees last year from firms that have direct financial interests before the government or are intimately involved in the White House's bank relief programs.
The White House released late Friday the personal financial disclosure forms of many high-ranking administration officials. The document provided for Summers, who serves as one of the president's closest confidants, underscores just how close some of these officials are to the industry over which they now have oversight.
Among the firms that paid Summers large amounts in speaking fees include J.P. Morgan Chase. That bank offered the former Harvard president and Treasury Secretary $67,500 for a February 1, 2008 engagement. It has received $25 billion in government bailout funds.
Citigroup, which has received $50 billion in taxpayer help, paid Summers $45,000 for a speech in March 2008 and another $54,000 for a speech that May.
Goldman Sachs, which has received $10 million in bailout funds, paid Summers $135,000 for a speech on April 16, 2008 and another $67,500 for a speech on June 18, 2008.
Summers also received about $5.2 million over the past year in salary from the major hedge fund D.E. Shaw.
The speech payments will undoubtedly raise questions as to the impartiality of the economic advice Summers is providing to the president. Already viewed as too favorably disposed to Wall Street interests, the lavish payments for speeches will provide further fodder for those who think the administration has been forgiving in their approach to the banking industry.
In a prepared statement, spokesman Ben LaBolt said that, "From the first days of the administration, we have bolstered accountability over banks and reformed the TARP process so that taxpayers can see how their money is being spent, the influence of lobbyists is curbed, executive compensation is reined in, and firms are required to show how they will preserve or expand lending using government funds. Dr. Summers has been at the forefront of this administration's work to shore up our nation's financial system and to put in place a regulatory framework that will strengthen the financial system and its oversight - all in an effort to help the families across America who have paid a very steep price for risky decisions made by Wall Street executives."
Below is a list of the notable speeches given by Summers last year, the amount he was paid, and the date of the address. Further down is a PDF of Summers' Personal Financial Disclosure form, released on late Friday afternoon. Tell us what you see.

Skagen Funds, $60,300, (1/9/2008)

Skagen Funds, $60,300, (1/10/2008)

Skagen Funds, $59,400, (1/11/2008)

JP Morgan, $67,500, (2/1/2008)

Itinera Institute, $62,876 (1/8/2008)

Citigroup, $45,000 (3/3/2008)

Goldman Sachs Co., $135,000, (4/16/2008)

Associon de Bancos de Mexico, $90,000, (4/3/2008)

Lehman Brothers, $67,500, (4/17/2008)

State Street Corporation, $45,000, (4/18/2008)

Siguler Guff & Company, $67,500, (5/7/2008)

Hudson Institute, $10,000, (05/28/2008)

Citigroup, $54,000, (5/30/2008)

Investec Bank, $157,500, (6/13/2008)

Goldman Sachs, $67,500, (6/18/2008)

Lehman Brothers, $67,500, (7/30/2008)

Tata Consultance Services, $67,500, (9/21/2008)

State Street Corporation, $112,500, (10/2/2008)

McKinsey and Company, $135,000, (10/19/2008)

Charles River Ventures LLC, $67,500, (11/112008)

Pricewaterhouse Coopers, $67,500 (9/9/2008)

American Chamber of Commerce In Argentina, $135,000 (10/7/2008)

American Express, $67,500 (5/7/2008)

Calling all HuffPost superfans!
Sign up for membership to become a founding member and help shape HuffPost's next chapter