Susan SurfTone has been called the "premiere female surf guitarist of our time. Or any time, for that matter," as well as the "reigning queen of surf rock." But with her recently released fourth solo album "Blue Light at Midnight," SurfTone reminds us her status as surf rock royalty defies gender--she can hang with male surf rock legends living or dead.
SurfTone remains legendary for her ability to create instrumental albums loaded with songs that each carries its own unique influence and sound. "Blue Light" holds to SurfTone's tradition of creating original songs that are "one part surf [rock], one part garage [rock,] and one part something else." Like all great surf rock, "Blue Light" evokes sunshine, waves and sand, but SurfTone also uses her understanding of iconic guitarists like Carl Perkins and Chuck Berry as a launching pad to generate her own signature sound steeped in 1960s culture. She digs into a rich history of American guitarists for influences and adds her personal spin to create a completely fresh take on a beloved genre.
I had an email conversation with Susan SurfTone about her new album, what's its like to be a woman in the male-dominated world of lead guitar, her collaboration with transgender gogo dancer/model Seana Steele, and writing her first book "Mojo Junction."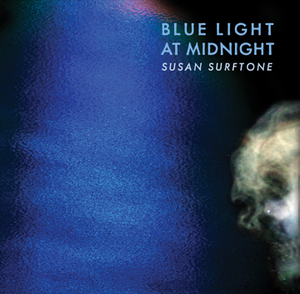 You've just put out "Blue Light at Midnight"--your fourth solo album since 2011--and all four of those albums have been both unique and acclaimed. What do you think drives your productivity and innovation as an artist?
I really enjoy the recording process I have established with producer/drummer Steve Kravac. We started working together in 2011 with my first solo album, "Shore." It's a challenge for me to start with a blank canvas. I start listening to music that has influenced me, usually a specific era or genre. For "Blue Light At Midnight" it was 1970s rock and a Santo and Johnny song from 1960 called "Slave Girl," later renamed "Cairo." I get a basic feel for where I want to go and then pick up the guitar or bass to get a riff or a chord progression that sounds a bit different than anything I've heard or written before.
I learned from The Beatles to never repeat myself.
Yes, I'm always amazed that each of your songs (and albums) has a unique sound; especially given the constraints you're working within. And it's always fun to listen for influences--whether it's Carl Perkins or Chuck Berry or Elvis or Dick Dale.
What's it been like for you as a female playing and writing and recording in the male-dominated world of lead guitar?
The truth is it's lonely. There really aren't many female lead guitarists even today with all the progress women have made in music, especially non-singing female lead guitarists fronting bands. From 1995 until 2005 I played live and recorded with a band as Susan and the SurfTones. We toured Europe four times and played to packed clubs. My first five CDs were released on three small European labels and were well received by critics and music fans.
But in the States it was more difficult for me. I was often left off the good surf shows and US compilation surf CDs. I was never approached by a US surf label. I had a great live band in Albany, NY, but when I moved to Portland, OR in 2001 I had a difficult time finding good musicians who would play with me even though I was well known in the surf music world. Most clubs wouldn't book me. I do feel if I had been male with the success I had enjoyed on the east coast and in Europe my transition to Portland would have been much different.
That's crazy! I always think of Portland as being so progressive.
I felt I was being marginalized in surf music. I had a well-known surf music reviewer tell me he always gave me reviews slightly lower than the better male players because anything I could do on the guitar they could surely do better even if they never actually did it. At this point I decided it was time to do something a bit different so I learned to play the bass to enhance my songwriting. I expanded my guitar style by listening to blues players like Muddy Waters and Robert Johnson. I learned Scotty Moore's licks on early Elvis songs and I listened to Chuck Berry.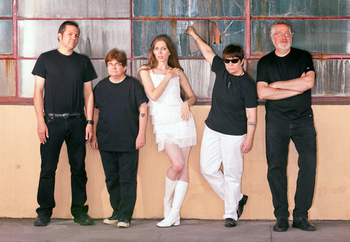 Susan SurfTone Band, left to right: Paul Barrall (drums), Avory Gray (keys), Seana Steele (dancer), Susan SurfTone (guitar), Dan Ferguson (bass)
My guitar playing got better. In 2011 I became Susan SurfTone and my first solo CD did very well with the music press. I played live in 2012 in Portland and LA and I didn't hear guys snickering in the audience before I played about a girl playing surf guitar anymore. I have always dealt with those male players and male audience members who have a problem with the fact that a woman can indeed play lead guitar by getting better as a musician.
As Susan SurfTone I think I became more confident and comfortable with myself. I came out publicly as a gay woman when "Shore" was released. I never hid the fact that I'm gay but I discussed it publicly for the first time. My mother died in 2009 and she had problems with my lifestyle going back to my days at Smith College. I think I honed my skills as a lawyer not at BU Law School but arguing with her. I didn't want to go public with it while she was alive as the arguing would have been pointless.
On the issue of coming out: I've heard that Seana Steele--the gogo dancer who performs with you and who was pictured on the cover of your album "Too Far"--recently came out as being transgender.
Yes, Seana is a transgendered woman. Seana danced with us at our gigs in Portland in late 2012 and 2013. She was with us on a west coast tour and she appears with me on the cover of my second CD "Too Far."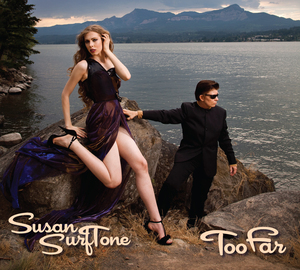 Left to right: Seana Steele and Susan SurfTone on the cover of "Too Far"
I love that album cover. The photo of you in a Beatles suit and Seana looking amazingly sexy turns the traditional surf rock paradigm--where boys play surf guitar and girls gogo dance around a bonfire--completely on its head.
Seana and I decided not to mention this back then because we wanted her participation to focus on my music and her dancing. When I approached Seana about dancing with the band I didn't know she is transgendered.
When Seana told me, it made no difference to me. She was the right dancer for the band and I wanted her on the cover of "Too Far." The CD was titled "Too Far" because I thought some of my more traditional surf music fans might think I had gone a bit too far but, well, too bad. Nobody at any gigs ever questioned Seana's gender and no one asked me about the "Too Far" cover. So I guess what we take from all this is when people saw Seana they saw a woman, which is what she is, and we all had a good time.
Seana and I became friends and her experience got me to thinking about myself and gender identity. I am a woman but I've done a lot of "male" things in my life. My experience as a lead electric guitarist speaks for itself. My role models, John Lennon, Elvis Presley, James Dean, are male. I became an FBI agent thirty years ago when female agents were fairly new to the Bureau. My boxing partner during training at the FBI Academy at Quantico was male because the instructors thought I could handle it. I got punched and so did he. I shot a perfect score at Quantico with an M-16 because my father showed me "natural point" when he taught me to shoot a BB gun when I was 11.
I guess I like competing with men and I must say it hasn't always been a level playing field for me. Succeeding with a disadvantage because of gender has made me appreciate being a woman. It made me work harder than if I had been a man and it made me proud to be a woman.
Recently your first book "Mojo Junction: A Walk Among the Spirits" was published. It's about possibly paranormal sightings you and your partner have had at a park near your house. I was totally fascinated and surprised to find out that the book also tells the story behind the photos on the cover of both your albums "Reckoning" and "Blue Light at Midnight." Can you talk about why you decided to write this first book?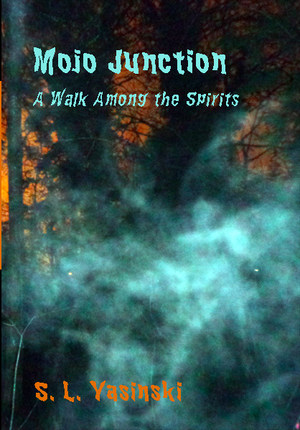 Mojo Junction, published under SurfTone's real name, S. L. Yasinski.
Yes, both the covers of "Reckoning" and "Blue Light At Midnight" are images taken by me during walks Avory and I took to a park near our condo. Both photos are real and the images are in my book. There are many more photos in the book, some even more startling.
We started taking these photos in late 2013 and continue to do so. Neither of us was into things of this nature prior to this experience. The book tells the story of the mist in the park as it has unfolded. I tried to tell the story as if the reader is having the experience with us, and interpretation is left to the reader. It can be a fun little adventure in the woods or something much more profound or anything in between.
The experience did effect the music I wrote for both "Reckoning" and "Blue Light At Midnight." I don't know how exactly but I do feel there is a connection.
The one message I do want people to get from the book is to recognize possibilities and keep an open mind. My entire life has been about following the possibilities presented to me. I've been assisted greatly by people with open minds.
Related
Popular in the Community