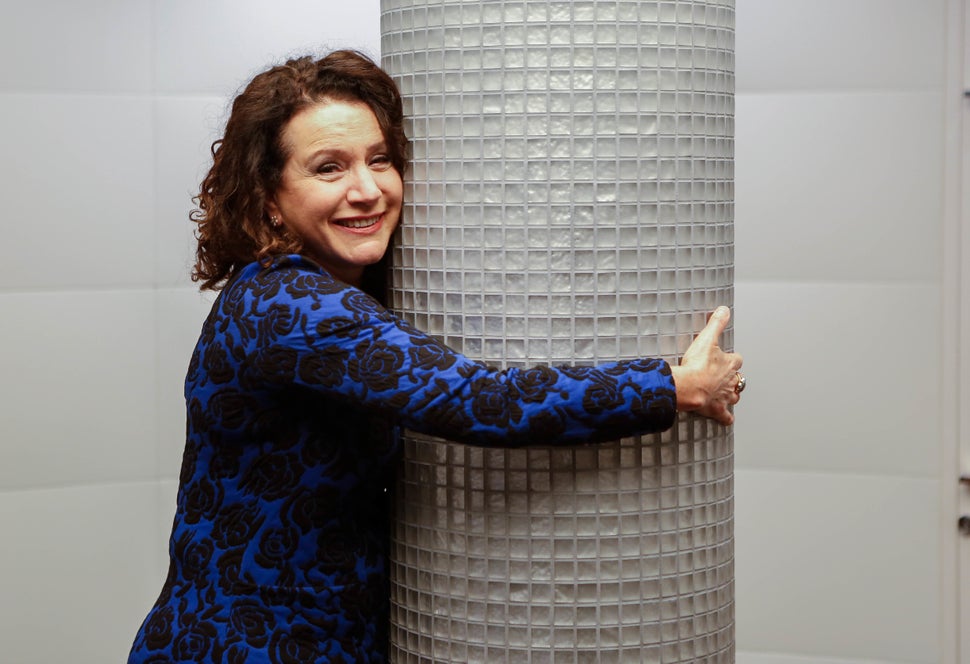 Susie Essman was a few minutes late, thanks to the %*#@$ leader of the free world.
"Asshole's in town," she muttered as she sat down. President Donald Trump had returned to New York City to address the United Nations, causing a presidential buildup of traffic between Essman's prior engagement and ours on the Upper West Side of Manhattan, just down the block from her apartment.
Essman's mouth is famous, perhaps even more so than she is. It is certainly one of the most iconically foul weapons on television. Eighteen years since Essman first agreed to join Larry David's HBO show "Curb Your Enthusiasm," it is hard to read certain phrases without hearing her distinctive New York cadence. Four-eyed fuck! Fat piece of shit! Sick fucko asshole! Freak of fucking nature! Car-wash cunt!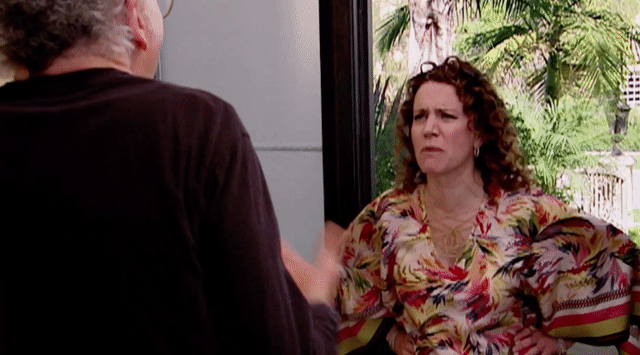 Essman and those around her say she shares little in common with the character she plays on television. "She's not like Susie Greene in real life," said Joy Behar, her best friend of more than three decades. Greene is the justifiably embittered housewife of Hollywood manager Jeff Greene, played by "Curb" executive producer Jeff Garlin ― the kind of woman who tells her perpetually cheating husband that if he so much as utters the word "divorce," she will take him for everything he's worth and then thumbtack his testicles to the wall. Essman, 62, is kind, quiet and thoughtful ― a seasoned stand-up comedian, shaped by the New York City clubs of the 1980s and happily married to a man who works far outside the industry.
But as "Curb Your Enthusiasm" returned last Sunday for its first season in six years, and its ninth in total, there's no question that the character and her creator have one thing in common: Neither is going to let any stupid fuck tell her how to live her life anymore. 
Even as a young girl watching "I Love Lucy," Essman always gravitated to the Ethel Mertzes of the world, not the Lucy Ricardos.
"Lucy always pissed me off because it was always like, 'Wah, wah, wah ― Ricky's going to be mad at me that I bought a hat,' you know?" she said as she ate her bacon and scrambled eggs (well-done) last month. "Grow some balls."
"I didn't feel that way about Ethel," she added. "Ethel wasn't beholden to Fred in the same way."
Essman had wanted to be an actress ever since she was a child growing up just north of New York City in Westchester County. But in elementary school, Essman realized she wouldn't be able to live life as a Lucy even if she wanted to. In first grade, the part of Mrs. Claus in a school play went to her best friend. At her sleepaway camp's production of "The Wizard Of Oz," Essman didn't get the role of Dorothy either. The part went to a supposedly talentless blonde instead, leaving a young Essman with the role of the Wicked Witch of the West. Enraged, she performed the part with an incomparable passion, repeatedly screaming "I'm melting" during her character's death scene. The performance earned her a standing ovation. Watching as the crowd cheered, she realized something.
"I was never going to be the ingenue," she says now. "Because I was too New York, too Jewish, too whatever. I was always going to be the best friend." But she didn't care. That night, Essman decided she liked being the Wicked Witch of the West plenty.
Those closest to her were often less than supportive of Essman's acting ambitions growing up. Her mother, who taught Russian at Sarah Lawrence College, and her father, an internist, wanted Essman to apply to law school. Her college boyfriend told her that her dream was ridiculous.
"I had very little encouragement from anybody," she said.
After graduating SUNY Purchase with a degree in urban studies, Essman spent most of her 20s waitressing in the city, too scared to dive headfirst into acting but not quite able to give up the idea. She took a few classes here and there, but found herself simultaneously bored by them and ridden with performance anxiety. When there were assignments, she'd skip class altogether. "I was so scared to get up and do anything," she said. She met a man, and the two of them entered into an unhealthy relationship. At one point, she even applied to law school like her parents wanted ― and got in ― but she couldn't bring herself to go. Confused as to where her life was headed, she entered a depression. "I was just so lost," she said.
In July 1983, a broken Essman entered intensive psychoanalysis at the advice of her therapist. That same month, she got onstage at an open mic at the Mostly Magic comedy club on Carmine Street. She pulled together a couple characters that would get a laugh in her acting classes ― among them a Jewish mother and a "jappy" girl from Long Island ― and did five minutes. It was a decision that would change her life, even if it didn't seem like it at the time.
About two months later, she received a call from a man she had met that night named Burt Leavitt. He had opened a club called Comedy U. with a friend in the city, and he wanted Essman to perform, but she was still struggling with depression and suicidal thoughts. "I was in a very bad place," she said. "I was in the worst place I ever could have been in." Nevertheless, she agreed ― it might have even helped her to overcome her usual anxiety. "[I]f I hadn't been in such dire straits — suicidal and depressed and feeling like I had no options in life at all — I don't know if I ever would have gotten up on stage," she later wrote in her memoir, What Would Susie Say? Bullsh*t Wisdom About Love, Life and Comedy.
The first time went fine. The second time went great. But the night after, she spiraled and decided to take "every pill in my medicine cabinet from aspirin to Valium to Tums," she later recalled. Quickly, she realized she didn't want to die. She called her friend and then her father, who told her to make herself vomit.
"I did, and the rest is a blur," she wrote.
Essman came out of the experience changed. "There was something about actually having acted on my suicidal thoughts that banished them," she wrote. A few days later, Leavitt called her again and offered her a paying gig on the weekends at the Comedy U. She took it and started working there regularly. After a while, she tried speaking in her own voice, rather than hiding behind characters. She began performing at other clubs.
"After about three months, I remember feeling like this is what I was meant to do with my life," she said, smiling. "And I became a comic."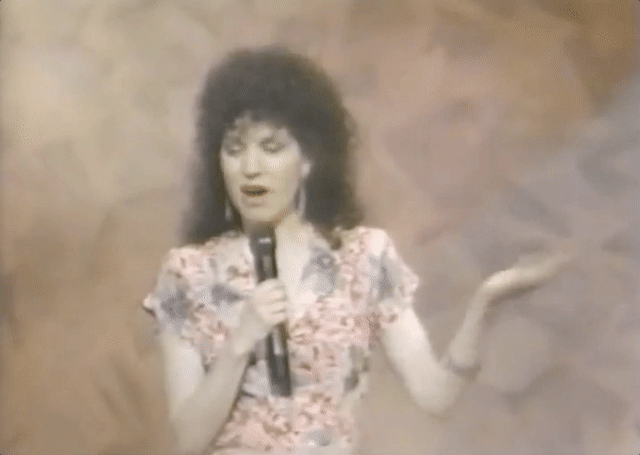 Over the next half-decade, Essman worked relentlessly to perfect her newly discovered talent. "Seven nights a week, many clubs a night," she said. In 1987, she performed over 400 shows. By 1988, she had appeared on an HBO special. By 1989, she had appeared on Johnny Carson. "She was very much well-respected," said Behar.
She stopped caring so much about what other people thought, too. To stand out, she had to. There had been "nearly a hundredfold increase" in full-time comedy clubs since the early 1970s, Rolling Stone wrote in 1988. But there was something a bit different about Essman. With her thick New York accent, she was so distinctly a product of the tri-state, which she played up in her act, joking about her hunky Italian ex-boyfriend from the Bronx and how the gentile bridal showers of Connecticut compared with her own Jewish family's more brash get-togethers. She also adopted something of her father's dirty mouth ― "'Fuck' every other word," as she described it. 
But most notable was the way Essman talked about sex. "She was ahead of her time," said Ilana Glazer, co-creator of Comedy Central's "Broad City," a blissed-out riff on life at loose ends for two sexually liberated twentysomething women in New York City. 
When joking about men, Essman could be simultaneously honest and brutal. Often single and unashamed of it, a Fredless Ethel, she talked about the men who turned her on and the men who turned her off ― sex every which way. When Oscar-winning actress Sally Field needed a stand-up coach for a 1988 film she starred in called "Punchline," she looked through hundreds of tapes before eventually deciding on Essman, saying, "[Essman] commands the audience to be with her and a lot of it comes from her sexuality."
Over time, Essman began to create what Glazer described as "a space where women can be loud [and] opinionated ... not the standard-narrative white woman."
"She was single and fucking people and living that real New York life before 'Sex In The City,'" Glazer added. "'Broad City' is trying to capture some essence of what Susie really lived."
It wasn't always easy being a woman in the New York City comedy scene. "They would never put two women on a show together," Essman said. "They kind of assumed that if you have two women on a show, they're both going to be talking about their periods." But she was unwilling to blame any lack of success on her gender. "I hate victimhood ― hate it," she said. "I was always just like: 'I'm going to be so good that they can't deny me. I'm going to be such a great comedian that they cannot use this against me.' And that was my goal."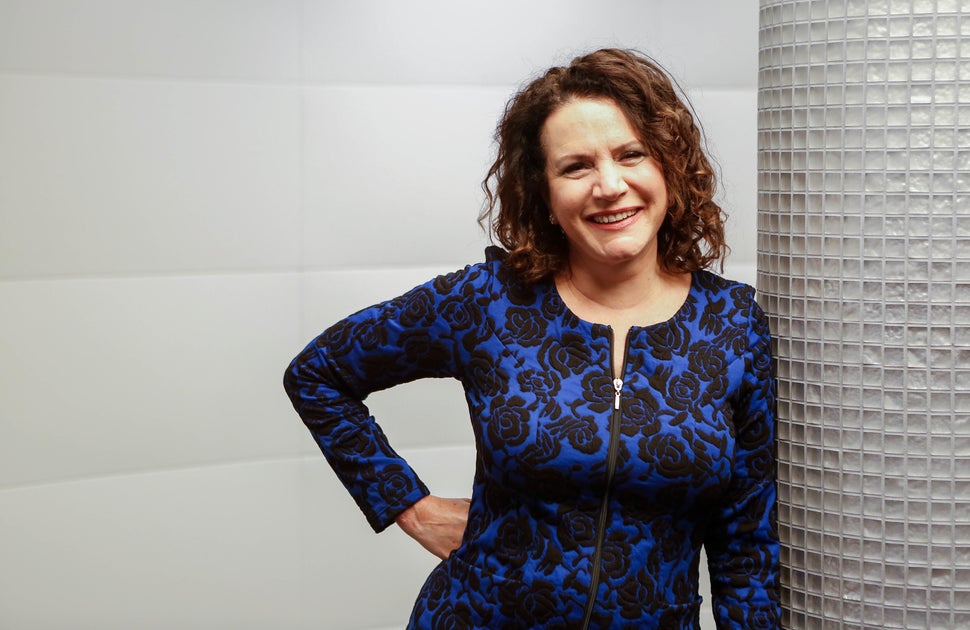 Standing there with a microphone in her face and the comedy world in front of her, Essman was ready to show them all. Comedy Central had initially resisted the New York Friars Club's suggestion that Essman participate in the televised 1999 roast of comedian Jerry Stiller. "I'm not sure why," she later wrote. "Too old, too female, too Jewish, too who knows?"
Essman had joined the exclusive club, famous for its extravagantly vulgar celebrity roasts, a few years before, in 1995. The club was the stuff of legend ― Frank Sinatra signed Essman's admission certificate ― but it hadn't allowed women in until 1988, and it hadn't let women onto the dais during a roast until 1990. Even after those walls were broken down, biases against female comedians remained. "They didn't think women were funny. Especially if you were relatively attractive. That confused the shit out of them," Essman said.
But she earned the Friars Club's respect, enough that it pushed for her to perform against Comedy Central's wishes. Eventually, the network relented.
She wanted to prove women could keep up ― for more reasons than one. By the mid-'90s, Essman had started to get a bit fed up. She had been in the comedy scene for over a decade. Many of her friends had headed West for jobs in Los Angeles, but she had been unwilling. "I never thought about moving," she said. "[Los Angeles] just doesn't feel like home to me." The decision cost her. She was in her 40s and still struggling to make a decent living. Sure, she had bit parts here and there, but nothing was sticking.
"I was very frustrated because ― I mean, especially in those days, I was good," she said. "It was like, 'OK, how much better do I have to be before I start making some money?'"
She was the kind of woman whom she had admired as a child ― wicked, beholden to no one ― and she killed. One man took notice. Just before he sat down to watch the Stiller roast, "Seinfeld" co-creator Larry David had wrapped a one-hour mockumentary for HBO called "Larry David: Curb Your Enthusiasm." He was planning to transform the special into a full-on television show, and he needed someone to play his best friend's wife. For the part, he needed a woman who could be ferocious and crass, with a mouth that had to be heard to be believed. Watching the roast, he realized what he needed was Susie Essman.
The two had known each other back in the 1980s, when they were both in the stand-up scene. When David called up his old acquaintance and told her about the part, she asked for a script. No script, he said, just rough outlines of scenes. He added that the show would be more or less improvised. Oh, and Essman would only receive union day scale, too. With no contract and no real commitment, she decided to accept the role and see where it went anyway.
Essman and David never really discussed the character of Susie Greene. But Essman knew exactly whom she wanted her to be. In high school, she had marveled at girls who, unlike her, were totally secure in themselves. That was what she wanted to create in Greene ― an East Coast housewife who never second-guessed her choices, fashion or otherwise.
Essman appeared in a few episodes of Season 1. But Susie Greene didn't become a fully formed man-killing machine, Essman said, until seven episodes into Season 2. Larry and Jeff have stolen the head of one of her daughter's dolls, and here is Susie Greene, confronting them on the driveway, snarling, Spaghetti Western music playing in the background. "Where's the head?" she asks, arms folded across her chest. Jeff and Larry are silent, terrified. Susie asks again: "I know you took the doll's head. Where is it?"
Then once more, with power.
"WHERE'S THE FUCKING HEAD?"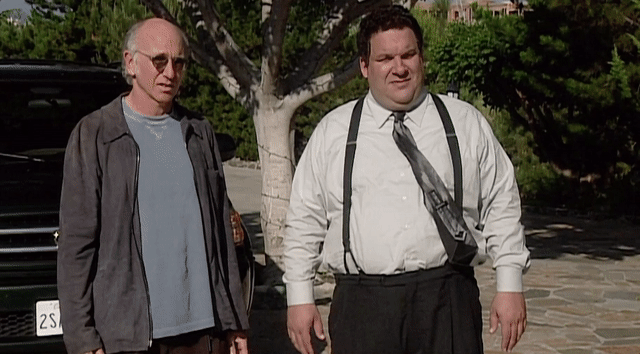 It was a little slice of the Jersey Turnpike, set down in Pacific Palisades. The scene, in an episode entitled "The Doll," would serve as Essman's breakout moment, which is probably why she still considers the episode her favorite. "It's the first time you see how deeply feared I am with Jeff and Larry," said Essman.
Over the seasons, she would skewer her "fat piece of shit" husband plenty. But her real wrath was saved for Larry. Whether it was because he didn't want an house tour, got her daughter drunk, ruined a school tour, doubted her respect for wood or didn't love her shimmering Packers sweater, Essman let that four-eyed fuck have it. The show, in general, revolved around everyone ridiculing Larry into moral oblivion, and no one ridiculed better than Essman.
By Season 3, "Curb" fans were regularly stopping Essman in the streets of Manhattan and begging her to rip into them. Women in particular have come to love Susie Greene, Essman has said, going so far as to tell her that Greene is "their hero."
"The thing that people really love about Susie … is her comfort with her anger, especially women," she said. "Her complete comfort with being angry unapologetically, I think, is liberating for women to see."
She enjoys the physical process of playing her, too. "After we do a screaming-shouting scene, I go back to my hotel [and] I feel so relaxed, I fall asleep. I feel like I got a massage, you know?" she said.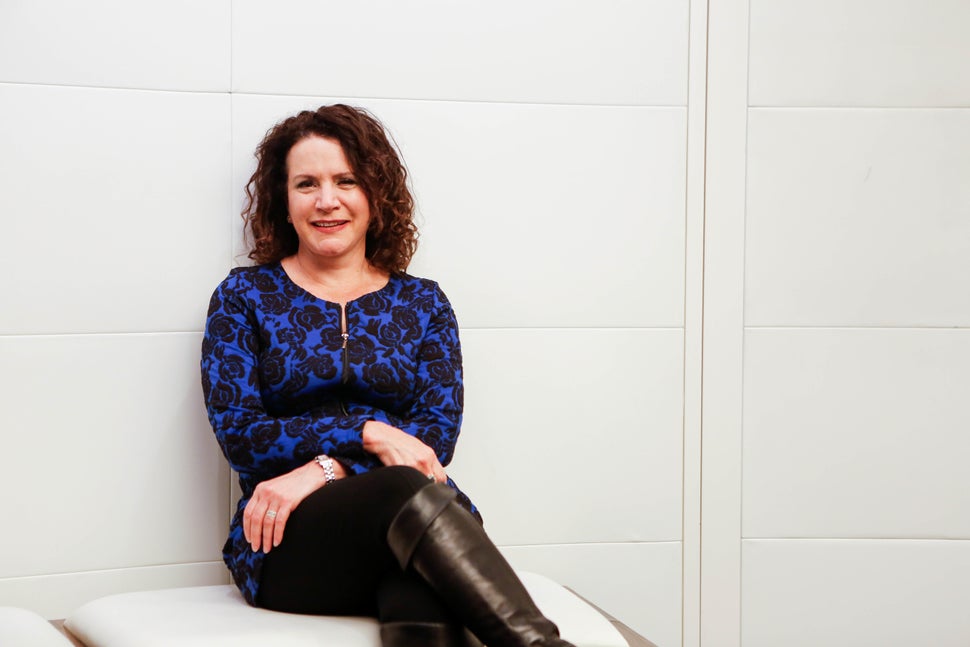 In the almost two decades that she's been playing Susie Greene, Essman has come to be defined by the role, and in some ways limited, too. "I'm definitely pigeonholed and typecast," she said. While many of TV's most famous male comedians are well known for their stand-up routines, few people know of Essman as a stand-up comedian who woodshedded for two decades before "Curb."
"People really have trouble giving credit to women. I mean, they just fucking do," Glazer said. "And I get it ― it's uncomfortable. It's not what we're used to seeing. But Larry David didn't create Susie Greene. He knew Susie Essman, who perfected herself."
Years ago, when Glazer and "Broad City" co-creator Abbi Jacobson were working on the web series that would become their hit Comedy Central show, they dreamed of having Essman play Glazer's mother. "She [was] just so Jew-y and ethnic and New York and unapologetic," said Glazer.
But Glazer wasn't a "Curb" diehard. She was a fan of Essman, the stand-up comedian, who had helped inspire Glazer to speak proudly and frankly about sex and a woman's place in the world. A few years after Season 8 of "Curb" wrapped up, the pair finally got their wish when Essman joined the show as Ilana's handbag-addicted mother, a casting decision that looked instantly perfect as Glazer and Essman ran around New York City together.
In real life, Essman became something like family to the two comedians. "I have the deepest respect for them. I feel like they're my little sisters [and] that they're my legacy in a certain way," Essman said. "They are the outgrowth of some of the stuff I was doing."
Glazer agrees. "'Broad City' would not be covering the content that it is had Susie Essman not been doing the stand-up that she did starting in the '80s," Glazer said. "She really feels like our mother ― who created a world for us."
Last spring, Essman got a call from Larry David. After five years, he was seriously thinking about Season 9. She's hopeful it won't be the last one. "It's not as though these are the characters that we're going to grow out of. It's not 'Baywatch,'" she said. Since the show first started, Essman's life has both changed dramatically and not at all. She still does some stand-up comedy and still lives in and loves New York City. But the once-perpetually single Essman is married, a little older and a bit more removed from the scene. She hasn't become a star. She still has to work to pay the bills. But she's fine with all that, and she doesn't care what you think about her life or her world anyway. 
In a way, she's become a bit more like her character ― secure in herself and her ability to tell everyone else to fuck off.
"What is hilarious to me is that I have now become beloved and iconic for telling people to go fuck themselves," she said. "For the rest of my life, that will be my legacy."
How does she feel about that?
"It's fine. You could be known for worse."
Calling all HuffPost superfans!
Sign up for membership to become a founding member and help shape HuffPost's next chapter
BEFORE YOU GO