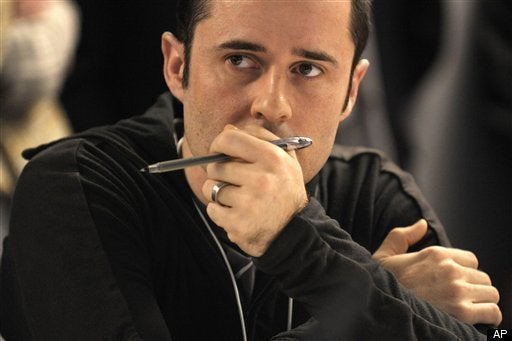 3:31 PM ET: Follow Evan Williams' keynote live--with photos, tweets, and more--on the Huffington Post here. Get more information about the new platform, @Anywhere, here.
Here's a video of Williams' introduction to Anywhere.
WATCH:
----
3:23 PM ET: Haque and Williams' interview has progressed to focus more on Twitter's growth, future, and Williams' role at the company.
UH: What is Twitter evolving to?

EW: What is Twitter has always been a tough question to answer. We think of it as an information network — different from a social network. It's about getting info and also sharing. You can take advantage of Twitter without sharing anything about your life. We need to increase the signal-to-noise ratio.
A window is tranparent; a door is open. Window lets people see what you're doing. A door lets them enter and play. Learned from letting people in. Things like hashtags, those have come from users, and developers have built experiences with that. Talk he gives to new employees, assume more smart people outside than inside, which idea he got from Bill Joy.
Williams told audiences at the SXSW 2010 keynote that one of the key assumptions he stresses to new Twitter employees is the following: "assume there are more smart people outside the company than inside."
Williams also discussed the way the White House has been using Twitter and the "democracy of information":
UH: Someone has started using Twitter inside the White House, right?

EW: Yeah, it's really interesting that it's from in the White House. It's an official channel, but they're using it a different type of way. It's about reducing the walls between people with a lot of influence, and those who they influence. And that's the most profound promise of the Internet. This is the wave I started on 10 years ago with blogging. It's about the democracy of information. Anyone can put information on the web — that's huge.
(via TechCrunch
----
3:18PM ET: You can follow @Anywhere on Twitter here to get updates on the new platform.
----
3:14 PM ET:Evan Williams has taken the stage and announced a new platform called "At Anywhere" (aka @Anywhere).
@Anywhere will help seamlessly integrate Twitter into websites.
Danny Sullivan at SearchEngineLand describes the new feature:
Say browsing HuffPost and see mention of Saturday Night Light, you can hover and see if they are following and then subscribe to them. That's one feature. You can also use it to sign in to a web site, using Twitter ID. Publications can also offer you to follow select users. NY Times, Bing, YouTube, Ad Age are among 13 launch companies.

Evan Williams says "At Anywhere" is about "lowering the barrier for information."
TechCrunch has transcribed part of the interview from the SXSW keynote:
UH: So what can you do with this?

EW: You can easily tweet from any page that is using this. Also, maybe you want talk to authors of posts without going to Twitter itself, you can just hover over their name and tweet them. Twitter is a very easy way to keep in touch.

UH: So this helps you contextualize information. But why would sites use this?

EW: A connection to users you didn't have before - and it keeps people coming back. And it will result in more followers for a site. Also, hopefully more people who are your fans using twitter to talk about you or your content. And you can bring in users' tweets talking about your site.

---
3:07 PM ET: SXSW attendees confirm that Williams and Haque's keynote is packed.
User @TheHartley tweeted:
thehartley : RT @mathewi: RT @lizgannes: I think it's safe to assume that the Twitter keynote is the best-attended session in the history of SXSW.
The SXSW Twitter keynote has been highly anticipated and the time has finally come for co-founder Ev Williams to take the stage.
Williams is participating in a keynote interview together with Umair Haque today, March 15, 2010, starting at 3 p.m. Eastern Time.
SXSW offered this short bio of the two interviewees:
Williams has co-founded several Internet companies, including Pyra Labs (creator of weblog-authoring software Blogger) and Twitter, the now ubiquitous social media platform that hit its tipping-point at SXSW in 2007. In addition to his role as Director of the Havas Media Lab, Umair Haque founded Bubblegeneration, an agenda-setting advisory boutique that shaped strategies across media and consumer industries.
Keep refreshing this page for live updates from the keynote.
REAL LIFE. REAL NEWS. REAL VOICES.
Help us tell more of the stories that matter from voices that too often remain unheard.