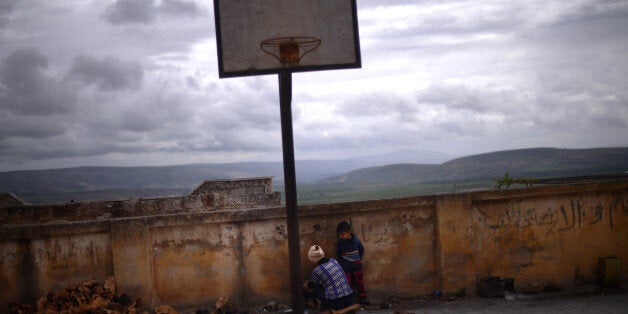 ANKARA, Nov 7 (Reuters) - Western and Arab powers that are have deployed air strikes to prevent the Syrian town of Kobani falling to Islamic State must be ready to help another Kurdish enclave that is also surrounded by Islamist fighters, the local leader said on Friday.
Kobani has been besieged by Islamic State for more than a month, and only air strikes by a U.S.-led coalition and the deployment of Iraqi Kurdish peshmerga fighters have kept the hardline Sunni group at bay.
Two-hundred km (120 miles) to the west lies Afrin, which, like Kobani, is one of three Kurdish regions that declared itself autonomous from the Syrian government earlier this year.
It could face a fate similar to Kobani's at the hands of the al Qaeda-affiliated Nusra Front, according to the woman who runs Afrin's local government as its prime minister.
"Afrin is surrounded by Nusra, we're ready to defend ourselves," Hevi Mustefa said during a visit to the Turkish capital Ankara to raise awareness of Afrin's plight.
"We're grateful for the international community's efforts at Kobani, but it was late. We want support from them so that the situation in Kobani doesn't repeat itself," she told Reuters in an interview, wearing a tailored leather jacket and a pendant in the Kurdish colors of yellow, green and red.
Nusra Front is al Qaeda's Syrian wing and one of the more powerful groups fighting in Syria's splintered and increasingly sectarian civil war against President Bashar al-Assad.
It is similar in ideology to Islamic State, a group that broke away from al Qaeda and now is its rival for territory in Syria and for global recognition as the leading brand of militant jihadism.
Nusra Front struck a blow against the West's strategy of aiding moderate Syrian rebels a week ago when its fighters over-ran Western-backed forces in Idlib province, to the west of Afrin.
The collapse of state authority in much of Syria provided the long-oppressed Kurds with an opportunity to set up local governments in three areas. Their decision not to directly confront Syrian government forces had, until recently, allowed them to remain islands of relative calm.
Islamic State's offensive against Kobani changed all that, however, and Afrin, home to more than 1 million people, including 200,000 refugees, may be next, said Mustefa.
Islamic State attacked Afrin last year but was repulsed. The Nusra Front has held positions close by for many months without launching a major offensive.
Nusra recently struck a deal with other armed groups in the area and advanced to within 25 km of Afrin town. The Kurdish administration believes they are gathering forces to attack.
Mustefa wants coalition forces to co-ordinate with Kurdish troops and to quickly launch a bombing campaign if that attack happens. She is also calling on neighboring Turkey to open a border crossing to allow aid and trade to flow to the region.
Although her delegation has had some contact with Western diplomats, calls to meet Turkish officials have so far gone unanswered.
Ankara is strongly opposed to the autonomy of Syria's Kurds, fearing it could stir up separatist feelings within Turkey's own 15 million-strong Kurdish population and saying it threatens the unity of Syria.
Turkey also accuses the autonomous regions of colluding with Assad, a one-time Ankara ally, turned implacable foe.
Mustefa acknowledges they have avoided direct confrontation with Damascus, but denies having relations with Assad, calling the allegation a smear to discredit the Kurds.
"We're fighting against the (government) in another way, with our system, which could be an alternative model for the whole of Syria," she said.
"Syria's like a mosaic. That's why every part could have a local government that meets their needs, but they could link with a central government ... We're struggling for the unity of Syria."
Kurdish fighters from Afrin are members of the outgunned YPG and YPJ militias that have doggedly defended Kobani against Islamic State. Those remaining in Afrin are now gearing up for what they fear may be a similarly tough fight, particularly if Western powers do not intervene.
"We don't want war," Mustefa said.
"Yes, we're afraid, but we trust in our security forces and our population to defend themselves." (Editing by Oliver Holmes and Robin Pomeroy)
Calling all HuffPost superfans!
Sign up for membership to become a founding member and help shape HuffPost's next chapter
BEFORE YOU GO
PHOTO GALLERY
Syria War In October