Activists say troops loyal to Syrian president Bashar al-Assad committed a 'terrible massacre' in the city of Homs on Thursday, killing at least 30 people, including women and children.
Photos taken by activists on Thursday and obtained by the Associated Press purport to show the bloodied dead bodies of five small children wrapped in plastic bags, along with five women and a man piled up on beds. They were allegedly killed in an apartment building in the Homs neighborhood of Karm Al-Zaytoun.
WARNING: EXTREMELY DISTURBING IMAGE BELOW
Rights groups say that Syrian armed forces shelled residential buildings with mortars and opened fire with machine guns on Thursday. Witnesses reported attacks on checkpoints, kidnappings and sectarian killings. "There has been a terrifying massacre," Rami Abdul-Rahman, director of the Syrian Observatory for Human Rights, told the Associated Press.
Activists estimate that over 6,200 people have died since the start of the protests in Syria in March 2011. A UN report released in November 2011 concluded that children in Syria have suffered serious violations and that security forces have shown "little or no recognition of the rights of children" in the actions taken to quell dissent.
In the image below, children are seen in plastic bags. The signs written in Arabic purport to show each child's name.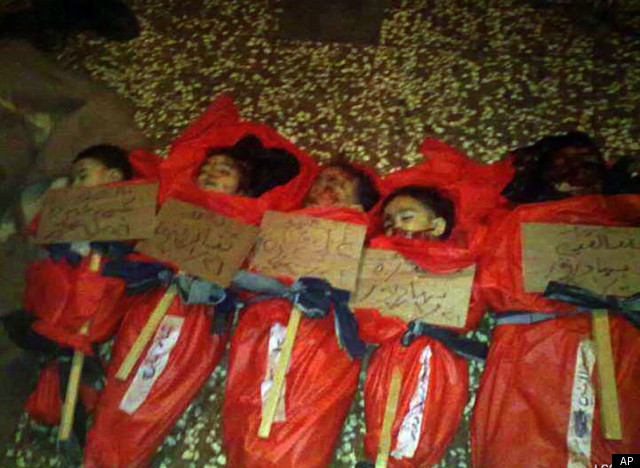 This citizen journalism image provided by the Local Coordination Committees in Syria and released on early Friday Jan. 27, 2012, purports to show five dead bodies of Syrian children wrapped in plastic bags, who activists say were killed by the shelling of the Syrian forces, in the Karm el-Zaytoun neighborhood of Homs, Syria, on Thursday Jan. 26, 2012. (AP Photo/Local Coordination Committees in Syria)
THE ASSOCIATED PRESS IS UNABLE TO INDEPENDENTLY VERIFY THE AUTHENTICITY, CONTENT, LOCATION OR DATE OF THIS HANDOUT PHOTO.
Calling all HuffPost superfans!
Sign up for membership to become a founding member and help shape HuffPost's next chapter
BEFORE YOU GO