A heartwarming video featuring three young Syrian refugee brothers showing off their rap skills is part of a campaign to show the importance of going to school.
Samir, Abdulrahman and Mohamed, aged 13, 12 and 9, are the stars of "Straight Outta Syria," a video published on Jan. 13 by global children's charity Theirworld. The video is part of the charity's advocacy campaign to get 1 million refugee children into formal education for free in Lebanon, Turkey and Jordan by the end of 2016.
In the video, the brothers rap in Arabic about the hardships of leaving Syria and about life as refugees in Lebanon. 
"I sat in the living room and turned on the TV / I decided to watch the news but that was a mistake / I put on Al-Arabiya and saw that Syria was collapsing," 12-year-old Abdulrahman rhymed, describing a day at home.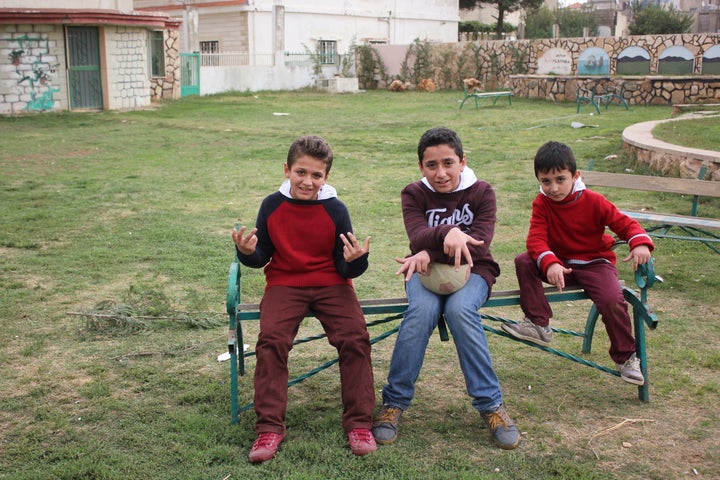 "When I grow up I'd like to write humorous songs because I don't like to write about misery," Abdulrahman told Theirworld.
The video is part of the charity's larger efforts to get viewers to sign a petition that calls on world leaders to provide education for refugee children across the Middle East. 
Over half, or 680,000 of 1.3 million Syrian refugee children between the ages of 5 and 17 living in Lebanon, Turkey and Jordan are not enrolled in formal education, according to the UN's 2016-2017 Regional Refugee and Resilience Plan. This is partly because of a lack of places available in formal education institutions.
"There are very few [places] available [in schools], and there are a lot of Syrian refugee children," Claire Wilkinson, Theirworld's senior campaigns and communications manager, told The WorldPost, referring to Lebanon in particular. "You can try and register and be on a waiting list, but if there's not a space available, you won't get in."
Many refugee children receive informal education in the refugee camps they live in, where they take basic literacy and numeracy classes, Wilkinson noted. But what they learn there doesn't translate into formal educational qualifications, and being excluded from a formal education could put children at risk of falling into child labor, forced early marriage, or even extremism, UN education envoy Gordon Brown wrote in a blog post for The WorldPost.
Theirworld discovered the boys' talents while working with Sonbola, a Lebanese nonprofit that provides informal classes and psychological support to Syrian refugee children.
Abdulrahman, Samir, Mohamed and their parents fled the Syrian city of Aleppo in 2012, when the parents deemed the country too unsafe for the boys to grow up in, Wilkinson said.
The escape from Syria was far from easy, Wilkinson said. The family fled amid a snow storm and almost froze to death as the bus on which the refugees traveled got stuck near the Syrian-Lebanese border. Without food or water, the boys told Theirworld, they had to melt snow just to get something to drink.
The boys and their family had led a comfortable life in Aleppo, where the boys went to school and Mohamed, their father, worked in the family stone masonry business, Wilkinson said. Now, the boys and their parents share one single room off a shopping street in Lebanon's Bekaa Valley, where over 371,000 Syrian refugees live across informal settlements.
"They became involved in rap because they thought it would help them through the pain," Faten, the boys' mother, told Theirworld.
"I believe when [the boys] go to school and they play, they might get over what they went through," Faten added.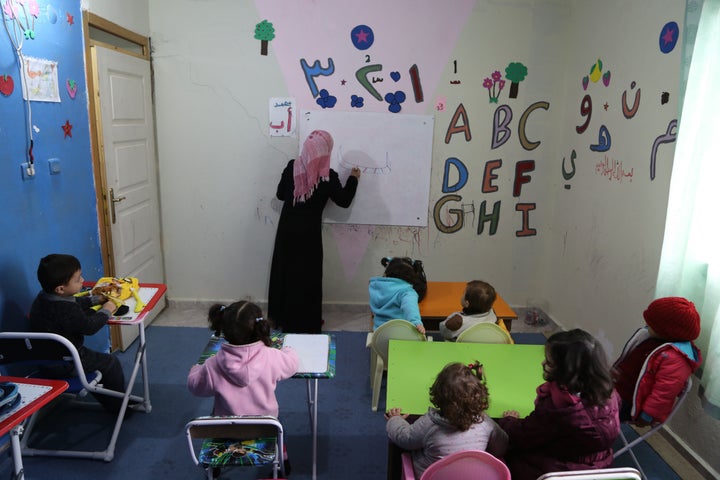 In December, the UN launched a $750 million appeal asking world leaders, NGOs and businesses to help fund the schools willing to take in 1 million refugee children this year.
So far, about $500 million has already been raised from sources including the European Union and the World Bank, The Guardian reported.
Theirworld hopes the remaining $250 million will be raised by world leaders, NGOs and businesses at the Syria Donors Conference, which will be held in London this coming Thursday.
"We'll push and push to make sure that every child has the opportunity to have a formal education," Wilkinson told The WorldPost. 
More stories on the children of the Syrian refugee crisis:
PHOTO GALLERY
These Famous People Were Refugees
Calling all HuffPost superfans!
Sign up for membership to become a founding member and help shape HuffPost's next chapter