 Visiting Om Faisal's home in Mafraq, Jordan represented the Syria refugee crisis in a microcosm for me. On a recent trip to the Middle East, USAID Assistant Administrator Nancy Lindborg and I stopped by the apartment of Om Faisal, a widowed grandmother. Shattered by war, separation, and hardship, she and her family had fled Homs, Syria and are now a few of the 720,000 Syrian refugees. Some 70 percent of these Syrians are "urban refugees" like Om Faisal and live in villages and cities instead of camps.
At the top of the apartment stairs Om Faisal greeted us, reaching up to warmly cup my face in her hands while little children darted about. We were invited in and offered a seat on carpeted mats. Despite the humble and crowded surroundings, she made us feel welcome.
The little room quickly filled up with people, including neighbors, also Syrians, from other floors in the building. Fortunately, thirteen were children so they did not take up much space! Most of the refugees from Syria are women and children. Of the 8,000 families that the UN refugee agency (UNHCR) is currently helping in Jordan's cities, 43 percent are headed by women.
Om Faisal's husband had been shot and killed by forces allied with the Syrian regime. She had nine grown children, some still in Syria and others in Lebanon. Three of the women present were Om Faisal's daughters-in-law. She showed me the papers that UNHCR had given her family when they registered as refugees in Jordan. These included their names, thumbnail photos and other information that established their identity and their status as refugees. Where were the fathers? Some were in Syria, fighting with the Free Syrian Army. One of Om Faisal's sons had found work in Jordan and others were looking for it.
I complimented them on having beautiful and healthy children. The four young mothers spoke at once: they had nothing else to do but to care for their children, so the little ones did not lack for attention. I was concerned that they were not sending the children to school and instead keeping them close to home. Schooling is very important for refugee children so they do not miss out on an education if the weeks of exile stretch into months and even years. This is why UNICEF is covering the costs of tuition, books, and uniforms to enable Syrian students to attend school with Jordanian students.
A neighbor's little girl of seven or eight years old had started wetting the bed -- one of several ways children react when they have had traumatic experiences. We met Om Faisal's cousin, who had just returned from a trip inside Syria to have heart surgery because the cost of the operation in Jordan was prohibitively expensive. Finding a hospital in Syria to perform the surgery for him had been difficult as so many hospitals, clinics, and medical personnel have been targeted by the regime to prevent them providing medical care to patients loyal to the opposition.
The U.S. government is helping refugee families like Om Faisal's, as well as local communities that generously host them, through a wide range of assistance programs. Through grants to non-governmental organizations, we are helping provide rent money and other basic necessitates. The mothers in the room said regular deliveries of soap and diapers from aid workers were also helpful. Our support to the World Food Program meant that the family could get food vouchers to buy groceries at local markets, which also helps boost sales for local Jordanian shopkeepers. Schools in the area have received repairs, renovations, and new classrooms and playgrounds to accommodate additional students from UNICEF, funded in part by the United States. Kids who have been traumatized by what they have experienced back in Syria are participating in individual and group therapy activities to help them cope with the stress and to adjust to their new environments.
Even in this friendly environment, thoughts were not far from missing loved ones. Also missing was a sense of belonging in a home or community, or confidence in the future or small things like pocket money for the simple pleasures of life. As we left, they embraced us. They did not have much but, thanks in part to American support and Jordanian generosity, they were surviving.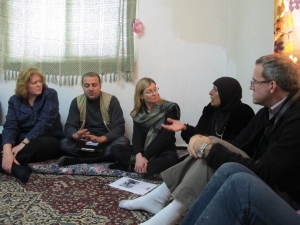 Photo credit: ICMC
REAL LIFE. REAL NEWS. REAL VOICES.
Help us tell more of the stories that matter from voices that too often remain unheard.