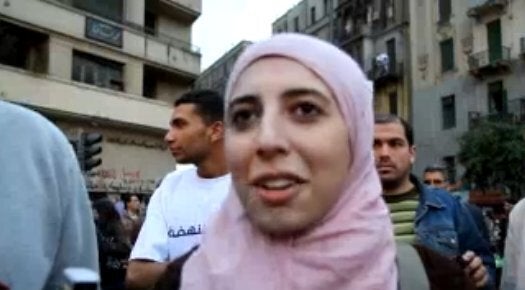 It might not have been the fairytale venue of her dreams, but Ola Abdel Hamid's choice to marry Ahmed Zaafan in the heart of Cairo's Tahrir Square was nonetheless a moving moment in the mass demonstrations against Egyptian President Hosni Mubarak.
As Reuters is reporting, the couple held their wedding amidst protesters and tanks as a statement of their determination to remain in the square until the Egyptian people's demands were realized. "It was either we quit Tahrir to go and have our wedding in an isolated hall or hold a ceremony right here among our people protesting in the square. We chose the latter," said Hamid, 22, a graduate in computer science.
Added husband Zaafan, 29: "I am worried, because my parents could not come to attend the party, but happy that all Egyptians and Arabs have witnessed my marriage and we both received blessings and congratulations from all over the world." Flowers and sherbet were distributed after the couple said their vows.
Watch video of the newlyweds via CBS here:
Popular in the Community