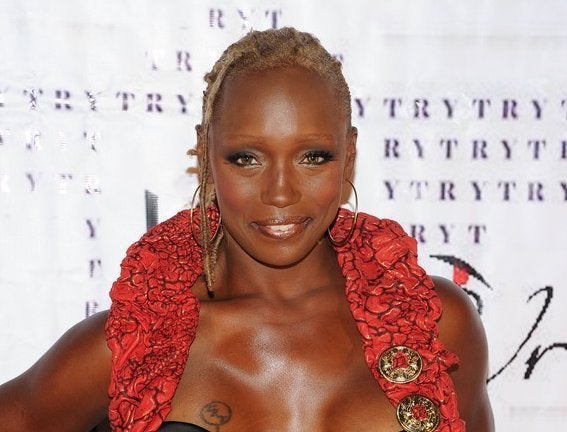 Living with a professional athlete isn't always as glamorous as society makes it out to be, according to "Basketball Wives" star Tanya Young Williams. Since experiencing a whirlwind of legal drama stemming from her husband's, Jayson Williams, involvement in the fatal 2002 shooting of a limo driver in their New Jersey home, has forced her to become a single parent during his incarceration. Now the inspirational speaker, legal correspondent and author is eager to use her position in the limelight of VH1's "Basketball Wives L.A." to voice her views on celebrity troubles and domestic violence.
In an exclusive interview with The Huffington Post, the National Domestic Violence Hotline spokeswoman opens up about her isolated role on the new show, her abusive past with Jayson Williams and the idea of starring alongside the baller in a possible reality show.
Can you talk about your role on "Basketball Wives"?
When I was approached by the producers of Shed Media, they talked about this being a show a bit like "[Basketball Wives] Miami," where most of the women would have a relationship or be married to an NBA player. But they also wanted to focus on the high life of Hollywood and spend a little more time on who we are as women, outside of being the significant other of a high-profile player. So I was really intrigued that they wanted to present a balanced show, because I thought that was something the audience was missing in "Miami" and was really going to get the opportunity to see with the L.A. cast.
In addition to Shed Media, did you have any communication with Shaunie O'Neal prior to the show?
I've met Shaunie once, so she and I did not speak prior to me taking on the position. And to my understanding from her recent interviews, she's very hands-off with this production because she didn't like some of the people who were cast in the production; but also because of the way she felt the stories were going to be told, it was not her vision. So she publicly came out and pretty much distanced herself from the show, and you have to respect her for having her convictions.
I really respect Shaunie having the courage to come out and pretty much speak against her own show, because I think she went into this with a vision. She knows what it's like to live the life of a NBA wife. The beauty, the glamor, the upside -- but she also knows the taxing part. So I think her vision was to go into this and give the viewer a really good inside look of what our lives were like. The show has veered off into a different path than what she anticipated. So yes, I do agree that a lot of what finally makes it to air are negative depictions of mostly women of color, and all the good stuff unfortunately gets left on the editing room floor. Until more people come out and say, "We want to see the total picture," I think networks and production companies are going to feed into what the few people are saying they want instead of really understanding that there's a broader audience out there who wants to see a balanced show. And I think that's what Shaunie's pushing for. That's why she felt she needed to come out and say, "This is not what I anticipated, but for the most part, don't hold me accountable for what other people are doing to my show."
So far it seems like you're really distant from your other castmates, and last week you were absent from the entire episode. Why aren't you in more scenes, episodes and publicity shots?
During the first two weeks, everyone knows that there was a very big fight. And it was my decision not to be engaged in that in any way. And so the fallout of not being involved in the fight was that I was sort of ostracized by some of the women on camera and maybe the network and the producers. But I made the decision that was right for me. So whether they decide to include me in an episode or not, that's not my call. I've done the work, they've got loads of footage on me. And the episode that they showed [last week], I believe that they were at a strip party. And I adore Jackie, but that's not someplace that I would want to be. So if you see scenes or there's things that are contrary to who I am or what I believe in, I don't want to be a part of that. But if they go back and decide to run the footage that they have with me and the women, or me and my businesses, and things that are important to me, then yeah, you'll see me again. It's depending on what VH1 and the production company think the audience wants to see. But based on the feedback and all the love that I received from everyone, people want a balanced show. They want to be entertained, the drama is okay, but they also want to see someone who actually has a life, someone who's raising her children, working with charities and running businesses. So I think there needs to be a balanced show. But whatever they decide, I'm good. I represented myself and I think a large percentage of women of color in a positive way and that allows me to sleep good at night.
Are you cool with any of the women on the show?
I speak to Jackie quite a bit, but I don't have anything against any of the young ladies. I think they will look back at their reaction to me and say, "Wait a minute, you know what? My reaction was very immature and not very intelligent because it was based on Tanya making the right decision." So I look at them and say, "Hey, they're nice people, they're trying to grind and want to be on TV," and I hope it works out for everyone involved.
In addition to starring on the show, you're also the spokeswoman against domestic violence. Do you mind speaking on the parallels between domestic violence and the show's audience?
Yes. One of my real initiatives is to go on the show and say firstly, be proud of who you are as a woman of color. And the second thing was, I am a spokesperson for the National Domestic Violence Hotline, and statistics show that probably 50 percent of the viewing audience of "Basketball Wives" are currently victims of domestic violence or have been victims of domestic violence. So we took time to gather some tape for the show of the executives of the National Domestic Violence Hotline, and they spoke about what they do and how they can be helpful. So it was really important for me to use this as a platform and help so many people who are in that audience to at least reach out for help. I really hope that the network and the production team will think that it's important enough to show to the audience because it's much bigger than the show.
Within the last year it has been widely reported that one of your castmates, Gloria Govan, has experienced a few domestic issues with Los Angeles Lakers star Matt Barnes. Did you get a chance to speak with her on her situation?
Gloria has decided not to talk much about her situation, and I respect that. And so I'm not going to talk much about it, either. But if she opens the door for us to have that discussion and she wants it to be public, then I'll follow through. But outside of that, I don't want invade her private space in an area that is so personal to each of us.
As a spokeswoman you have opened up about your experiences with domestic violence during your marriage to Jayson Williams. Can you shed some light on what you went through?
Yes, I'm still married. I filed for divorce two years ago, and we've been a part of the divorce court for two years. But when it comes to domestic violence, what I had put into my divorce decree was some of the situations that I experienced at the hands of Jayson. Primarily, yes, I did sleep with a knife under my bed because when Jayson drank too much, or he took sleeping pills or any type of prescription medication, it would make him a different person; and because I have been threatened before, I had to protect myself and my children by any means necessary. I didn't know who was walking into my bedroom: Was it the man that I fell in love with 20 years ago, or was it the Jayson who was being erratic and violent? I speak more openly when I do seminars with women about domestic violence. I've been through a lot of the things that they have been through, and I haven't experienced everything that they've experienced. But when you feel powerless or you feel the need to protect yourself, you're indeed the victim.
Have you had any contact with Jayson since his incarceration?
Jayson has done a lot of things that have been very hurtful to me over the years. However, I wish him nothing but the best, because I want him to be a great father to my children. I believe that everyone deserves a second chance. And I am willing to give him a second chance to step into my children's life and be an amazing father to them, because I married him expecting him to do that. So despite the fact that I've been through a lot -- and he knows that I've been through a lot -- I can't allow that to stop me from providing my children with a man who I think can be an amazing father. He and I haven't communicated since he has gone away, because once he was incarcerated unfortunately I found out more information [about him] that further punched me in the stomach, and it was very painful to me in a personal way.
When Jayson is released from prison in seven months, is there any chance that you two could possibly make amends with each other and rekindle the flame for a reality show?
Honestly, I haven't thought about that. I'm not in a place right now where my heart is open to Jayson in an intimate way. But I am open to him being an amazing father to my children. I want that. And that will cause us to be in each other's company and to talk. Outside of the chaos, we have a great time together, and that's something that probably won't go away. But when it comes to a romantic perspective, I'm just not there right now. I've still got so many wounds that are deep and trying to heal. All I can do is pray that he comes out physiologically healthy, sober, emotionally healthy, and that he can step into my children's life and be a dynamic man.
It's funny that you asked about the reality show, because I've already been approached by production companies wanting to know if I would be open to doing a show with Jayson. And I haven't had the time to take the meetings, I've got so many other things that are more in line with my goals and my vision. That's where my focus is. But Jayson is a huge talent. He made mistakes and he can be crazy at times, but no one can take away his gift of gab, his wit and his personality. So I wasn't surprised to get the calls. But at the end of the day, I've got to do things that are going to further my goals and aspirations before I jump into the reality world on that end.
"Basketball Wives L.A." airs every Monday at 8 p.m. (EST) on VH1.