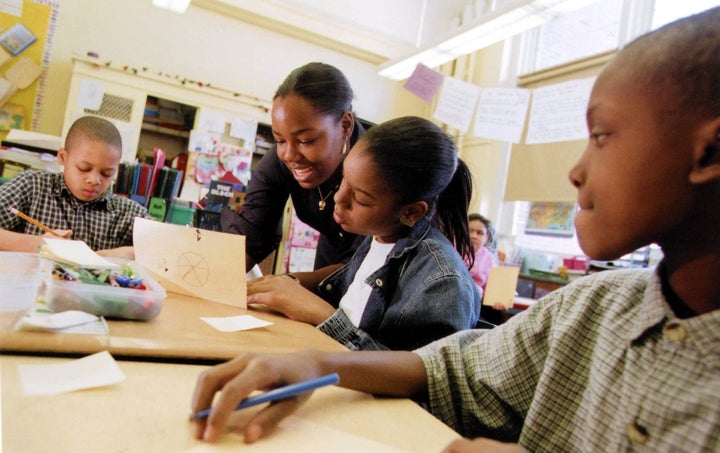 When Brenda Belcher, principal of the new Benjamin Carson High School of Science and Medicine, interviewed Mo Torres this past summer for a position teaching Spanish, he seemed like a good fit.
"It was a match," Belcher recalled in a phone interview on a recent busy Friday. "I just felt it."
What Belcher found out only later is that Torres is no ordinary teacher. He's a corps member with Teach for America, a nationwide alternate certification program that has drawn 200 young teachers with mostly no experience and little training to Detroit over the past year and a half as part of the organization's second shot at success in the Motor City.
TFA Detroit members teach both in traditional public schools and in charter schools. They are the face of the latest wave of Detroit education reform -- one that draws much skepticism from Detroiters who see it as yet another outside intervention that takes decision-making power away from citizens.
The Detroit Federation of Teachers, for one, is not as thrilled about TFA returning to Detroit. The union's president, Keith Johnson, filed a grievance to drive the TFA teachers in Detroit Public Schools -- who are all dues-paying union members -- out of his district. And though TFA teachers generally downplay their affiliation with the program (they don't wear TFA t-shirts to school) some face resentment from veteran teachers.
But for her part, Belcher doesn't really care about the broader critiques of TFA or the organization's naysayers. "I've felt no pushback," she said.
Torres is the only corps member on Belcher's staff, and he has proven a success in the classroom. Belcher says Torres assured her that he plans to teach in Detroit beyond TFA's two-year requirement.
"He's built a wonderful culture of community," Belcher said. "He has wonderful instructional practices, he gets the students engaged, the parents are pleased and his lessons are effective."
Yet not all principals are as uniformly happy with TFA teachers as Belcher is with Torres.
Brenda Lyons is the principal of DPS's Schulze Elementary School, and says she supports TFA's mission. But her current corps members have shown mixed results.
"I have one TFA teacher that is dynamite, excellent, outgoing," Lyons said. "I have another where it's not going very well. There's no classroom management skills."
Since the Detroit TFA program is just over a year old, few performance metrics are available on current corps members' effectiveness. Despite TFA's strong reliance on data to measure its own teachers, representatives from the organization declined to release its internal diagnostic data, making it harder to answer the fundamental question of whether the small infusion of TFA blood is helping Detroit students overcome intractable problems.
Only 35 percent of TFA Detroit's teachers are teaching within Detroit Public Schools. The majority are placed in charter schools in the city, like the 15 TFA recruits working at University Preparatory Charter School, a network run by Detroit charter-school office chair Doug Ross. He says the TFA teachers at UPrep have mostly fared well. "With the exception of two, everyone performed very well. They started with the classroom management issues as they came in."
Ross admits it was challenging for TFA teachers, but "by the end of the year, principals felt TFA had improved greatly and contributed a lot." One of those two underperforming TFA teachers, Ross said, "turned out to not be very teachable," and was not asked back the next year.
Mike Addonizio, a Wayne State University education professor, said the charter-school affiliates he talks to laud TFA members' work so far -- but that different issues arise in the public schools.
"My students here at Wayne who are DPS employees are rather negative," Addonizio said.
Teaching in DPS comes with unique challenges that some say TFA members aren't necessarily prepared to face. As Lyons put it, "You have to be more than a teacher in our schools. You have to be a counselor and a social worker and a mom and a dad."
"Admittedly, we had a couple of TFAs who did a pretty good job," Johnson, the union leader, said. "The vast majority struggled mightily."
That struggle, Johnson says, is often born of inexperience. "Many of them have never been in an urban setting at all. Many are white suburbanites who this is their first contact with adolescents in a city like Detroit."
When former DPS emergency financial manager Robert Bobb brought TFA into the district for the 2010-2011 school year, the local philanthropic community lauded the development as a step in augmenting Detroit's new teacher talent pipeline. It was the first major accomplishment of a coalition of local education funders known as "Excellent Schools Detroit," which comprises the Skillman Foundation, United Way, Cornerstone Schools, Detroit Parent Network and the Kellogg Foundation, among others. National education-reform giants such as the Broad, Gates and Walton foundations have also shelled out significant amounts of cash to TFA's national organization.
These groups were particularly excited by the development because TFA had already tried open to up shop in Detroit once before, in 2002 -- and was booted out just a year later.
When asked why the first attempt failed, stakeholders provide different answers: The teaching market was saturated. Enrollment was decreasing. The 2002 teachers were only assigned to DPS schools, and not charters. Teachers were moved from school to school, hampering their success. The sponsoring partnership with Wayne State University deteriorated. The union pushed TFA out.
Nate Walker, who now works as an organizer for the American Federation of Teachers, was one of the 37 original TFA Detroit corps members in 2002. He recalls the district's declining student enrollment made it difficult to place some of the corps members before the school year started, and the organization continued to face challenges largely because Detroit was "the first site of [TFA] expansion where they tried to bring people into an educational labor market that was already saturated."
Ryan Gall was also in that first TFA Detroit corps class. He, too, points to labor concerns that cropped up that first year.
"In Michigan, the teachers' union ran everything," said Gall, who now works as principal of an Indianapolis charter school.
"There wasn't open hostility between TFA teachers and the union; there was hostility between the union and TFA nationally. They felt jobs were being taken away from experienced union teachers for untested new teachers."
Toward the end of that first year, TFA Detroit's director quit, and it became clear that placement would be difficult for the second year. At the end of the year, TFA's founder and national director Wendy Kopp herself went to the home of a corps member and gave Detroit TFA teachers the chance to transfer regions. "That was not a light-hearted dinner," Gall recalled.
But over the last decade, TFA has ballooned. Nationwide there are 5,200 new corps members this year, and 92 percent of 2010-2011 corps members returned for their second year. For Detroit TFA corps members, the retention rate is 93 percent. Annis Brown, TFA Detroit's current director, says the organization has plans to expand through 2015, bringing in 200-250 new members to Detroit each year.
And with its expansion, the parameters of TFA's mission have been re-framed. "It's become a question of teacher quality, not teacher placement," Walker, the former TFA teacher, said.
Things have also changed locally in Detroit. The teachers' union has much less power, and the district's central administration has much more. Under Michigan's Public Act 4, the Detroit Public Schools' emergency financial manager -- now Roy Roberts -- has near carte blanche power over the district.
Roberts could shred the DFT's collective bargaining contract at any given moment. And a recent bargaining agreement struck for "priority schools" gives principals of low-performing schools more flexibility with seniority rules, allowing them to hire more freely. And since 2001, charter schools, which are largely unencumbered by union rules, have exploded in Detroit, now happily absorbing 130 TFA teachers.
Graphic by Chris Spurlock.
"I think TFA is here to stay," said Dan Varner, president of Excellent Schools Detroit and a member of the Michigan state board of education. "I expect their numbers to continue to grow."
Still, DFT is in the process of trying to organize charter schools, and Johnson, the DFT president, says he's lost patience with TFA. "Nothing's different this time. I didn't want them here then, and I don't want them here now."
Johnson says TFA's model "undermines the education profession. It marginalizes the profession by saying because someone is proficient in a subject matter, it means they can teach. If that's the case, we need to close down colleges of education."
In late September, Johnson filed a class action grievance on seniority violations on behalf of laid-off teachers "whose seniority may have been violated with recent layoffs and recalls," according to a note on the DFT website. The grievance targets TFA teachers who took over the positions of laid-off teachers, arguing the union's contract with the district requires laid-off DPS teachers take placement priority over TFA teachers.
Johnson says 136 DPS teachers are currently laid off. He wants those teachers' pay to be full and retroactive to the start of the school year.
"It will cost the district $14 million, but I don't care, because they ignored collective bargaining. If they're willing to ignore it, I don't care if it costs them."
Citing the emergency manager law, the district denied the grievance, and the case now lies in the hands of an arbitrator. Roberts, the emergency manager, declined to address the issue since it is in litigation. But he did say the district "could not hire as many Teach for America teachers as we wanted to this year because of our labor agreement."
DPS spokesperson Steven Wasko echoed the district's desire to recruit more TFA teachers. "We have to both recognize existing talent and develop a pipeline of new talent into the district," Wakso said.
And TFA is willing to fill that pipeline.
"The bottom line is, we are here to be great teachers for kids. The adults can play or squabble, but that is what we are," Brown said, the TFA Detroit director, said. "We are here to be great teachers for kids. We drown out the noise, we drown out the other distractions."
Still, some current TFA teachers feel uncomfortable about the layoff situation in DPS. And those fraught labor relations add another strain on what is an already challenging job for many TFA Detroit corps members.
"I assumed you get a job in a district that is struggling to find teachers," said Jestine MacDonald, a second-year TFA teacher in a DPS school. "I never thought I'd be taking anyone else's job. It's not right that you have people with an education degree losing their jobs to TFA members. But on the other hand, I don't want to be replaced, because I love my kids."
MacDonald moved to Detroit from Missoula, Mont., after graduating from the University of Montana with a major in biology. She heard of Teach for America from a social work professor.
"It's our generation's battle that has to be fought in terms of educational inequity," she said.
So she started with TFA Detroit in 2010 as a biology teacher at Western International High School, a public school.
MacDonald said she was "flabbergasted" to learn that DPS had no attendance policy. This year, about 62 percent of her students are present in school on any given day. "It makes it tough for a teacher when you have a group of kids that's regularly in school, and a group of kids that isn't," she said.
Gabe Doss, a native Detroiter who attended elementary school in DPS before graduating from Brown University, was similarly struck by the difficulty of the job. He had some experience in teaching, but when he started at Timbuktu Academy of Science and Technology, he said, "it was challenging. Teaching is an under-resourced profession."
Doss found himself mostly challenged by things beyond his control. Last year, a student with low reading scores was acting up in class and missing school -- largely due to his home life. When Doss spoke to the student's mother, she said one of his siblings had left home, and there was no one to walk the student to school.
"There were wild dogs in the neighborhood. For him to walk to school on his own was tough," Doss said. "As a teacher, that's not what I want to hear. But for a parent, it's a reasonable concern."
Doss solved the problem by offering to drive the student to school himself.
"The leadership of our teachers has been astounding," Brown said. She cited Tim Harris, a TFA teacher at Winans Middle School. "The kids had no textbooks. They'd never had an AP class before. He raised thousands of dollars for textbooks and AP classes."
But other challenges have proved insurmountable. 2010 corps member Ashlee Stratakis, who grew up in Roseville and attended the University of Michigan, said that while she felt supported by TFA, as a charter school teacher she was "kind of oblivious to the whole scene as far as the teachers' union." She added that she was disheartened to see some of her TFA colleagues moving to the suburbs. "Part of the point is to live in the city, to understand the kids and their lives," she said.
Stratakis was initially slated to teach middle-school math in Charlotte, N.C. When she switched to Detroit, she was assigned to teach elementary-school Spanish, K-5. "It was very intense -- I got four to five hours of sleep," she said. "Even though I was going to be certified for high school, I was placed in this elementary position. I found out two days before the year started."
After her first year, the charter school where she taught eliminated her position, replacing Spanish with Mandarin in the lower grades. Over the summer, her husband moved to California, but Stratakis wanted to give TFA another shot, so she sought a first-grade position -- only to be derailed by certification rules. She says TFA was understanding, but she left, and is now working in a research job in California.
Another 2010 corps member, Matt Robb, also had trouble in a Detroit charter school. "I did not have a good experience," he said. "Our superintendent told us, 'Every teacher has their flair. That's not the way it works here. You teach how we tell you to teach.' It was really constricting."
At the end of the year, he and three other TFA members at the school did not have their contracts renewed.
"They stopped paying us through the summer," Robb said. "They were trying to cut corners to save money." He said TFA played a supportive role throughout.
Robb, who is currently taking a leave of absence to work on a book, offered his own analysis of the conflicts inside education in Detroit.
"You have two crises in the city, between the entrenched teachers' union in Detroit Public Schools and overconsolidated power in the charter movement that is denigrating the teaching profession," Robb said. "It's adults fighting over a bunch of stuff that's hurting kids."
Calling all HuffPost superfans!
Sign up for membership to become a founding member and help shape HuffPost's next chapter