We hate to admit this, but neither of us had ever been to Colorado...until last week. We just never thought of it as a destination for fine food, wine, and hotel experiences and let's just say, man, were we wrong. We had such a great time in Telluride and the surrounding areas--and we mean really great time--that we've already booked a return trip during ski season. We've got to do something to burn off all the calories we will ingest at Telluride's wonderful restaurants.
The town of Telluride has a mere 2,500 residents but what it lacks in size it makes up in beauty. The entire town sits in a valley situated at 8,500 feet of elevation and is surrounded by majestic snow capped mountains that reach well over 10,000 feet. It has an opera house, a movie theater, world-class hotels, loads of great shops, fantastic restaurants, and too many bars (or saloons) to count. There's even the imposing San Miguel Valley Bank that Butch Cassidy robbed before heading into the hills to hide out.
A free gondola connects the old town of Telluride to the newer Telluride Mountain Village, which is a pitch-perfect recreation of an Alpine ski town. It's a scenic 15-minute ride either up or down and it's a great way to commute to both areas to visit the hotels, bars, shops, and restaurants. If you're skiing, there's a charge, but it's one of the quickest ways to get to the largest number of slopes.
The New Sheridan Hotel (Old Town)
The New Sheridan is not so new...it was built in 1895 and was state of the art in its day. It was refurbished in 2008 with historic touches and modern amenities like flat screen televisions and wifi.
Last Dollar Saloon (Old Town)
On payday, miners were known to descend into town to have a few drinks and visit the local brothel. Local lore has it that the shuttle back up to the mining encampment cost one dollar but many miners preferred spending their last dollar on whiskey and beer and walking back up.
The Historic Bar at the New Sheridan (Old Town)
A beautiful slice of history, this massive wood bar presides over the saloon at the New Sheridan. Make sure to try the locally produced beers and wines.
Chop House (Old Town)
If you're in the mood for locally grown Colorado lamb or a big cut of steak, this is the place to go. Their grass fed beef is delicious, and make sure to try the delicious mac and cheese and truffled French fries.
Allred's (Mountain Village)
High style Colorado cuisine served at high altitude. For a delicious meal paired with amazing views, Allred's is the place to go. The kitchen is under the direction of Chef Mike Regrut whose provenance includes Steamboat Springs Grand. The Wine Director and General Manager for the group's resorts is Andrew Shaffner whose list boasts hand picked selections from around the world.
Palmyra (Mountain Village)
Located at the beautiful Peaks Resort, the kitchen at Palmyra is under the direction of Chef Patrick Funk and the extensive and comprehensive wine cellar is managed by sommelier Matt McConnell. Standout menu items include reinterpretations of classic American cuisine--don't miss the grilled elk steak paired with one of Matt's well-curated California Pinot Noirs.
Cosmopolitan (Old Town)
Conveniently located at the foot of the gondola, Cosmo's serves inspired Colorado cuisine with an international flair. Chef/owner Chad Scothorn's menu has delicious entrees such as Kurobuta pork and Cedar River Farm's filet mignon. Wine director Mat Ryan will graciously pair wines from his extensive bottle list.
Butcher and Baker (Old Town)
Enjoy your early morning coffee and gossip with the locals. The amiable staff serves up home-style cooking in an environmentally friendly atmosphere.
The town of Telluride is surrounded by abandoned mining towns with names like Smuggler and Tomcat and the best way to get up to them is by 4 wheel drive. Our knowledgeable guide Scott Gilbert explained the history of the mines while he and his canine copilot Kimba carefully navigated the terrain in an open-air vehicle customized specifically for Telluride Outside. Make sure to dress warmly, no matter what time of year, as the weather can quickly change at high altitudes.
We were so fascinated by the legend of these ghost towns that the locals told us that we HAD to visit Dunton Hot Springs Resort--an abandoned mining town--yes, town--that was has been completely refurbished into the world-class destination it is today. The entire resort can accommodate only 40 people in its 13 cabins and gourmet meals are served in the town's former dance hall and saloon. Delicious five course dinners are generously paired with Colorado and international wines and lunch and breakfast are remarkable as well. The staff is highly skilled, friendly, and down to earth, yet offers unobtrusive and discreet service at every turn. The town of Dunton was built around the namesake hot springs and Dunton Resort has three wonderful ways to enjoy them. Try the outdoor spring first, it's just a little cooler and has stunning views of the majestic Rocky Mountains, then move to the indoor pool for a long soak, and when you're ready, don your thick terry bathrobe and walk to the bubbling subterranean source for the hottest water. There's so much iron in the water that afterwards you'll swear you absorb more oxygen from the high altitude air. With all this newfound energy, make sure to take advantage of the resort's yoga, hiking, horseback riding, and helicopter skiing. The staff at Dunton can also arrange a visit to Sutcliffe Vineyards, a local winery known for its highly rated Colorado wines. Winemaker Joe Buckel can give you a tour of the winery and pour samples of his excellent wines. We're big fans of the Syrah and Petit Verdot. If you're lucky, you'll meet the gregarious and entertaining Welsh owner John Sutcliffe.
And of course, one of the greatest pleasures of Dunton Hot Springs and Resort is doing nothing. Make sure to take a little time to curl up in front of the fire with a snifter of aged whisky and a good book in the quaint library and if you're feeling more social, mingle with the other guests at the bar where Butch Cassidy carved his name.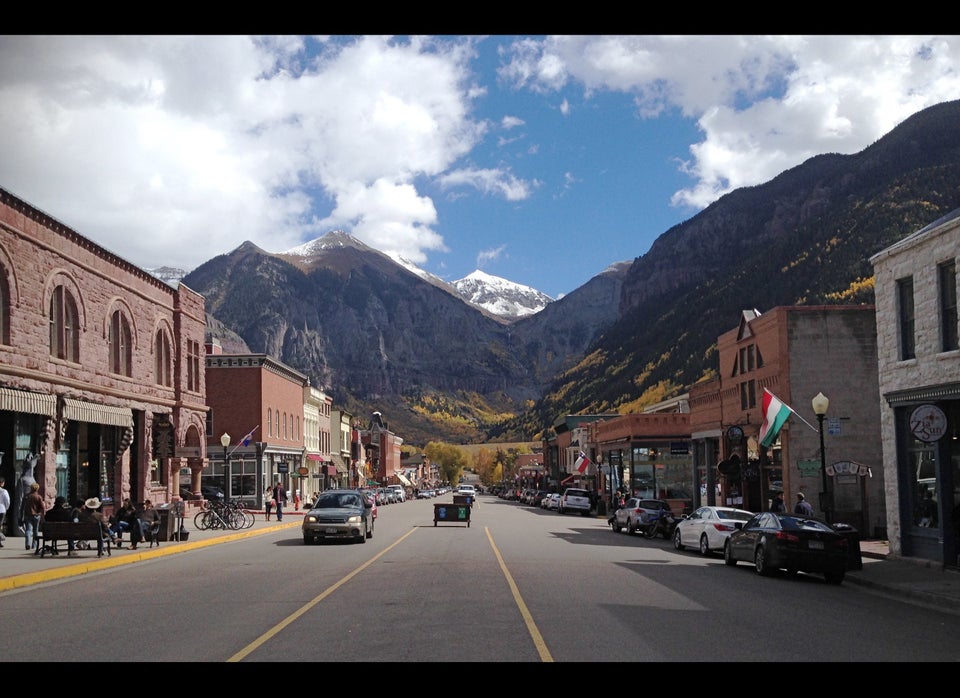 Telluride, Colorado and Dunton Hot Springs