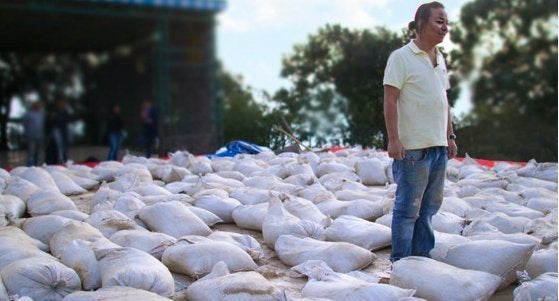 Returning home is an exile's greatest dream and being stranded in a foreign land his greatest sorrow. In the last half century, China's colonial occupation of Tibet has produced nearly 200,000 Tibetan refugees, condemning them to a state of permanent exile. Scattered around the world as a minority among minorities, their existence is a constant battle for political recognition, financial survival and cultural continuity.
But last October, thousands of Tibetan exiles were able to "return home" -- at least temporarily. Tenzing Rigdol, a leading Tibetan artist who is also my friend and fellow activist, smuggled 20,000 kilograms of native Tibetan soil into India and laid it on a platform six feet high, creating an installation unprecedented in art history. For three days, people crowded on to the installation to see, smell and touch this piece of their long-lost homeland. Hundreds of children born in exile stepped on Tibetan soil for the first time in their lives, while scores of elders separated from Tibet in their youth set foot on the soil, possibly for the last time.
Like many Tibetan refugees in Nepal whose lives had been upended by China's growing stranglehold over the kingdom, Rigdol moved to the United States with his parents in 2003. In early 2009, his father was diagnosed with cancer. He was told he had six months left to live. As he contemplated the end of his life, there was only one thing he wished for: He wanted to visit his hometown in Tibet. But the Chinese government barred Tibetan exiles -- with a handful of strategic exceptions -- from traveling to Tibet. Like thousands of other stateless Tibetans, Rigdol's father was condemned to a death without dignity.
On the night that his father passed away at Elmhurst hospital in September 2009, Rigdol was frantically looking for a Buddhist monk to perform the Bardo Thodrol ritual of transferring consciousness. After a person is pronounced clinically dead, Buddhists believe, there is a window of opportunity called the 'moment of clear light' when his consciousness passes through its most pure and potent form. A trained lama can use this moment -- the ultimate short cut -- to propel the deceased person's consciousness into a sudden state of enlightenment. My friend Lobsang and I borrowed a car and drove half an hour outside the city to wake up a Rinpoche famous for his skill at this particular practice, but his attendant wouldn't let us disturb him; it was 3 o'clock at night. In a city of 8 million people, we couldn't find a single person who could administer the proper Buddhist rituals for a dying Tibetan. This, I thought, was the life -- or death -- of an exile.
Rigdol was deeply affected by his father's untimely death, and devastated by his own helplessness in fulfilling his father's final wish. He could not stop agonizing over the idea that hundreds of other Tibetan exiles were going through the same denial of dignity, passing their final years in foreign lands.
A year later, in the middle of the night, I received a long text message from Rigdol. In the text message, he wrote that he wanted to transport a massive amount of Tibetan soil into exile, as a temporary cure to the homeless and the stateless. If a man could not travel to his homeland, he reasoned, then why couldn't his homeland be brought to him? The idea gripped Rigdol, then possessed him, overwhelming his very existence for the next several months.
In May 2010, Rigdol boarded a plane and headed to the Tibetan border. For the next few months, he invested all of his time, energy and savings into this mission. After several months of crossing borders, defying orders and bribing officers, Rigdol was finally able to bring 20,000 kilograms of Tibetan soil to Dharamsala.
For thousands of Tibetans in the small hill town that has been the capital of Tibetan diaspora since 1959, the installation created three magical days of reunion under the beautiful, rainless October sky. A group of people and their lost homeland suddenly found each other. Elders prostrated on the soil, monks prayed on it, children played marbles in it, and musicians turned the installation into a concert stage. Art trumped reality. Rigdol had finally fulfilled his father's wish, a thousand times over.
On the morning of the final day, people were allowed to collect handfuls of soil to take home, in paper cups and improvised bags. In what turned into a genuinely interactive art performance, the soil disappeared over the next few hours, and the ground slowly became empty. What remained was a palpable sense of certainty that through this groundbreaking work of art, dreams were fulfilled, hopes renewed and lives transformed.
There was something else that remained: 125 hours of raw footage. Tenzin Tsetan Choklay, one of the leaders in the new wave of Tibetan filmmakers, had shadowed Rigdol with a camera through the entire journey, capturing dozens of miraculous episodes on tape and a few chilling encounters on a hidden spy cam.
Choklay says it will take several months and a great deal of resources to organize, process, transcribe, subtitle and edit the footage before producing a final cut. With a sigh, he talks about how he has set up a Kickstarter project to raise $50,000 for this daunting work of post-production. If he succeeds, he says with a sparkle in his eye, Rigdol's epic journey will end up on the big screen.
Bringing Tibet Home, as the film is aptly titled, could become a landmark event in Tibetan cinema. For the second time, art will have helped Rigdol fulfill his dream.
Related
Popular in the Community